The 5 best ways to score cheap festival tickets this summer
You don't have to miss out cause you're on a budget.
No matter how low the budget, when a must-see favorite comes through town, not going isn't an option. The good news is you don't have to be rich to be entertained. Here are a few tips on how to get good deals on cheap concert tickets this summer—and how to get blazed once you get there.
1. Buy very early or very late.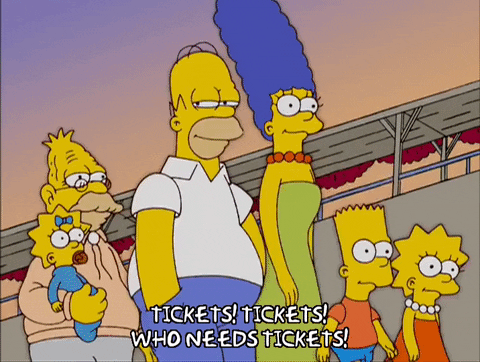 Tickets are the cheapest right when they first go on sale, and again just before the show. Promoters often hold back too many seats. That means a flood of cheap concert tickets may go on sale just hours before a show. Scalpers, who hold out for top dollar, also often slash prices in the final hours, trying simply to cut their losses. It's true that there's no guarantee you'll score one of those last-minute cheap concert tickets. But think of it as a free adrenaline rush; after all, you won't get one if you don't try.
2. Get on insider lists. There are a ton of digital newsletters and email subscriptions that will notify you about pre-sales and promotions for cheap concert tickets. You can sign up for your favorite artists' email lists. The great part about this is you can often become eligible for fan-only pre-sales before the general public.
Additionally, some credit cards, including Chase, Citibank, and American Express, offer exclusive pre-sale ticket opportunities through Ticketmaster. Create a user account ahead of time on whichever website you use to purchase your concert tickets. Those frantic moments when finalizing the purchase of cheap concert tickets is no time to have to create an account and fill out your information.
3. Tune in to social media.
Sure, there are plenty of reselling sites where you can buy concert tickets. But when regular people on social media are selling their tickets, the prices tend to be much lower. Most of them aren't looking for a big profit. They just want to get their money back. Try searching the social media platform of your choice. Suggested search string: put in the artist's name and "selling tickets."
4. Buy cheap concert tickets in person. If you show up at the venue to buy your tickets in person, you can sometimes avoid service charges. Additionally, a number of concert tickets are reserved for physical sales at many venues. That means you can possibly still get tix even if a show is sold out online. Standing in a line for awhile is, for most of us, an acceptable trade-off if it means not missing the show.
5. Set up price alerts.
Ticket sites like StubHub and SeatGeek offer filters to narrow down the seats you want. It's just a matter of downloading their apps from the iTunes Store or Google Play. Choose the maximum price you're willing to pay for cheap concert tickets. The sites will then alert you if what you want becomes available at the price you want to pay. StubHub also has a "Best Value" tool allowing you to sort cheap concert tickets by price and section. It even has an algorithm determining the best deal.
Lastly, be willing to go it alone if the show means enough to you. If you're buying late, it's almost easier to find a deal on a single ticket than on blocks of two or more.