Like people, many animals respond well to CBD. While we aren't saying you should attempt to get your furry buddies high on your own, there are safe products out there that will allow your pet to not only eat healthier but also reap the benefits of cannabis. In addition to consuming cannabis, they can also wear it.
1. CannaCompanion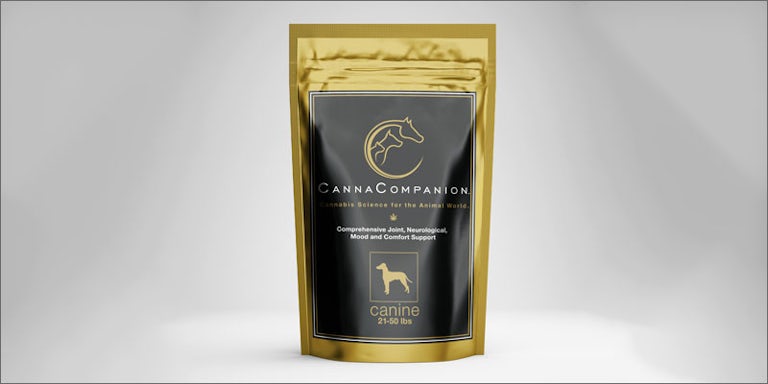 CannaCompanion provides hemp-based capsules for both cats and dogs. The pills come in two different strengths, extra and regular. Animal lover Tommy Chong works with the company.
2. Pot leaf dog collar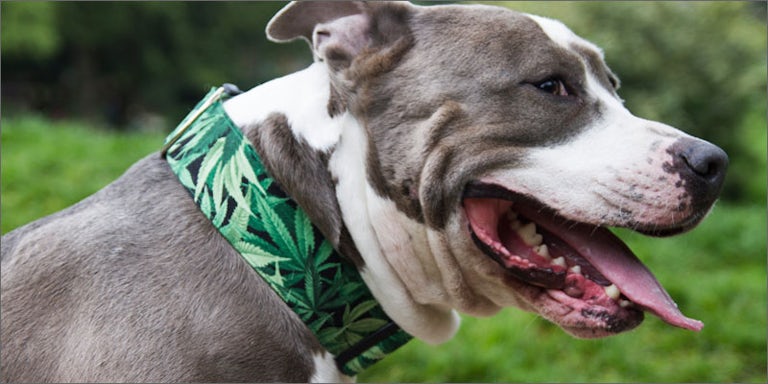 With this collar, your four-legged friend can support not only legalization but also weed in general. From tiny chihuahuas to heavyset pit bulls, any dog can wear cannabis on their collar.
3. Gato Ganja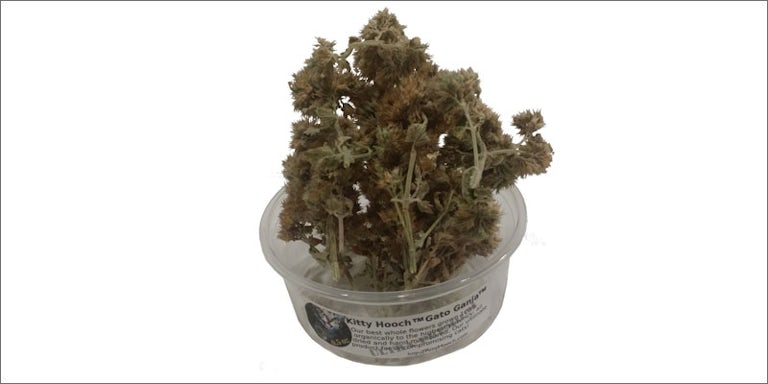 Although catnip isn't exactly cannabis, it is weed for cats. And with Gato Ganja, your furry feline gets the most potent part of catnip. After all, cats want the good stuff, too.
4. Treatibles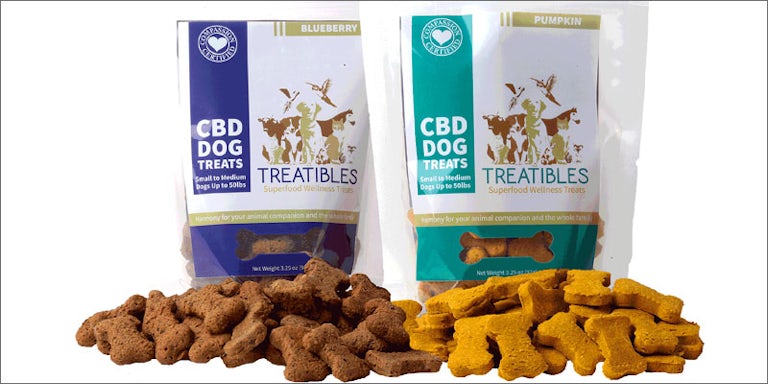 Treatibles aren't your typical dog biscuits. These treats contain CBD, making them capable of treating ailments like cancer, pain, and lack of appetite. They come in tasty flavors of blueberry and original, so even the pickiest doggy will be able to enjoy these spiked biscuits.
5. Pot leaf ID tag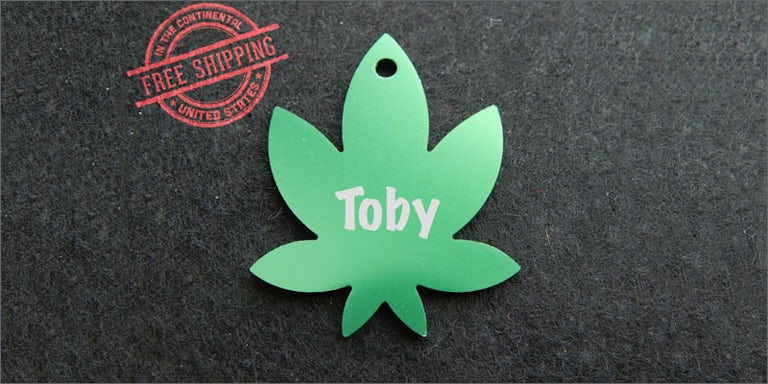 If you want your pet to wear their name loud and proud, they need this pot leaf ID tag, on sale right now for only $7.
6. True Hemp calming chews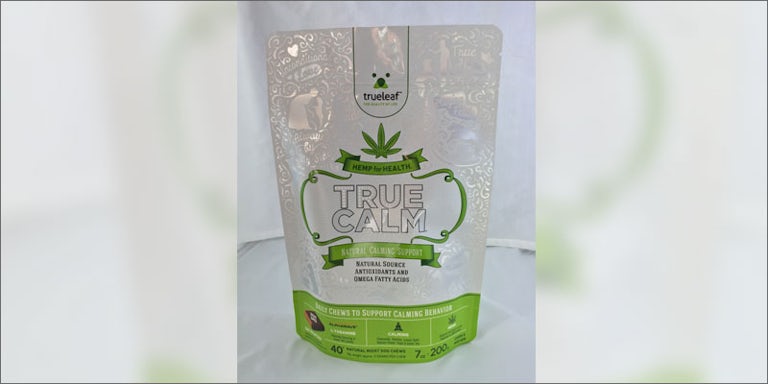 Is your dog a little too hyper sometimes? Whether he/she is overly active or going through anxiety, the True Calm can help put your pet at ease. Not only do they include hemp, but they also include other calming herbs like chamomile.
7. Catnip cannabis leaf and joint toys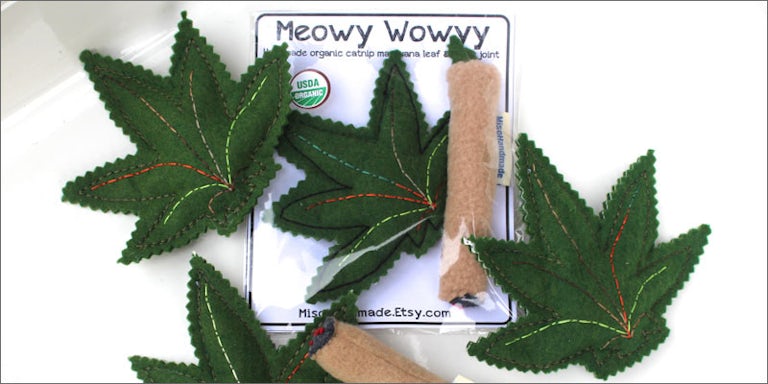 Your pot-friendly kitty will love the cannabis leaf and joint toys made with certified organic catnip that will keep your feline will be entertained for hours. Of course, In fact, consuming your cannabis while watching your cat go crazy will make the experience even more fun.
8. Weed bandana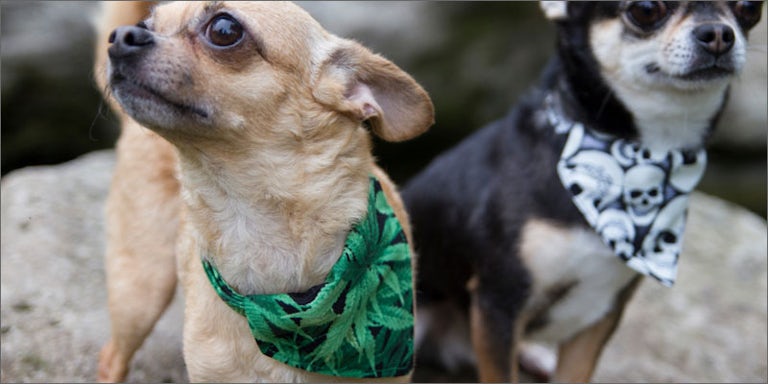 What's not to love about a bandana covered with pot? As can be seen, it's the cutest thing you can ever put on your animal. Although bandanas typically come off quickly, this one is designed to attach to your dog's collar. Therefore, it will stay nice and secure when your little (or big) one runs around seeking adventure.
9. Canna-pet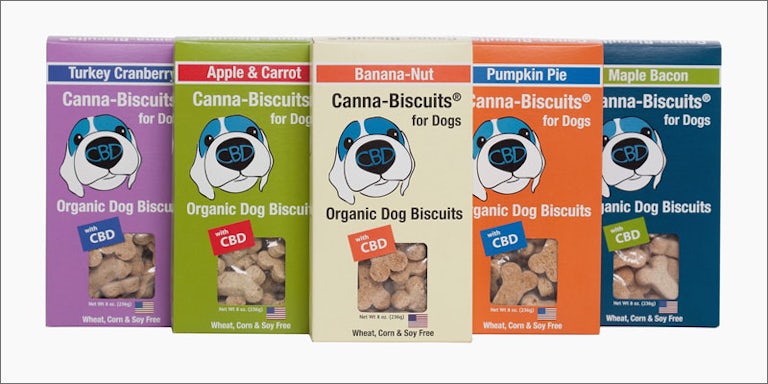 If you're looking for variety when it comes to pet medicine, Canna-Pet has your pet's back. As a matter of fact, they provide multiple types of infused goodies. From Maple Bacon-flavored hemp biscuits to MaxCBD Capsules that provide relief with the help of CBD, you're bound to find something for your four-legged animal.
10. Cannabis cures dog t-shirt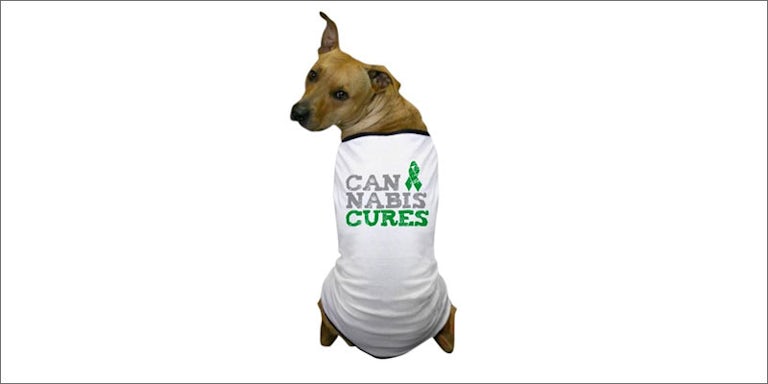 With the help of your dog and this t-shirt, you can spread the message that cannabis cures. In fact, if your dog is seen wearing this, they will no doubt be the coolest pooch at the dog park.
11. Hemp for Hounds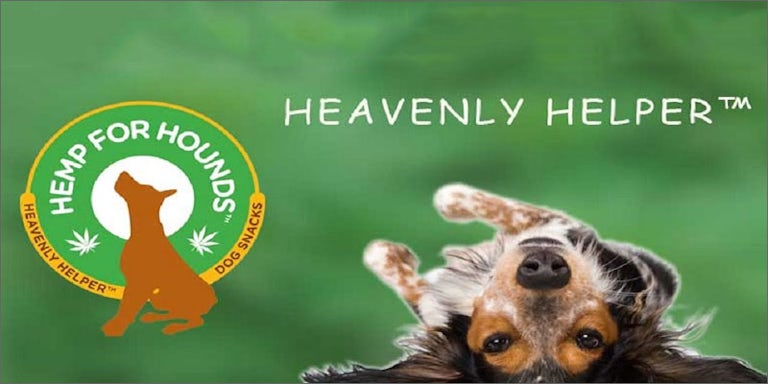 Another company that provides flavorful hemp biscuits for your pet is Hemp for Hounds. Aside from having delicious flavors of treats that include pumpkin, sweet potato, and carrot, the company also makes oil for animals that aren't able to chow down on the biscuits.