These are the 10 Strongest Strains with the Most THC
For the real devotees out there.

For many of us lifelong stoners, knowing which weed has the most THC is important. We look for strong weed with a high THC count to get the relief we need. Or we look for it to just fully turn on, tune in, and drop out. Either way, we're not judging. Here are the top 10 most potent strains out there now.
10. UK Cheese

UK Cheese is a classic, potent hybrid strain. Famous for its pungent cheese aroma, many cite "Cheese" as the strongest weed they've ever smoked. When looking for which weed has the most THC, UK Cheese with its average of 20 percent THC, doesn't quite stack up to the other heavy hitters we've rounded up. However, this classic strain with its euphoric effects, mental stimulation, and full body high, rightfully earned its spot on this list.
9. Death Star
Death Star is a strong indica-dominant hybrid strain with an even stronger smell. It has a skunky, diesel aroma that's hard to hide, but when smoked is sweet, earthy, and delicious. It provides a powerful high that's super relaxing, which is great for smoking after work, before bed, or for relieving pain and anxiety. Death Star usually only clocks in around 20 percent THC, so if you're looking for which weed has the most THC, you'll have to keep reading.
8. LA Confidential

LA Confidential is becoming a legendary strain in southern California for good reason. This indica-dominant hybrid has a sweet pine taste with a classic skunk aroma, but it's more famous for the appearance of its nugs. These babies are colorful and covered in thick, frosty trichomes. Plus, the effect is strong; it's super sedative and great for unwinding or getting ready for bed.
7. White Fire OG (WiFi OG)
White Fire OG, also known as WiFi OG, is a dank hybrid strain. Its effects are energetic and cerebral, great for daytime use or going out with friends. It has a delicious earthy yet sour diesel smell and is often used by medical cannabis patients for cancer, glaucoma, anxiety, and depression. However, what really makes this strain stand out is its high THC count. White Fire OG tests between 22 and 30 percent THC so if you're looking for which weed has the most THC, WiFi OG is often your best bet.
6. Ghost Train Haze
Ghost Train Haze is often cited as one of the strongest strains on the planet for good reason. This sativa-dominant strain tests between 23 and 28 percent THC, often averaging around 27 percent. Plus, Ghost Train Haze has an out-of-this-world sour aroma with floral notes and hints of citrus. The high is euphoric and uplifting, especially in smaller doses. Medicinally, people with pain, depression, and stomach problems love this strain for its high THC count, but you may want to microdose if you're prone to anxiety.
5. Chemdawg
Chemdawg is one of the most popular super potent strains out there. This hybrid was named for its "chemical" diesel-like smell; it's a sharp and distinct aroma that'll make any stoners' mouth water from a mile away. The experience can be heady and uplifting, but this strain is also known for its strong body high. It's great for relaxing and people also use it for migraines, pain, depression, stress, PMS, arthritis, and appetite loss. When looking for which strain has the most THC, Chemdawg comes close, but it's not quite king.
4. Strawberry Banana
Strawberry Banana is an indica-dominant hybrid famous for its fabulous fruity flavors. Besides smelling and tasting exactly as it should, the effects of this sweet strain are super chill, euphoric, and giggly. Strawberry Banana is often used for creative endeavors as well as for gastrointestinal issues like nausea and Crohn's Disease.
3. Ghost OG

Ghost OG is a hybrid strain known for its epically high levels of THC. Consistently testing around 30 percent THC, if you are looking for which weed has the most THC, consider your question answered. An indica-dominant hybrid, Ghost OG is known for its calming effects, invoking a heavy body high that can alleviate pain, depression, and stress. Plus, this pungent and citrusy smelling bud also provides a euphoric cerebral effect, making it the best of both worlds.
2. Chiquita Banana

Chiquita Banana sounds cute, but don't let this powerful hybrid strain fool you. When looking for which strain has the most THC, Chiquita Banana often wins, testing around 33 percent THC. It provides a strong, cerebral high, great for going to a concert or staying in and being creative. It's also known to give people the giggles and has a tropical aroma that may give you the munchies before you even smoke it.
1. Moon Rocks or Caviar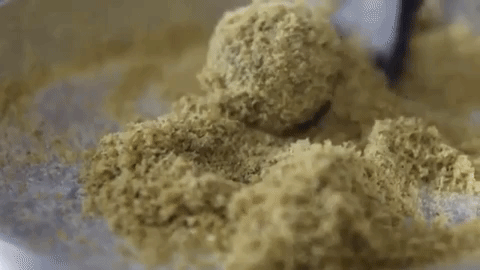 Bet I just blew your mind with this one, but when it comes to which weed has the most THC, it's actually not a strain at all. Moon rocks are top shelf buds dipped in hash oil and then covered in kief. Caviar is very similar, but it's typically just top shelf herb covered in hash oil. Needless to say, both moon rocks and caviar are some of the strongest buds on the planet and will have THC levels that are literally off the charts. They'll cost a little (or a lot) extra, but you won't regret having treated yourself.