Oscars! Hollywood magic! The silver screen! The night when stars come out to honor their own. With Shape of Water, Get Out, Blade Runner and Dunkirk all walking away with major awards, there was something for everyone. The night is already behind us, destined to become a distant memory to most. Except for a few unsuspecting stoners who got totally busted by Jimmy Kimmel.
"A lot of people have been thanked tonight," said Kimmel, hosting the 90th Academy Awards. "There's another group that I think deserves our thanks even more because without them none of us would be here. I would like to take a moment to thank the people who actually see the movies that you make. Tonight, we thank the movie-going public."
Kimmel then led a march of celebrities across the street to a preview screening of A Wrinkle in Time. In tow, Kimmel had Emily Blunt, Lupita Nyong'o, Armie Hammer and more. The group of famous folks crashed the screening, but Kimmel had green on the mind.
"We're sorry we interrupted the movie," announced Kimmel. "Can I tell you something? There is a strong aroma of marijuana."
Gal Gadot, standing next to him, agreed, clarifying "not that I know how it smells."
"We have a surprise for you as well," Kimmel continued. "I notice you don't have any snacks, especially considering the smell in this theater."
Then, on cue, Guillermo Del Toro and Lin Manuel Miranda walked in with a six-foot party sub, Margot Robbie with a basket of Red Vines and Haribo gummies. Ansel Elgort was armed with a hot dog cannon, which is terrifying. Kimmel then singled out one audience member to join him in the front. His name was Mike. "Oh I want to meet this guy," Kimmel said to a man with a rusty ZZ Top beard. "Come up here for a second." 
"Have you found out who the wrinkle is yet?" quizzed Kimmel. Mike, taking a moment to look into the distance as if it was an actual question, eventually responded "No." Next, Kimmel had Mike introduce the following presenters, Tiffany Haddish and Maya Rudolph. And just before the camera cut away, you could barely make out Kimmel commenting that Mike's beard "smells delicious."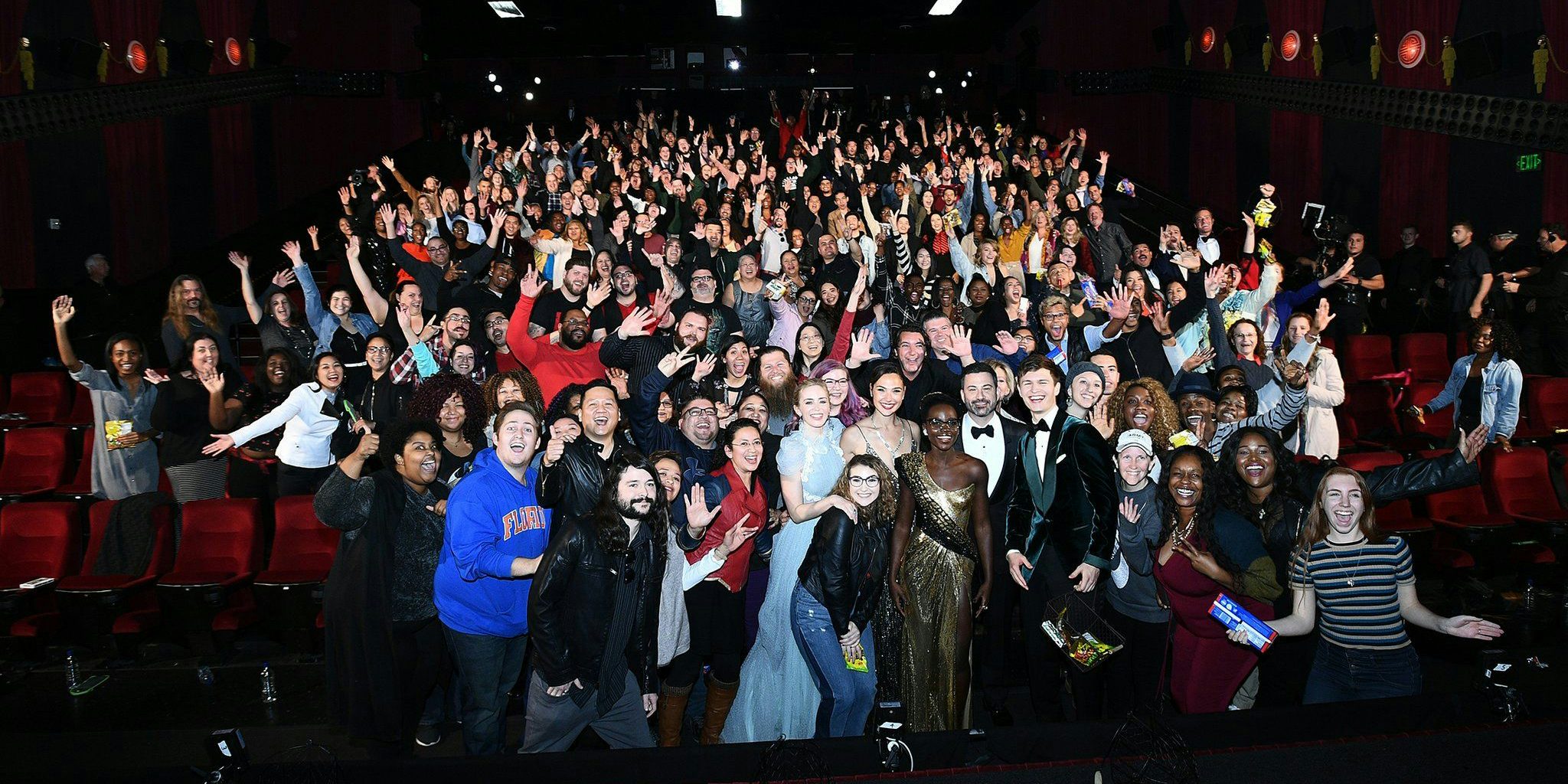 Listen, seeing movies blazed out of my mind is pretty great. With recreational cannabis now legal in California, who wouldn't want to see a preview screening of what appears to be a psychedelic movie about folding reality? But when I'm high at the theatre there are only two people I want to talk to: my roommate and whoever I have to give money to for Cherry Nibs. Now I have to worry about award show hosts singling me out to speak to millions of people waiting to see who wins best original screenplay. I'm not sure I can handle that sort of pressure!
We are all Mike.