The Santa Rosa fire engulfing northern California is ravaging the landscape, engulfing neighborhoods and scorching 200,000 acres of land. At this point, 40 people have been killed.
Within the affected areas sits part of California's famed Emerald Triangle with its indoor and outdoor marijuana grow-ops and processing facilities. They have been affected by the fires to an unknown but presumably large degree. The Emerald Triangle produces the majority of the United States' marijuana, an estimated 60%, and its obliteration means serious repercussions for both the legal and black markets fueled by the area's production.
This is all coming at the end of the region's grow cycle, reports Business Insider, which "would have supplied California dispensaries through the end of 2018." Because of this interruption, and the amount of marijuana the state's industry is expected to need to fulfill for legalization—Colorado's sales keep growing despite the fact that legalization has been around for a couple of years—there's word that prices will spike. Despite the fact that California actually has a glut of marijuana (a stock that may or may not survive the fires), Tamar Maritz, regional director for California at BDS Analytics, told Business Insider that Californian weed prices could jump 10 or 20% in the near future.
These predictions are based, BDS Analytics says, on previous "major disruption[s]" in the Colorado, Washington, and Oregon markets and the resulting effects on the market. (Canada is having a similar problem: with the legalization of recreational marijuana coming this July, there is simply not enough pot from federally licensed growers to stock dispensaries.)
The costs of climate change on cannabis are high.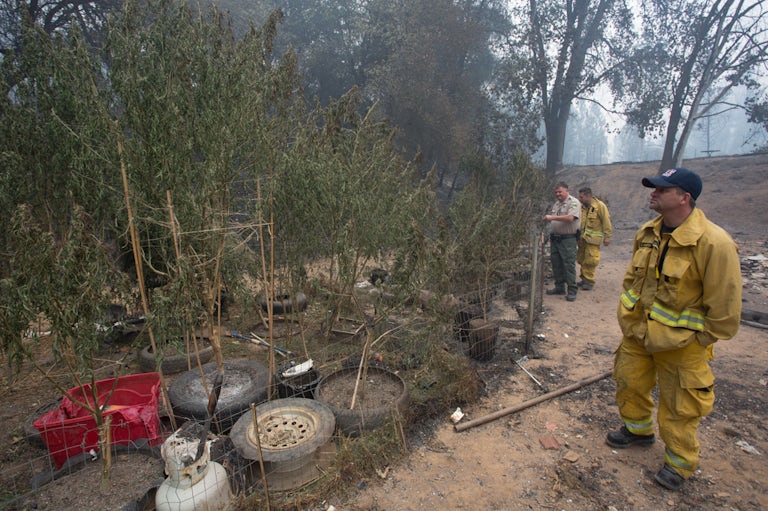 Presumably, low stocks of marijuana combined with high demand will naturally result in higher prices. Business Insider reports that grams might go from their standard $10 to something more akin to $12, and eighths jumping from roughly $35 to $42. BDS Analytics does make clear, though, that in the cases of Colorado, Washington, and Oregon "states saw prices return to normal one to three months after the [destabilizing] event."
This might not necessarily be the case with California, considering the amount of time and capital it will take to rehabilitate marijuana farms devastated by wildfire. Fire changes the composition of the soil that it burns, decreasing nutrients and impacting levels of nitrogen and other elements that are crucial for growing weed. It also increases erosion.
"High-intensity fires" like the current ones in California, tend to decrease site productivity." It's unclear how long these changes on the once-fertile soil will last," says research by Northern Arizona University.
And, perhaps just as importantly, farmers do not have insurance on their properties because of federal laws prohibiting the production, meaning that growers will not have the opportunity to get back on their feet financially. It's a dangerous mix of circumstances that certainly doesn't bode well considering the timing of legalization, and it seems that Californians might be in for a long period of cost-heavy weed in the near future.