Amy Andrle is one-half of L'Eagle Services, an all-natural and sustainable recreational dispensary and cultivation facility located in Denver, Colorado that specializes in clean cannabis. Along with the efforts of her husband John, L'Eagle Services has positioned itself as one of Colorado's most respected and highly lauded cannabis dispensary.
An industry unlike any other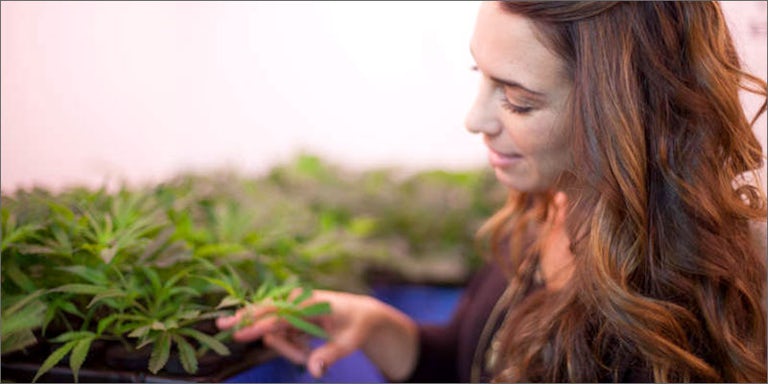 In business since 2010, L'Eagle has positioned itself as a premier establishment that prides itself on offering the cleanest, and best product while also investing the time to educate consumers – both novices and connoisseurs – on the intricacies of the cannabis plant and its derivative.
They are solidifying their leadership in the cannabis industry by championing organic cultivation methods, responsible pesticide use, sustainable business practice, and strict industry compliance.
Previous to working in the cannabis industry, Amy, who holds a graduate degree in nonprofit management, was an executive in the cultural art organizations where she gained an appreciation of cooperative compliance and collaboration. Successful business partnerships were paramount then, and these tenets continue to carry over into her new cannabis career.
Today, in addition to being a mother and running the day to day operations for L'Eagle, Amy actively participates in outreach by contributing her time serving on City Advisory Groups, the Marijuana Industry Group, and as a founding board member of the Organic Cannabis Association.
Who was your mentor(s)? How important were they and how, if at all, are you paying it forward?
There are  a number of business owners, colleagues, managers and professors that have shared nuggets of wisdom with me.Cliches or not, once you see how they apply to actual situations they take on new meaning.

"You'll never bat 1000", "Never respond with why you can't complete a task, but rather with what you need in order to do so (ie. time, resources, budget). Be solution based.

These sayings have stuck with me throughout the years, and it is these same little life lessons that I look to share with our employees at L'Eagle today. The mentoring I've received has truly been a cumulative effort.
What makes a great leader in cannabis?
A great cannabis leader must have humility. This is an industry unlike ANY other. They also have to be willing to impart their knowledge and share their experiences and mistakes. Cooperation is key.
How do you feel about being a woman in weed?
I'm surrounded by more smart, capable female leaders in the cannabis industry  than in any other professional/executive field where I've worked.

They drive me to excel, I'm proud to count myself among their ranks and know that together we are challenging the status quo of female representation.
What empowers you?
Given the relatively short history of our industry, we're able to still set trends and best-practice in the industry. It's very empowering to know you are laying the groundwork and leading the charge. To that point, what is often empowering is also a bit terrifying.
What's your advice to other women in weed?
Normalize the industry, speak about it proudly with no shame, eliminate the stigma, redefine "stoner" and shed taboo.
Anything else you would like to add?
A solid education is invaluable.