Maricopa County Attorney Bill Montgomery is no fan of weed and in the past, he's made it clear that even those who encourage its use are his enemies. The latest enemy on that list is Arizona Gubernatorial candidate Noah Dyer who alleges that Montgomery is responsible for his recent firing as an ad executive at Phoenix-based ON Advertising.
In a video posted to Facebook on May 17th, Dyer addressed his firing as the result of a recent political ad he released which criticized his opponent Governor Doug Ducey, Yavapai County Attorney Shela Polk, and Montgomery for their opposition to legalization.
"I figured [Montgomery] might take a couple different approaches. He might simply ignore it, or he might respond by criticizing my approach to cannabis," Dyer says in the video. "But he threw a different kind of punch altogether. He called my boss and intimidated him into firing me from my day job."
The allegation launched a Facebook spat in which Montgomery decided to get involved posting, "I don't know you, never saw your video, and don't know where you do/did work, let alone ever called your employer. But if you want to run a campaign on fiction, have at it."
The back and forth thread continued for days as a local reporter and several concerned citizens returned to have their say. Yet if there's reason to believe Dyer, its because he's the man who has nothing to hide, making headlines in 2014 when he gave his email password to The Atlantic to prove it. As a Mormon-turned-non believer, he aired his sexual history in what many consider an attempt to pre-empt political scandal, but what he considers a part of his anti-privacy philosophy in life.
Dyer has never smoked weed and doesn't even drink, but he does believe that cannabis should be legal and that Montgomery's law enforcement approach is the wrong way to address drug addiction.
Initially running as a Democrat, he became an independent last July claiming the party did not support his candidacy. He now calls himself a smart conservative, but that title has come with some roadblocks, namely that he has to collect 30,000 more signatures than his Democrat or Republican counterparts to make it onto the ballot.
But to Montgomery, Dyer is a nobody, picking a fight with the Maricopa County Attorney's Office (MCAO) to stir the political pot and grab some headlines.
"I've debated marijuana policy with far more able individuals than yourself and never called their employers," Montgomery wrote on Facebook, "You're just not that special."
In any case, Montgomery's cannabis policy warranted far more than the single slide which drew attention in Dyer's video. He's been on the front lines of opposition for years. One of his more memorable showdowns came in 2016 as the state was set to legalize recreational cannabis at the polls.
Montgomery was one of the ballot measure's main opponents and his penchant for debate caused a public showdown between him and Navy veteran, Don Ream, who took issue with Montgomery calling medical cannabis consumers "potheads" and a "drag on this country."
"I have no respect for you," Montgomery told Ream, "for someone that tried to claim you served this country and took an oath to uphold the constitution and defend against all enemies foreign and domestic because you're an enemy."
Following criticism, Montgomery, a veteran of the Army who fought in the Gulf War, clarified his statements by saying, "Is [Ream] an enemy like ISIS or Al Qaeda? Of course not. But if he or any other vet is going to use their status as a veteran to encourage people to break the law, then that does make them an enemy of our constitution and our laws and that is a sad commentary on where we are at."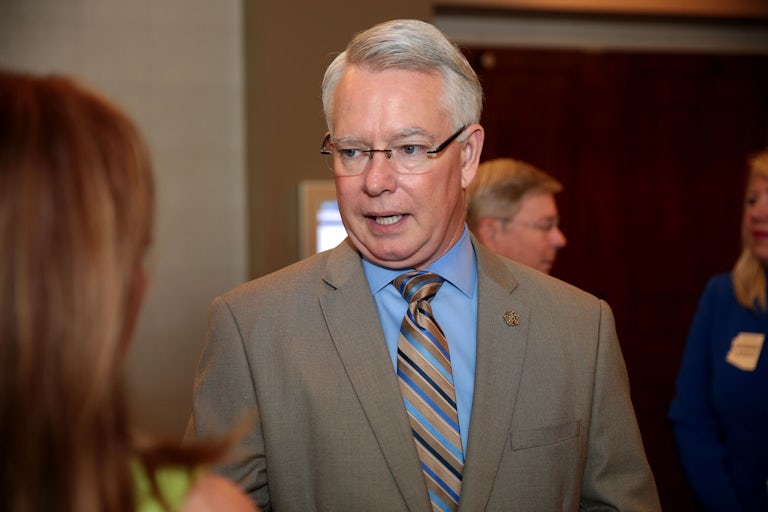 That year his efforts were successful and Arizona was the only state of five which didn't pass their ballot measure to legalize recreational use that year. But In 2010, Montgomery had less luck trying to halt medical marijuana on the ballot. Still, he committed to doing everything in his power to fight the new medical regulations, including in 2013 when he brought felony possession charges against a medical marijuana patient for a single infused candy.
"He spent five years in litigation, trying to use federal law as a cudgel against the will of voters in his own state and across the country," said ACLU attorney, Emma Andersson, after a recently dismissed case against Sun City dispensary.
Montgomery inherited the County Attorney's office in 2010 when it was rife with corruption as his former boss Andrew Thomas was disbarred for using his office to target his political opponents.
Maricopa, which encompasses the city of Phoenix and the surrounding area, is a unique county in that it doesn't give its police officers the discretion to issue citations for possession, but rather demands that they are arrested. This policy has resulted in an average of about 500 cannabis possession arrests per month. That statistic would be extraordinary on its own, yet it should also be noted that Montgomery's office receives monetary kickbacks from these arrests.
In an October 2016 report, The Arizona Republic's Rebekah L. Sanders uncovered that the county's practice of mandatory rehab for first-time offenders allowed the MCAO to collect $15 million from the drug treatment program TASC.
Under the program, those who are charged with drug-related crimes are expected to pay more than $1,000 in fees. Among those fees is $650 which is given to the County Attorney's Office for their referral and since 2011, three-quarters of those referred to TASC were there for cannabis.
In an op-ed response, Montgomery pointed out that the arrangement was totally legal and claimed that legalization would cost more than it saves because drug abuse would increase. But even if it is illegal, it ought to raise eyebrows that the county attorney's office stands to benefit from targeting marijuana users.
When asked about it by reporters, he's claimed that "I'd be happy if we received zero dollars, because it would mean nobody needed to go into treatment in the first place," seemingly implying that the program couldn't operate without also offering cash to the MCAO for its referrals.
As Montgomery sought re-election for the second time in 2016, Sanders questioned whether Montgomery had really, "reformed the office since the fractious days…" while his campaign opponent at the time, local lawyer Diego Rodriguez, accused him of using the MCAO to pursue political aims – specifically to take on the legalization ballot measure.
Managing that re-election campaign was Ron Meritt, president of ON Advertising, which still lists both Montgomery and the MCAO as their clients.
Dyer insists that controls were put in place at the time to prevent a conflict of interest between the firm and the campaign, but the connection still lends the more recent story of his firing some plausibility.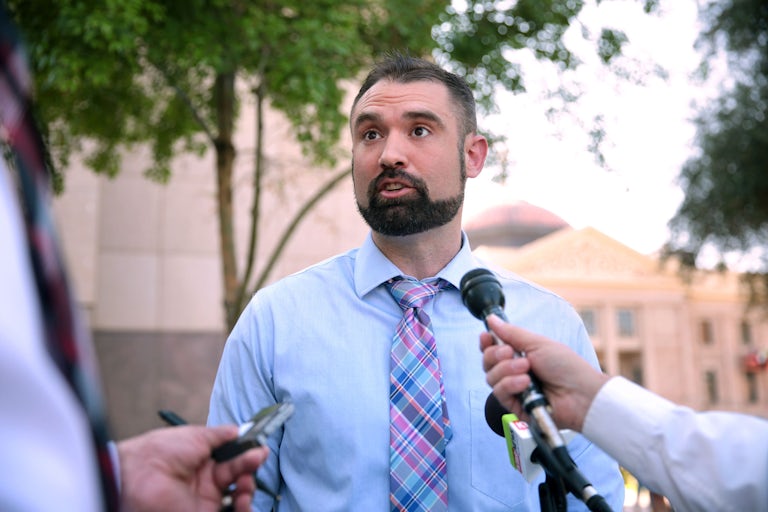 ON Advertising has not responded to a request for comment.
"As you can imagine," Dyer says, "they want to stay in good political graces with the county, but don't want to go so far as lying to contradict my story."
Still, in contact with some of the agencies employees, Dyer adds that a friend has told him, "they have been specifically instructed not to talk about the issue," which would explain why they didn't respond to a request for comment.
When Herb asked the MCAO if they had any contact with ON Advertising in recent months – specifically in late April regarding a political ad – they answered simply "No."
Thus far, only Dyer has been willing to provide any details.
At a meeting which took place in early April, Dyer says he warned the company leadership that he was preparing an ad for his campaign that might get them into some hot water. He says that he didn't inform them it would include Montgomery, but that previous experiences led him to believe they should be warned.
That previous experience, according to Dyer, is an attempt by Russel Pearce of the County Treasurers Office, a political ally of Montgomery, to have him fired in 2017. "In that case, there was no attack on him," he says, "he just didn't like me and the attention I was getting." This time, ON Advertising came to Dyer's defense.
On April 24th, after the initial campaign video had aired, the company held another meeting. According to Dyer, "At the end of the meeting, they shared that they had received a "distressing" call from the Maricopa County Attorney's Office over the weekend and that the County Attorney was angry about my video." The company had just renewed its contract with MCAO and the video was an issue.
That was when Dyer was asked to resign, "They were composed but obviously emotional as they said it," Dyer says, adding that the company emphasized that, "this wouldn't be an issue had the MCAO's office not made it one."
Dyer told Herb that he agreed to frame his resignation as a personal choice to focus on the campaign, but following the release of the video which claimed Montgomery was involved in his firing, he reached out to the company on May 17th and has not heard back since.
When asked if his firing has had any impact on his campaign, Dyer says, "At a personal level, it has given me some additional time to focus on our final signature push before the deadline of May 30th." But according to the Phoenix New Times, it's had some adverse effect on his campaign funding as donations from Dyer and his close family have made up a large chunk of the $51,000 his campaign has raised.
Still, Dyer has stuck to his claims and his criticism of Montgomery's cannabis policy, insisting that he doesn't believe the County Attorney is "a bad guy." Instead, he is asking for donations of $4.20 to send Montgomery a truckload of green roses as a "gesture of goodwill."