The War on Drugs, started by Richard Nixon in 1971 in an attempt to target minorities and those in the counter-culture, is well-known as "the New Jim Crow." Co-conspirator John Ehrlichman told Dan Baum at Harper's Magazine:
The Nixon White House […] knew we couldn't make it illegal to be either against the war or blacks, but by getting the public to associate the hippies with marijuana and blacks with heroin, and then criminalizing both heavily, we could […] arrest their leaders, raid their homes, break up their meetings, and vilify them night after night on the evening news. –John Ehrlichman
From this seed, the War on Drugs grew into a heinous tree continuously watered by the presidents who followed. The statistics on unjust drug-related incarcerations of minorities are clear. A 2013 report by the ACLU stated that while black and white people both use marijuana at roughly the same rate, Black people are "3.73 times as likely to be arrested for marijuana possession."
In 2016, Oakland, California tried to make amends to those of the 100,000 federally imprisoned individuals charged with drug crimes who have since been released. An equity program tried to acknowledge the reality that Black people aren't being loaned the capital and given the opportunity to participate in the industry. As Hoodline reports, "the new permits are the first step in [taking] on racial disparity in the cannabis industry. The city will give priority to applicants with certain income thresholds who have been impacted by drug-enforcement policies".
The Hood Incubator is run by three Oaklanders who have recognized that the racial opportunity gap in the marijuana industry needs to be closed.
Michelle Alexander, the author of "The New Jim Crow," elaborates on the root of the problem: "White men [are] poised to run big marijuana businesses. […] After 40 years of impoverished Black kids getting prison time selling weed, white men are planning to get rich doing precisely the same thing."
This is why Hood Incubator, founded by  Ebele Ifedigbo, Lanese Martin, and Biseat Yawkal, aims to democratize employment in the marijuana industry.
Hood Incubator is "focused on creating pathways to ownership for people of color in legal cannabis. […] It [is] about opportunity and access to resources for my community. […]In the city of Oakland, California alone, almost 80% of cannabis-related arrests are of black people. It's almost 90-95% if you take all people of color. White people only get arrested 4% of the time" explains Ebele Ifedigbo, who has an MBA from Yale.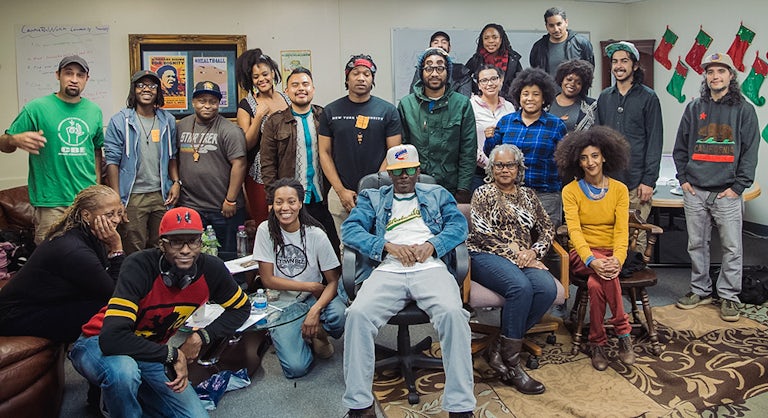 It's not simple to transition from having worked in the underground market to the licit one, especially with criminal convictions, which preclude many people of color from being hired by dispensaries or offered financial assistance for establishing ownership. Ifedigbo explains that "less than 1%" of venture capital goes to "Black business owners."
Hood Incubator offers low-income community members a four-month, business-intensive-course in order to help them navigate the complicated legal framework of opening a legal cannabis business. Hood Incubator also provides workshops on getting through industry bureaucracy. "We wanna take folks who are already operating in the underground, maybe they already have a whole distribution channel and the whole customer base, but they don't know the exact licensing and operating plan", says Ebele Ifedigbo.
One of the ultimate goals, says MBA Lanese Martin, is to establish a business network of people of color. Ifedigbo stresses that time is limited for people of color to put their foot into the booming, billion-dollar marijuana industry.
"Who is that money gonna go toward? Is it gonna be the traditional folks who tend to gain economically? Or is it gonna be the folks who have been most negatively impacted by the War on Drugs? Now is the time for us to act and create the pipelines that's gonna allow people of color to have a real stake in this industry," says Ifedigbo.
Hood Incubator working to fundraise $30,000 to help 15 teams build and execute business plans. It's hard work, but with the dedication of Ifedigbo, Martin, and Yawkal the important social change in the industry could be on the horizon.