The lawyer for the family of a 26-year-old who was fatally shot in his own apartment by a police officer says investigators are unnecessarily drawing attention to a small amount of marijuana found during a search following the incident.
Botham Jean, a businessman with no criminal record, was at home in Dallas, Texas on the night of Sept. 6 when police officer Amber Guyger accidentally mistook his apartment for her own and shot him in the torso. Following Jean's death, a judge approved a search warrant for fired cartridge casings, guns, video surveillance, and "any contraband, such as narcotics."
Multiple news outlets reported the results of the warrant, including 10.4 grams of marijuana, found on Jean's kitchen counter, and a metal grinder. One highly-criticized Tweet, put out by the local FOX affiliate, included a photo of Jean smiling in a suit with the headline: "DEVELOPING: Search Warrant: Marijuana found in Botham Jean's apartment after deadly shooting."
Civil rights advocates, quick to come to Jean's defense, pointed out that the warrant didn't specify who possessed the marijuana and, even if it did, it would be irrelevant as marijuana possession doesn't justify a wrongful shooting.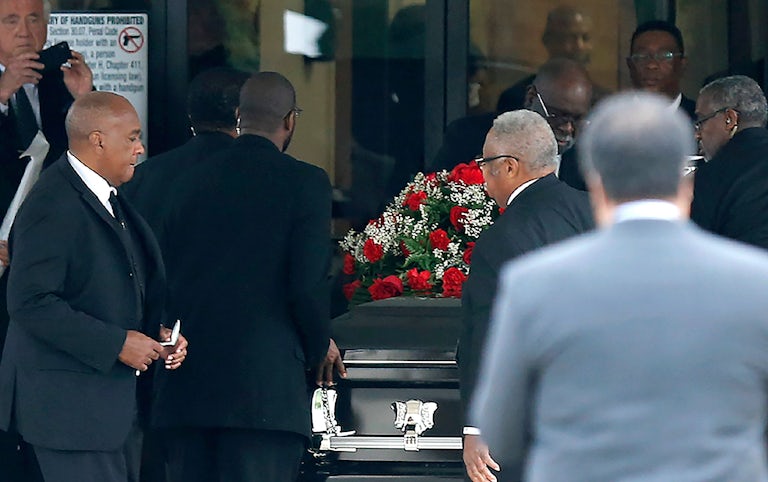 The Jean's family attorney, Lee Merritt, has expressed outrage, but not surprise, at the situation. He said it's common in police shootings for investigators to go looking for evidence that can be used to blame the victim.
The Dallas Police Department has yet to say whether they've issued a search warrant for Guyger's property. Affadavits, however, offer differing accounts of what happened that night, suggesting Guyger may have changed her story.
A search warrant obtained by the department says Jean confronted Guyger at the door. A different affadavit, used by the Texas Rangers to arrest Guyger, says Jean was across the room when she entered the apartment.
Guyger was returning home after a 15-hour shift when she shot Jean. According to Dallas Mayor Mike Rawlings, she accidentally parked on the fourth floor instead of the third and claims the door to Jean's apartment was slightly ajar. After the shooting, Guyger called 911 to report the incident.
She is now free on a $300,000 bond after turning herself in at a local jail. She faces a manslaughter charge. Meanwhile, Jean's family is demanding Guyger is fired and an investigation is opened into who released the warrant to "assassinate" Jean's character.