Cassandra Farrington, the former leader of her daughter's Girl Scout troop with a soccer-coaching husband, is about as far away as you can get from the picture of a traditional weed trailblazer. In a 2012 editorial, she mentioned that she doesn't seem much interested in marijuana herself and that she would "reliably [leave] the party when more adventurous friends broke out the illicit substances." Not only this, but Farrington seems to be skeptical of people who use marijuana recreationally.
"[A] laissez-faire approach to drug use […] appears pervasive in this industry. [In a clip of 'Weed Wars'] a senior staff member jokes that the employees are not able to 'medicate' […] at a company-hosted lunch. Why on earth would you need medication to get through a staff lunch? I like my staff, and enjoy it when we get to spend time together […] all of which makes me wonder: maybe this isn't truly about medicine. Maybe these folks beating the legalization drum are in fact just hiding behind the handful of patients with seizure disorders, debilitating pain, and cancer. […] There are many more individuals who would get along just fine—probably better—if they weren't high on marijuana all the time."
And yet Farrington, for all of her qualities that seem to contradict cannabis culture, has essentially built what some are calling the Wall Street Journal of weed. Marijuana Business Daily is, as Farrington tells Forbes: "Not a lifestyle publication or a culture magazine or a celebration of the plant-type publication. We are truly all about the dollars, cents, actions, partnerships: the business side of the [cannabis] industry."
Following the dollar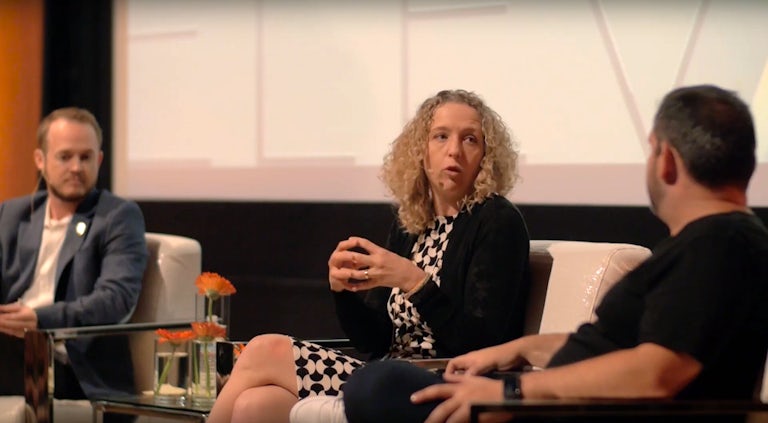 Sticking to the financial and business side of cannabis makes sense: it's a $6.7 billion dollar industry that's pegged to grow to over $20.2 billion by the time 2021 rolls around. And Farrington, along with her business partner, was particularly pragmatic when it came to starting Marijuana Business Daily in 2011:
"We had a set of criteria that we judged everything against. Is [the industry] growing at a certain pace? […] Does it have a certain number of actual businesses with actual employees, not solo entrepreneurs or consultants or individuals?"
Farrington found that most cannabis media was focused on consumers rather than people looking to break into cannabis. There was a glaring need for "reliable data, facts, figures, [and] analysis of the latest activity on the business side of the industry."
She told Inc.: "Many of the entrepreneurs were coming out of the gray market and had no experience in running a business aboveground. The original idea was to cover things such as why it's important to file taxes."
And clearly, Farrington was right about what information the cannabis industry needed. In 2016, the publication made $10.1 million, with an 843% three-year growth. In an industry where women's involvement at the executive level stands only slightly higher than the shockingly low national average (and is dropping—from 36% in 2015 to 26.9% in 2017), Farrington stands out as a powerful player with influence to guide the entire market. And regardless of her opinions on recreational use (overuse, perhaps), she's still notable within the sea of marijuana men.