This Christmas we wanted to thank all our fans for being awesome! So we've teamed up with some of our favorite companies and we have 5 AMAZING PRIZE PACKS to give away this Christmas!
The 2015 Christmas Giveaway is now closed.
Winners have been emailed.
GRAND PRIZE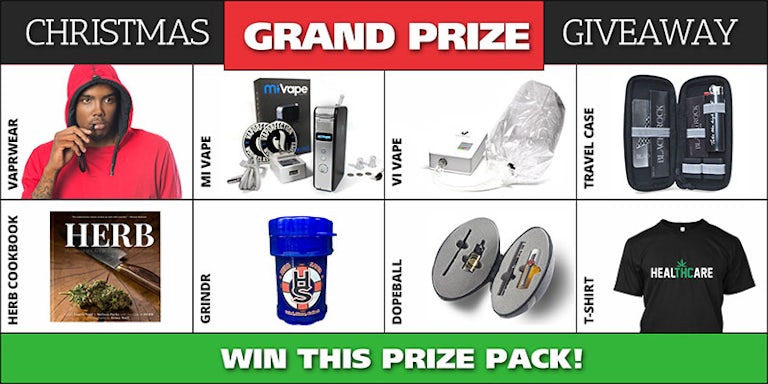 1. miVape Vaporizers by Vaporfection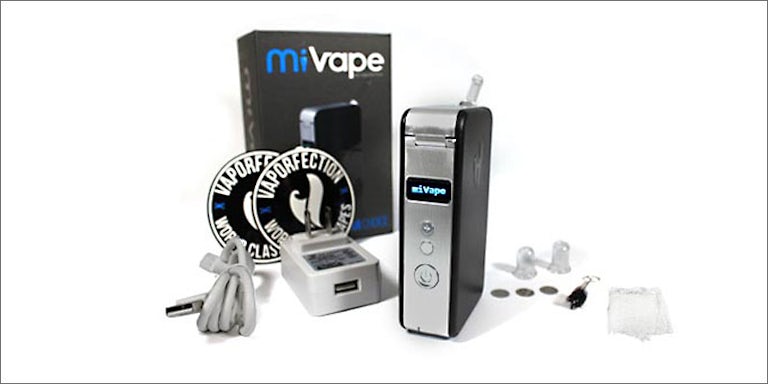 Vaporfection has done it again! Known for their cutting-edge flagship desktop unit, the viVape, the time has come to welcome their highly anticipated truly pocket-sized portable vaporizer- the miVape! In order to vaporize using convection heating, air must be heated to the point where it's hot enough to create vapor, but cool enough so that combustion or burning doesn't occur. The miVape is equipped with a unique, patented all quartz crystal heating chamber and airpath that super-heats the air while it travels through to the quartz cup that holds your herbs. That means no direct heat is coming in contact with your herbs, leaving nothing but sweet aromas and amazing flavor to be enjoyed.  Find out more at Vapornation
2. viVape Vaporizers by Vaporfection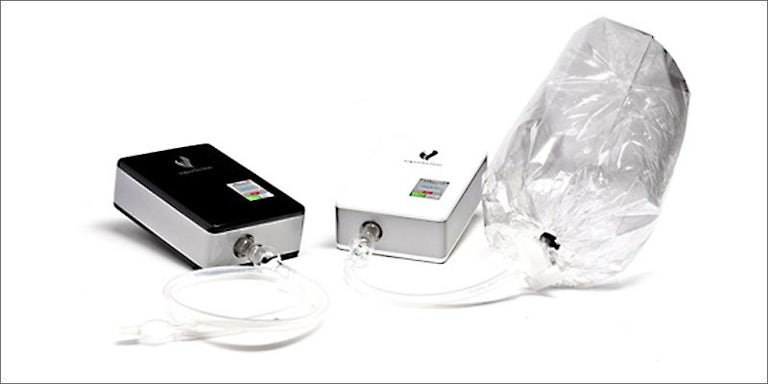 This advanced 2nd generation version of the popular viVape brings new meaning to the pursuit of perfection. Meet the new generation of Vaporizers. Developed by Vaporfection, the brand new viVape Vaporizer employs the newest and most advanced vaporizing technology. This modern Vaporizer offers the user Dual-Delivery Method: bag or whip. The high-quality forced-air system is capable of filling up any size balloon/bag with rich and flavorful vapor within seconds. If no time to fill a bag, the advanced whip delivery system is simple to use and highly efficient. Unlike many other forced-Air vaporizers that produce loud and annoying sounds, the viVape Vaporizer is quiet and discrete. Learn More at  Vapornation
3. Black Rock Travel case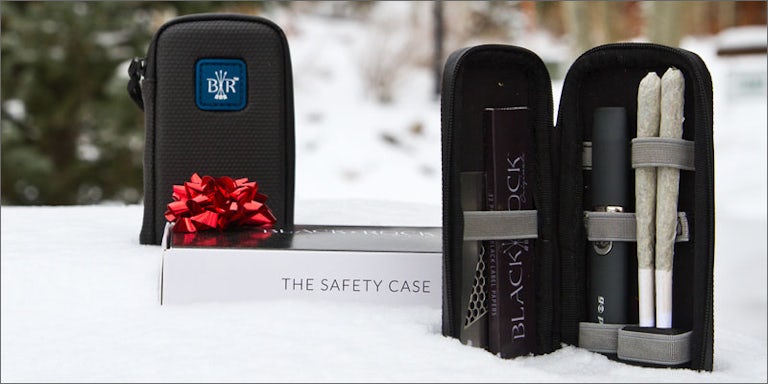 Inspired by the outdoors and influenced by adventure, the pocket-sized Safety Case is the solution to your active lifestyle. Its smell-proof design features tape-sealed seams and a weatherized exterior for an additional layer of protection. The interior strap system organizes your smoking supplies and keeps track of everything you need. With its refined look and premium construction, the Safety Case never misses a meeting.
See more of the Travel Case at Black Rock
4. VapRwear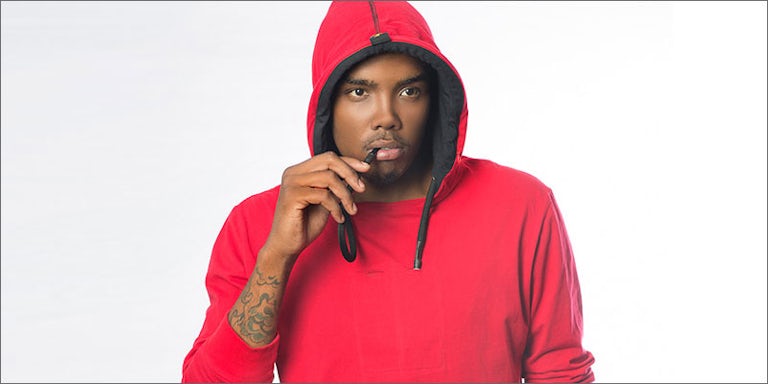 Slide inside THE ONLY garment to integrate high-quality, custom designed activewear and discreet functionality. Each VAPRWEAR hoodie is engineered with an inconspicuous hoodlace, concealing the DLo e-cig vape system to burn your fav medium – dry herb, wax, e-juice and oil blend. Check out the full range at VapRwear
5. Dopeball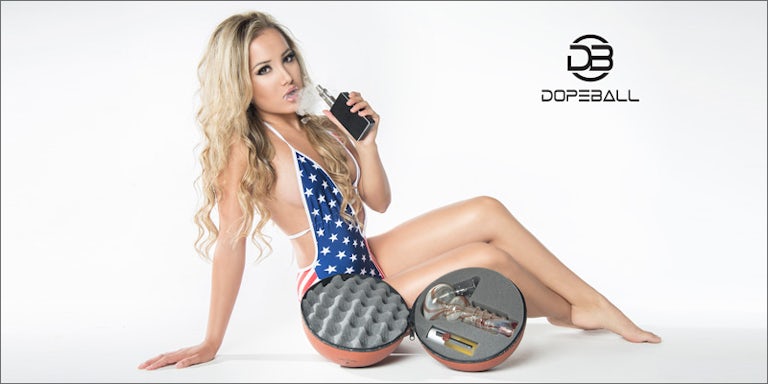 DOPEBALL uses any athletic ball you can think of to create a portable and discreet storage container for your marijuana, glass pipes, vaporizing system, E-cig accessories, and any valuables you want to discreetly keep safe while on the go!
6. T-Shirts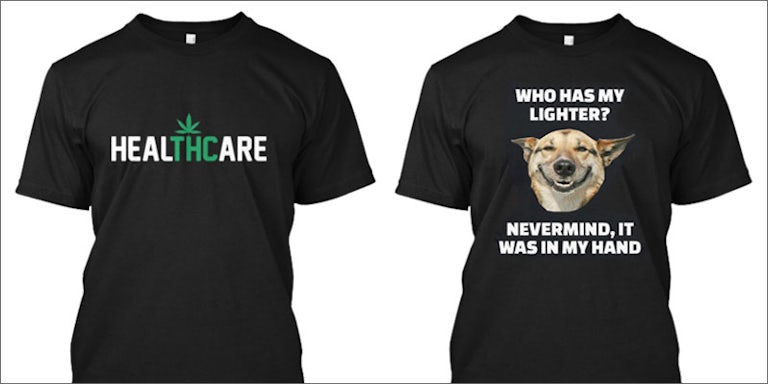 Choose any 2 t-shirts from The Stoner's Cookbook range!
7. HerbSaver™ Grinder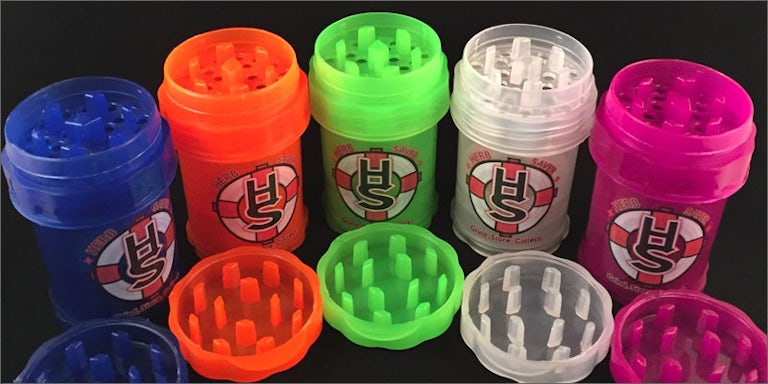 LIMITED LIFETIME WARRANTY GRINDER TEETH!  MADE & ASSEMBLED IN USA
Replace your pollen screen/clean your grinder in no time with our new friction fit technology. HerbSaver™ Grinder can be easily cleaned using soap and water. Every grinder includes a handy pollen scraper. Made of medical grade PP and a step above your average aluminum grinder. Not only does HerbSaver™ Grinder give your dry herb the perfect grind/consistency, it also holds a large amount of herb and pollen. Other Features include: Water Resistant, Odor Resistant, Medical Grade PP, Friction Fit Pollen Screen for easy cleaning/replacement, No-Open/Spill Design, Quick Release Threads for easy access, Handy Pollen Scraper, 1 Stainless Steel Pollen Screen disc, Top Rack Dishwasher Safe.
Find out more about HerbSaver™ Grinders
8. HERB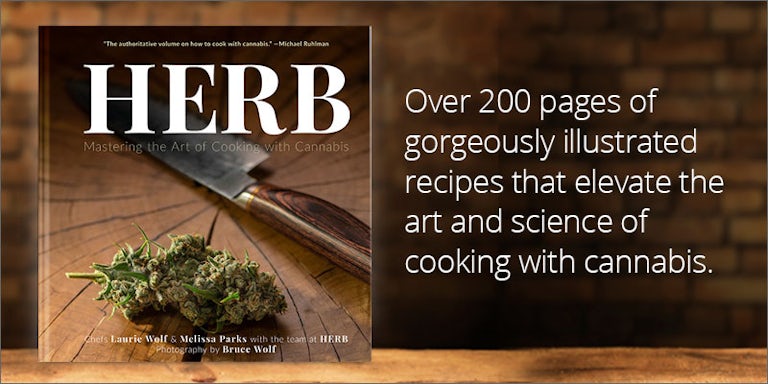 Herb: Mastering the Art of Cooking With Cannabis is a hardcover, 200+ page cookbook with hundreds of recipes, beautiful photography, detailed extraction methods, the science behind cannabis, medicating with cannabis, and more. Seasoned chefs and cooking novices alike will revel in creating homemade cannabis-infused treats with these delicious, reliable recipes. Enjoy the art of at-home cuisine in an entirely new way with the first cookbook to treat the humble cannabis herb as the unique culinary ingredient that it is.
---
RUNNER UP PRIZES
RUNNER UP #1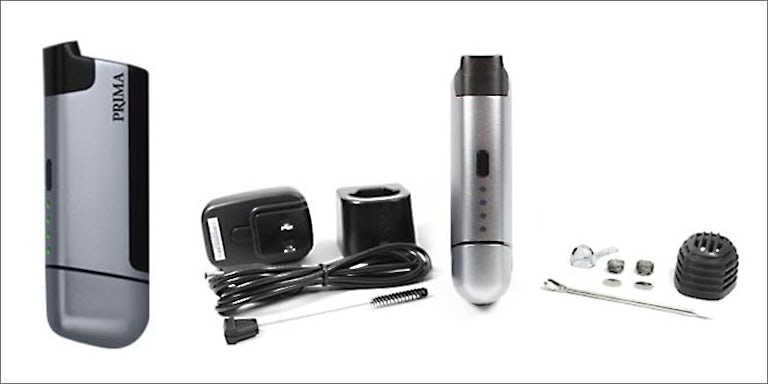 The Prima is the all-new game-changing portable vaporizer from one of the most trusted names in the industry, Vapir. Compatible with both herbs and wax, the Prima's unique, mode design is highlighted by a brushed aluminum body, removable stainless steel vapor channel, as well as a removable/replaceable lithium-ion battery. In addition, four optimized temperature settings (ranging from 350°-400°F), help to ensure a near combustion-free experience. There's no other portable vaporizer on the market today that can match the Prima's performance and durability for the price. The Prima's contemporary and fashionable design truly sets it apart from any other portable vaporizer. By seamlessly combining simple, yet sophisticated elegance with superior build quality, Vapir has managed to create one of the most aesthetically pleasing and durable units ever. The Prima's brushed aluminum body looks and feels great in your hand, and is accented by a matte black mouthpiece, battery and power button.
By combining true convection with a small element of conduction, the Prima is able to produce an incredible amount of vapor from the very first draw. While some portable units leave you with a little to be desired, the Prima performs at a level that will put a smile on even the most hard to please vape enthusiasts. There are very few portables that can match the Prima's stellar functionality. Capable of pumping out cloud after cloud of crisp, delicious vapor – the Prima is in a class of its own when it comes to performance. Find out more
PRIZE ALSO INCLUDES: Herb: Mastering the Art of Cooking with Cannabis, HerbSaver™ Grinder, and a T-Shirt!
RUNNER UP #2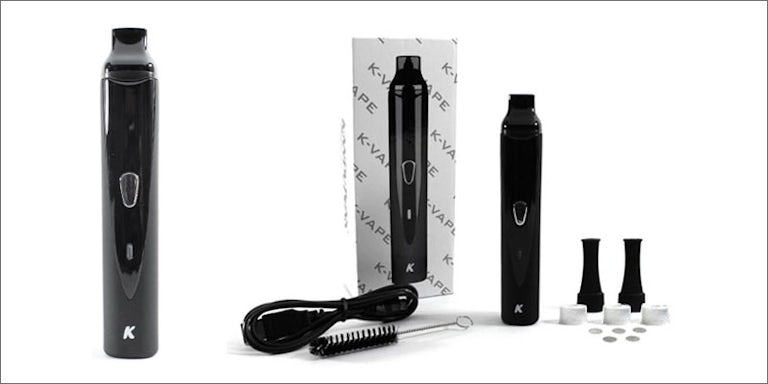 The K-Vape is the first portable herbal vaporizer from KandyPens to utilize true convection heating and offer a zero combustion vaporization experience. The K-Vape utilizes 3 different temperature settings (360°F, 380°F, 420°F) to ensure your herbs are warmed to their optimal level without being heated to the point of combustion. Dry material is packed into the large stainless steel heating chamber, which can hold up to .6 grams of your favorite herbs. Hot air then passes over your herbs, releasing the active ingredients without ever directly touching the heat source. Since there is no conduction involved in the heating process, you won't be inhaling any smoke, just pure vapor.  Constructed from high-quality materials, the K-Vape features a durable matted black rubber finish, making it perfect for vaping on-the-go. KandyPens it so confident in the K-Vape's quality and functionality, they've covered it under an unprecedented lifetime warranty! Any issues related to the heating element, battery or electronics are fully covered by the manufacturer warranty, making the K-Vape one of the most trusted portable herbal vaporizers on the market. Find out more
PRIZE ALSO INCLUDES: Herb: Mastering the Art of Cooking with Cannabis, HerbSaver™ Grinder, and a T-Shirt!
RUNNER UP #3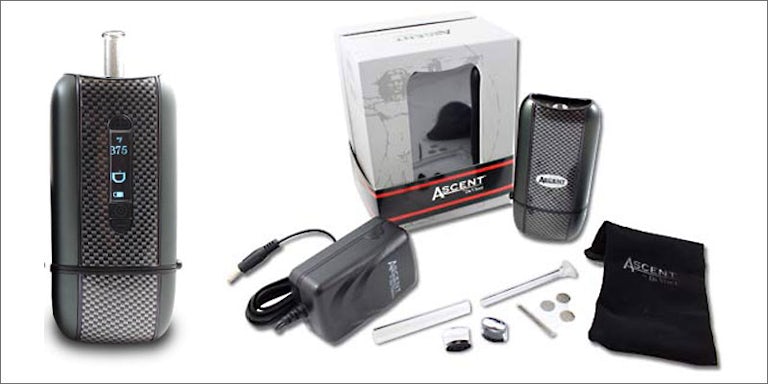 Made by DaVinci, the Ascent Vaporizer represents the latest in vaporizer technology. This unit features a digital temperature control system that allows the user to adjust the vaporizing temperature with ease and precision. The removable glass mouthpiece makes it easy to transport and ensures only the best tasting vapor because of the all-glass pathway. The Ascent Vaporizer was made using the highest quality components and utilizes a ceramic heating element for producing the best quality vapor. It runs on two re-chargeable and replaceable lithium ion batteries that provide 2-3 hours of continuous use. It's sleek and compact design make it perfect for vaporists on the go and it can be used in almost any setting while still being discreet. See more details
PRIZE ALSO INCLUDES: Herb: Mastering the Art of Cooking with Cannabis, HerbSaver™ Grinder, and a T-Shirt!
RUNNER UP #4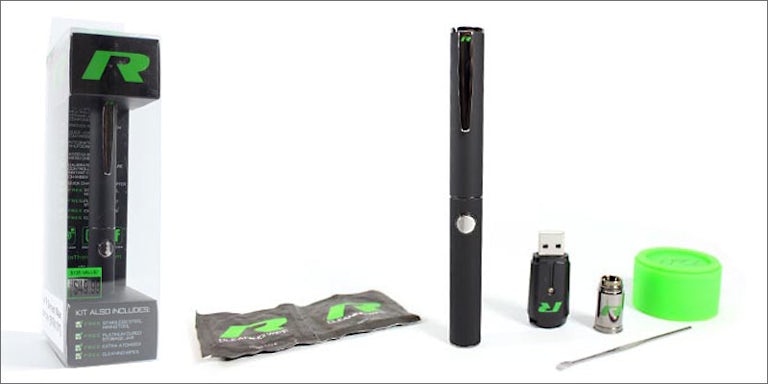 The new R Series from SToK is one of the most advanced, hard-hitting wax pen vaporizers on the market today. If you're looking for a wax vape that rips like an actual dab rig, then look no further than the SToK R Series. At nearly half the price of other high-end wax pens, there's no other vape that gives you the type of bang for your buck as the SToK R. Equipped with a visual reaction chamber, the R Series allows you to watch the larger than life funnel clouds build-up before taking a rip, so you'll always know when it's time to reload, and how big of a hit to expect.  Tired of under-powered wax pens that turn vaporizing your favorite concentrates into a chore? The R Series from SToK utilizes some of the most advanced technology in the industry to provide you with a true dab rig experience on-the-go. Featuring a parallel calibrated temperature control coil, advanced airflow system and a polycarbonate heating chamber with ceramic and titanium components – there's no other wax pen that can perform on the level of the SToK R Series. When the removable top cap is placed on the unit, the SToK R looks just like a regular pen, allowing you to bring and use anywhere without anyone knowing you're actually carrying around one of the best vape pens in the business.
PRIZE ALSO INCLUDES: Herb: Mastering the Art of Cooking with Cannabis, HerbSaver™ Grinder, and a T-Shirt!
All Runner Up Prizes come with: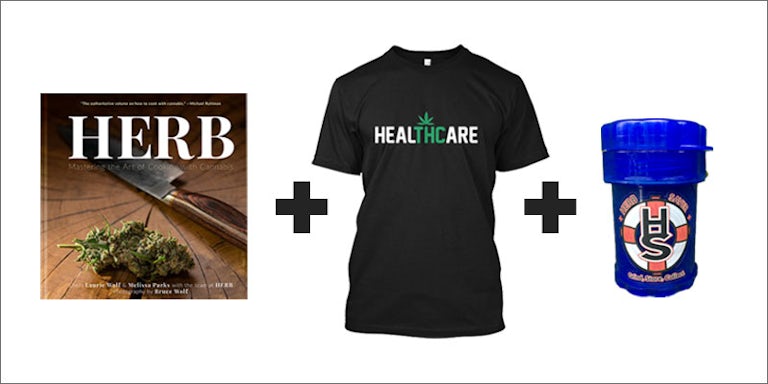 Herb: Mastering the Art of Cooking with Cannabis, HerbSaver™ Grinder, and a T-Shirt!
ENTRY FORM
The Christmas Giveaway 2015 has now closed. Winners have been emailed! Thanks to everyone who enetered.

Terms and Conditions
By participating you agree to the requirements set out in all promotional materials and the following General Terms and Conditions.  Additional terms and conditions apply to specific competitions and promotions, please refer to the relevant competition page for details of these terms and conditions.
Open to residents of the United States only.  Not open to employees (or their immediate families) or contractors of The Stoner's Cookbook, its agencies or anyone else professionally associated.
Entrants must be over 18. The promoter reserves the right to request proof of identity or to verify eligibility conditions.
Maximum one entry per person unless otherwise stated. Entries via agents or third parties or the use of multiple identities and email addresses are not permitted.
Entries must be completed online by the closing date, Dec 23 11:59 EST. Use of automated entries or programs is prohibited and all such entries will be disqualified.
Winners will be drawn and announced Dec. 24th 2015. Winners will be notified by email and announced on the Facebook page
The promoter reserves the right to disqualify late, misdirected, incomplete, corrupted, lost, illegible or invalid entries.
For online entries: The promoter cannot guarantee continuous, uninterrupted or secure access to the website and is not responsible for any disruption to the promotion or the website due to technical problems or otherwise due to events outside of its reasonable control.
The information you supply will be used to administer the promotion and send out prizes, as well as future marketing purposes.
If any prize cannot be distributed or is returned as undelivered the promoter reserves the right to select an alternative winner. If we require a response before we award any prize and no response is received after we have made reasonable efforts to make contact, the Promoter reserves the right to withdraw prize entitlement and award the prize to someone else. The Promoter has no responsibility to anyone who has not responded.
No cash or other alternative prizes are available, except that in the event of circumstances outside of its control the Promoter reserves the right to substitute a similar prize of equal or greater value. Prizes cannot be transferred or sold by winners.
The Promoter has arranged this Promotion in good faith but, to the fullest extent allowed by law, accepts no responsibility for loss or damages as a result of anyone participating in the Promotion or any aspect of any prize awarded. Your legal rights as a consumer are not affected.
The Promoter reserves the right to modify, suspend, cancel or terminate the promotion or extend or resume the entry period or disqualify any participant at any time without giving advance notice and will do so if it cannot be guaranteed that the promotion can be carried out fairly or correctly for technical, legal or other reasons or if the Promoter suspects that any person has been manipulating entries or the results or has acted unethically in any other way.
If we require a response before awarding any prize and no response is received within a reasonable period of time, we reserve the right to withdraw the prize entitlement and will award the prize to a substitute winner drawn at the same time as the first name(s) selected. Any prize which is returned as undelivered will be used for another prize draw or given to charity.
The winner agrees to take part in publicity in connection with the prize draw.
If a prize is unclaimed after reasonable efforts have been made to contact the winner the promoter will be entitled to dispose of the prize as it sees fit without any liability to the winner for doing so.
The promoter reserves the right to alter, amend or foreclose the promotion without prior notice.
By entering this prize draw, entrants agree to be bound by these terms and conditions.
The Promoter's decision is final and we reserve the right not to correspond on any matter.
The laws of the United States apply and any disputes will be dealt with accordingly.
If you have any questions, please contact webmaster@thestonerscookbook.com