As Canadian cannabis legalization Bill C-45 finally stumbled out of the Senate last week riddled with several dozen amendments, Conservative Senator Claude Carignan's name was attached to two of the most controversial. Carignan was behind the accepted proposal to demand licensed producers make the names of everyone associated with their leadership public, something cannabis advocates are calling an invasion of privacy. He was also responsible for the defeated amendment calling for a blanket ban on growing cannabis outdoors.
Carignan voted to strike down the legalization bill, as amended—after he also voted for amendments, which did not pass, to ban all home cultivation, raise the minimum age for consumption to 21 (then later to 19), and ban adults smoking cannabis in a house where those younger than 16 are present.
Even in the C-45 amendment process, Senator Carignan came across as one of the Senate's most vehement cannabis opponents. But those following the developments of the bill have gotten used to seeing Carignan's name attached to outlandish news.
Carignan was one of a trio of Conservative senators who controversially traveled to Washington D.C. on April 4 to meet US Attorney General Jeff Sessions as well as representatives of the Department of Homeland Security, US Customs and Border Protection, and advisors for congressmen about concerns that cannabis legalization will present problems for Canadians entering the US.
The answers they received were dire. "Canadians have reasons to be worried!" their statement warned, predicting long border waits and an increase of secondary inspections.
The following week, Carignan and his colleagues were reported to be distributing a contentious document to other senators from US anti-cannabis organization Smart Approaches to Marijuana (SAM). The pamphlet argued that modern cannabis is highly potent and "a growing and significant threat to public safety." SAM's founder Kevin Sabet has compared legal cannabis to big tobacco and claimed cannabis fueled the opioid crisis.
The US visit enraged Government Representative Senator Peter Harder (Independent) who told the CBC that Carignan and his colleagues "[met] with American cabinet officials in an effort to undermine the government of Canada's relationship with the American administration" and "do not speak for Canada."
Carignan himself is no minor senator. He's a founding member of Quebec's conservative Action Démocratique du Québec party, a right-wing populist group that spent years successfully stoking Quebec's ongoing anti-immigration and anti-Muslim backlash. Under Conservative Prime Minister Stephen Harper, Carignan became the Senate Leader of the Government. In that capacity, he made news by, among other things, admonishing Conservative senators not to tweet, use social media, or discuss any subject with the media without first getting permission from his office. After Justin Trudeau's Liberals gained power in 2015, Carignan became the Senate Leader of the Opposition until he stepped down on March 31 of this year.
The appointed Senate remains a sore point for a majority of Canadians, who generally do not want to see unelected politicians interfere in legislation passed by the elected House of Commons. However, Carignan has held fast to the idea of a partisan Senate whose members take ideological direction from party leadership—in this case, the Conservative party, which is not in power and lost the 2015 election in part over their opposition to cannabis legalization.
Carignan has been active in Senate anti-cannabis work since before Bill C-45 was even introduced. Since the Trudeau Liberal government sent the legalization bill to the Senate, he has fought it more aggressively than most. On May 2, Carignan sat on the Standing Committee on Legal and Constitutional Affairs—along with fellow anti-pot legislators Pierre-Hugues Boisvenu and Denise Batters—as it proposed amendments to the legalization bill allowing provinces to ban home cannabis cultivation (adopted) and banning home cannabis cultivation nationwide (defeated).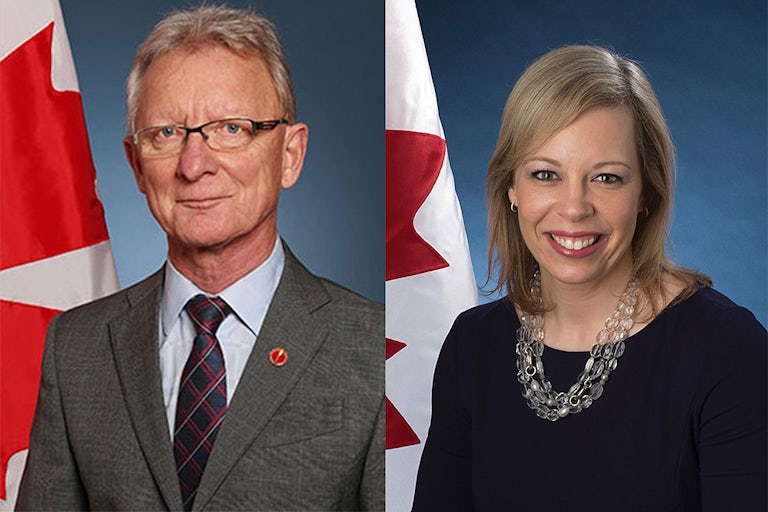 The strangest chapter in Carignan's battle against cannabis, however, was not about Carignan himself, but rather his staffer Malcolm Armstrong, former founder of a quasi-utopian undertaking called the Zeitgeist Project. In mid-May, Armstrong was fired after it was reported that he had been approaching other senators for several weeks with an 8-page memo formatted to look like an official Senate document (with the Senate of Canada logo), which argued senators should delay the vote on cannabis legalization they had agreed would be finalized by June 7.
The memo was itself a distillation of a 51-page paper in which Armstrong argued "reasons to legalize no longer exist" and that Health Canada's Cannabis Legalization & Regulation Branch (CLRB) was "a rogue branch withholding key information" from the Prime Minister. Among the information Armstrong suspected the CLRB "could be keeping from the PM" were arguments about rising THC levels potentially causing brain damage and social problems. Armstrong also noted that "cannabis is not indigenous to the western hemisphere," and wondered if "Indigenous people are negatively predisposed to cannabis like alcohol." (In a footnote, he attempted to refute the widely held scientific position that Indigenous peoples have no genetic predisposition to alcoholism by arguing there is genetic proof alcoholism runs in families.)
Identified in the document as "Dr. Malcolm Armstrong" and "Malcolm Armstrong, PhD," Armstrong only clarified on the final page of the full 51-page document that he holds a Ph.D. in philosophy from an unnamed university in India. (He told The Leaf News that he studied Eastern Philosophy at Bengalore's Vatican-validated pontifical athenaeum Dharmaram Vidya Kshetram).
The document Armstrong circulated in the Senate did not mention he was hired by Carignan, which led some to suggest he had been deployed by Conservatives who wanted to delay the vote but didn't want to say so publicly. Afterall, when Carignan was still leader of the Senate opposition last December, he threatened to delay the passage of Bill C-45 in order to achieve Conservative goals—and ultimately much of the bill's delay was the result of its slow Second Senate Reading. In February, he was adamant that law enforcement did not have enough time to get ready for legalization. As a result, his Conservatives slowed the Senate passage of both C-45 and the accompanying impaired-driving Bill C-46. It was not unthinkable he might be connected to news one of his contractors was suggesting Bill C-45 should be further delayed.
Carignan himself called Armstrong's call for a delay "crazy," and the misleading presentation of the paper as an official Senate document indeed suggests Armstrong was working alone. Yet Carignan acknowledged that he had hired Armstrong to advise him on cannabis.
Armstrong told the Canadian Press, "I discovered that I was more knowledgeable of cannabis than any senator and any staff. I think [Carignan] recognized that, that's why he wanted me to come in."
It did not end up making news that a key Senate Conservative cannabis opponent had hired a conspiracy-minded quasi-utopian philosophy Ph.D. with no background in public health, genetics, or pharmacology to keep him informed about cannabis. And three weeks later, any doubt about the trustworthiness of Carignan's advisors was long forgotten when he introduced his amendment (among those rejected this week by the House of Commons) requiring cannabis corporations to publicly name their leadership. Cannabis lawyer Trina Fraser called the amendment "a terrible and unnecessary invasion of privacy," but Carignan said it was necessary to keep bikers and the Mafia out of legal cannabis.
"If we want to eliminate organized crime, we have to make sure they will not use the black market, put money in tax havens and come back in legitimate activities," he told iPolitics.
Research by the Canadian Drug Policy Coalition submitted to the Cannabis Legalization Task Force in 2016, however, concluded that there was "a very low involvement of organized crime in the cannabis industry in Canada," noting a 2011 Department of Justice report found only 5% of a random sampling of 500 cannabis production cases were connected with organized crime.
Whether Carignan will fight the rejection of the public-disclosure amendment remains uncertain. On June 13, though, he said: "It's one of our key responsibilities in the Senate to defend the powers of the provinces"—which may mean he and the Conservatives will refuse to pass C-45 without a provision allowing Manitoba and Quebec to ban home cultivation. If that's the case, the C-45 saga will stretch onward while cannabis legalization remains delayed—and the cannabis sector should expect to hear from Claude Carignan again soon enough.