Colorado is a gorgeous state. Other states are of course also lovely, each having its special charm. But if there were a beauty pageant for states, Colorado would wear the crown. And the Centennial State would also likely win Miss Congeniality and Most Active. Other countries around the world are also magnificent- here's looking at you, Switzerland, Brazil, Fiji- but for this writer, Colorado is the stuff true love is made of.
Mountains so majestic, fourteeners (peaks over 14,000 feet) that are accessible by motor vehicle, waterfalls, and rivers slicing through spectacular canyons, rolling ranches… and that's just the Rockies. The Front Range, where the mountains meet the plains, is actually quite lush and provides a very comfortable living environment. The southeastern corner of the state offers hiking and lots of lakes and rivers. The southwest contains ancient archaeological sites, rugged terrain, and some of the best skiing in the world.
Smile high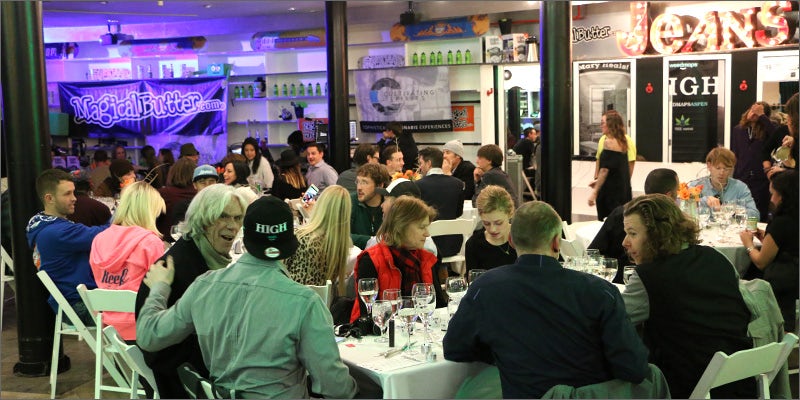 Why wax poetic about Colorado? For one thing… why not? For another, as you might already know, Colorado has become known as not just the home of Mile High Stadium, but also the Mile "High" State. Cannabis tourists are flocking to the state on "bakation." And, while tourism numbers are up for the whole state, we'd like to encourage you to enjoy the rest that the state offers. Safely, legally, and prudently.
First, let's talk about safety. If you live at sea level and journey to Colorado, the first thing you will notice is the sparsity of oxygen. That can affect your entire visit. You will likely get tired more easily. Even if your body is in great shape, walking up a flight of steps can wear you out up there. Take it easy when hiking and dancing and such.
The elevation can cause altitude sickness. The common symptoms of lightheadedness, headaches, nausea, insomnia can range from mild to severe. If you don't pay attention to your body, altitude sickness can be lethal. So, again, take it easy.
Another thing you might want to know: Alcohol at altitude will affect you differently. A little bit goes a lonnnggg way in the mountains. Hard liquor: Start off with just one, and drink lots of water between drinks. In addition to a lack of oxygen, the air is also quite dry and tends to dehydrate you. Beer and wine, of course, will also feel much stronger. So, if you are drinking Chimay or another high alcohol beer, you won't want to drink as many as you normally do.
If you are like most tourists visiting Colorado today, you will also make a trip to a recreational dispensary. And, guess what: The lower oxygen will enhance your high. If you're smoking, start low, and go slow. That goes double for consuming edibles. If you're eating herb, it can be too easy to ingest too much too soon.
Safety first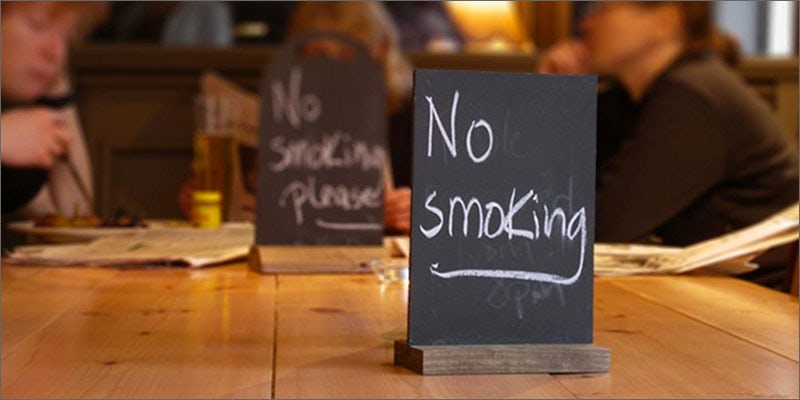 Drink lots of water. Take plenty of rest breaks during activities. And be mindful of the type and amount of substances you take into your body.
Legality… that is a trickier one. It's totally legal under Colorado law for a person 21 or over to purchase up to an ounce of cannabis. But, finding a place to consume that legal bud presents a bit of an issue.
If you've visited or seen shows about Amsterdam, perhaps you would have visions of coffee shops dancing in your head right about now, "wooden shoe"? Nope! Long before the Colorado legislature considered legalizing cannabis, they made smoking almost universally illegal. Even bars and nightclubs are considered public spaces. So, they must remain smoke-free in order to keep their liquor license.
Now, before cannabis was legalized, folks used to smoke it in clubs and other public places. And, if it's done discreetly, people still get away with it. Obeying the law, though, is always an excellent strategy. Keep in mind, the Denver police have been issuing a lot of fines for public smoking. That's money better spent on herb! Anyway, it's uncool to force someone to breathe any smoke they don't want to, especially indoors.
Freedom of choice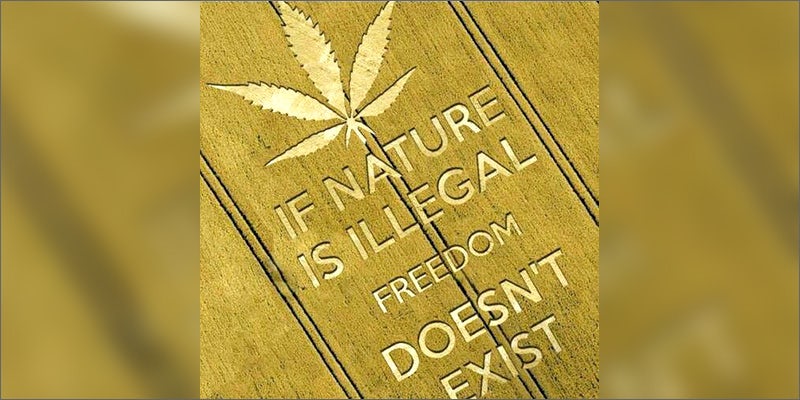 There are a variety of completely legal options. The cheapest, most immediate one is a 420-friendly bus tour or limousine ride. Fees vary with the length of the tour. It's a very easy Google search to find them in Denver. Outside the city, the options are a bit sparser. There is an open-container law, so it's highly advisable to buy multiple packages, sealed in smaller amounts.
There are also members-only cannabis clubs in Denver, Colorado Springs, and even a cute little town outside of Boulder called Nederland. These clubs operate the way members-only clubs in Utah do: as long as you pay a membership fee, even a tourist can come in.
Another great workaround is to stay at a 420-friendly hotel. They are few and far between, however, as they still qualify as public spaces. Most ban smoking of anything in the rooms. Vaping inside is OK, and smoking outside, on a balcony or in a courtyard, might be approved.
Prefer a bed-and-breakfast vibe? There's a small chain of Bud & Breakfasts located in Denver, Silver Thorne, and Colorado Springs. They encourage socializing, celebrate happy hour at (when else?) 4:20, and offer quite comfortable-looking digs. 
Smoking can be problematic. But edibles make consumption so much easier. Just beware the open-container law, and, since the effects can be long-lasting, don't drive. Start small, be patient, and take your time. It can take up to two hours to feel the full effect. And, it's likely to feel "stronger and stranger" than if you had smoked a similar quantity of the herb.
Edibles are readily available at dispensaries. They run the gamut of flavor from sweets to savories. For lower cost and more control of ingredients, you can use a Botanical Extractor. This handy appliance machine lets you make your own herbal infused butter, oil, and tincture, right on your countertop. The invention was introduced three and a half years ago by MagicalButter.com. It was designed to help patients who can't (or don't want to) smoke or stand over a hot stove. It works well enough to have earned a following across North America and beyond, with over 260,000 likes on Facebook.
RELATED: For dozens of mouth-watering herbal recipes, quick how-to videos, and how to get your own extractor, check out MagicalButter.com.
Where to go, what to do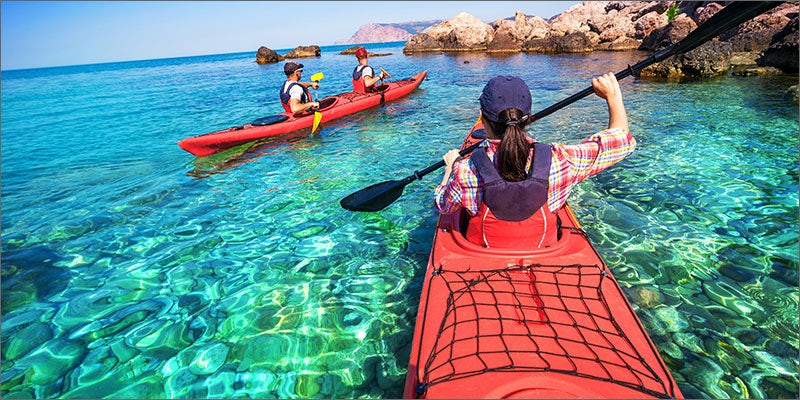 When you visit Colorado, Denver is an excellent home base, thanks to its central location. From there, you can drive two hours in any direction and see amazingly awe-inspiring sites and do all kinds of unforgettable things. A little rundown on some of the best Colorado has to offer:
Go west on I-70, and head into the mountains. At any time of year, you've got great options: horseback riding, kayaking, biking, and hiking in the summer and any number of snow sports in the winter. Climbing is a year-round activity, but you'd better know what you're doing if you want to ice-climb! Vail, Breckenridge, Winter Park, Idaho Springs, and so many other lovely towns await your exploration. 
Head north to Boulder, home of the University of Colorado, Mork and Mindy, and some of the most nature-loving folks in the country. Continue north to Estes Park and check out the mountain lodge where Stanley Kubrick's horror classic The Shining was filmed. From there it's a short drive to Rocky Mountain National Park and one of the most accessible fourteeners, Long's Peak. You can drive almost to the summit, and, no matter how deep in midsummer you visit, there will always be snow on the north face.
Be careful, though. It is a federal offense to bring cannabis onto federal lands. Most park rangers would likely confiscate your stash and write a citation. But, there are some die-hard prohibitionists who don't take kindly to those who partake of Colorado's newly legal wonders. Unless a trip to jail is on your list of ideal vacation highlights, being cool and respectful is a good plan.
Head East – toward Kansas – end up in the Styx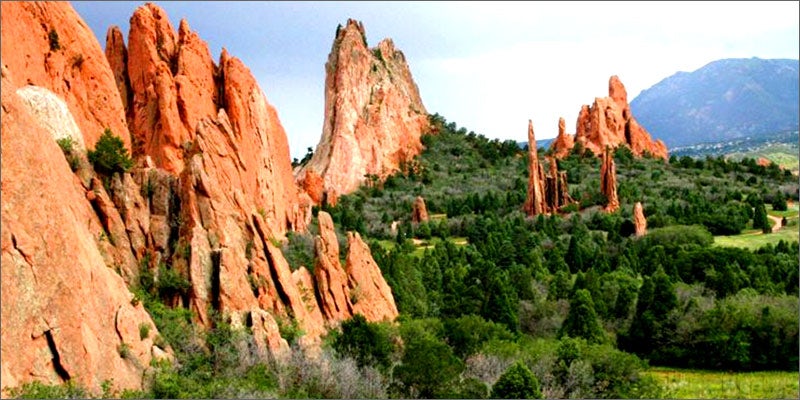 Head east from Denver to Limon, and you'll be in the high plains region. Anywhere you go from there is remote. It's known as Hub City, connecting Denver with Topeka, Kansas; Cheyenne, Wyoming; Amarillo, Texas; and Colorado Springs. The top tourist thing to do is to visit the wetlands for birding, hiking, and photography. If you are one of the few to venture out east, don't miss the Heritage Museum.
Colorado Springs is home to the famous Pike's Peak, a fourteener also accessible by car, though via a dirt road, and not for the faint of heart. The United States Olympic Training Center is located here, and elite-level athletes are a common sight. This is also the home of the U.S. Air Force Academy and a number of other Air Force and Army installations. The absolutely stunning and aptly-named Garden of the Gods is just outside town. In the opinion of many visitors, it is the most beautiful park in the nation. The Kissing Camels is one of the most photographed rock formations in Colorado.
No matter where you go, what you do, what sites you see, or which communities you visit, Coloradans are some of the nicest people you will meet. You will find them to be an open and friendly folk with a love of their heritage and the great outdoors.
Enjoy all the Centennial State has to offer!
ABOUT THE AUTHOR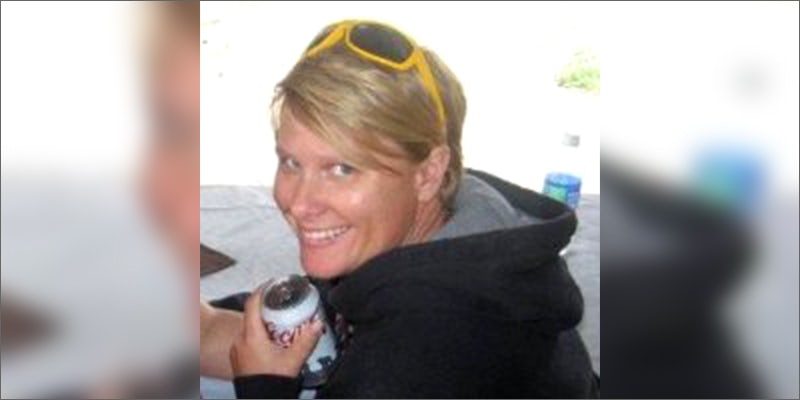 Amber Boone considers writing the cornerstone of communication. She interviews MMA (mixed martial arts) athletes for CombatPress.com and opines on MMA at FightItOut.com. She's passionate about helping folks tell their stories and making the world a better place, which includes working to win the freedom of Americans to partake of the herb. When not writing or playing beach volleyball, she can be found at her day job — for now. Follow Amber on Twitter @thruthetrees11.