Let no one say that New York State gubernatorial candidate and former Sex and the City star Cynthia Nixon did not court the youth vote. On July 8, she took to Twitter to announce a very, very unique contest.
Teaming up with Broad City's stars to give away a bong is a definite recognition of the millennial stonerdom their show captured so well. And a doubling or maybe tripling down on her commitment to running on cannabis legalization. While the post is obviously very playful, showing Nixon, Ilana Glazer, and Abbi Jacobsen smiling with their signed bong, Nixon also makes mention of the serious side of cannabis legalization.
As the contest entry page notes, "this may be a silly contest, but it's a serious issue." In a reply to her own tweet, Nixon points out that "80% of New Yorkers arrested for cannabis are black or latinx, while people who look like [Jacobsen], [Glazer], and I essentially get a pass. We have to stop putting people of color in jail for something that white people do with impunity."
Nixon's boldly pro-cannabis stance has already succeeded in driving incumbent Andrew Cuomo to shift his stance. After Nixon announced her position on pot, he ordered his health department to do a study on the pros and cons of recreational legalization, which they finished last month.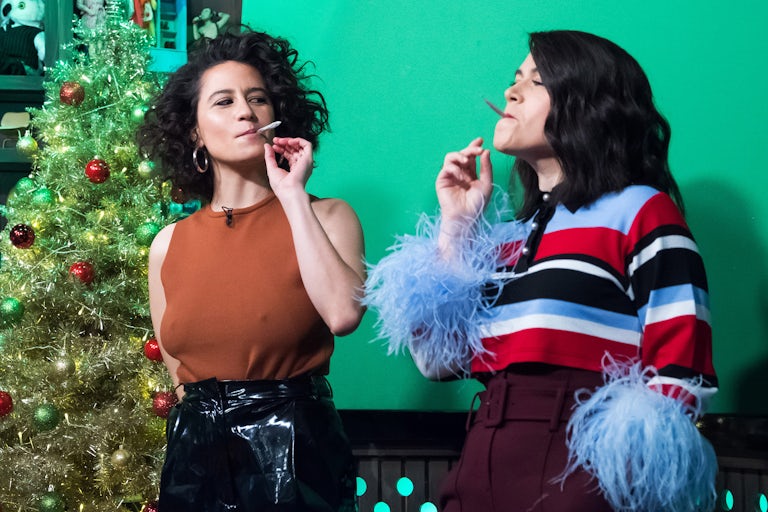 The bong on offer is a pretty basic model, just a short, clear glass affair, but it does have the signatures of two of televisions most beloved cannabis enthusiasts on it. It looks very functional, for what could potentially be a very valuable collector's item. Unfortunately, it also might be illegal for Nixon to actually give it to anyone.
Famous New York defense attorney Ron Kuby said, according to the NY Daily News, "Cynthia Nixon, by offering drug paraphernalia, as defined by federal law, could run afoul of federal law, but the lucky winner would not be." Apparently, he's never been to an actual head shop, where you refer to them strictly as "water pipes," and it is agreed upon that they are nothing more than a unique way to enjoy pipe tobacco. Regardless, he was also quick to offer his services in defending the giveaway.
"I would be thrilled to represent her pro bono should (U.S. Attorney General Jeff) Sessions and his band of trolls arrest her," he said. Hopefully, it doesn't come to that. The contest ends on July 16th.