If you caught Saturday's UFC 209, then you likely noticed that two of the best athletes did not attend. Indeed, it seems as though the Diaz brothers did not receive an invite. However, fans still were able to meet-and-greet with Nick and Nate at a local cannabis dispensary. Of course, there's been some apparent conflict between UFC and the Diaz brothers. But what's more obvious is that UFC is only hurting themselves by attempting to shut down the two most powerful fighters in the game.
Nick and Nate Diaz host meet-and-greet at local cannabis dispensary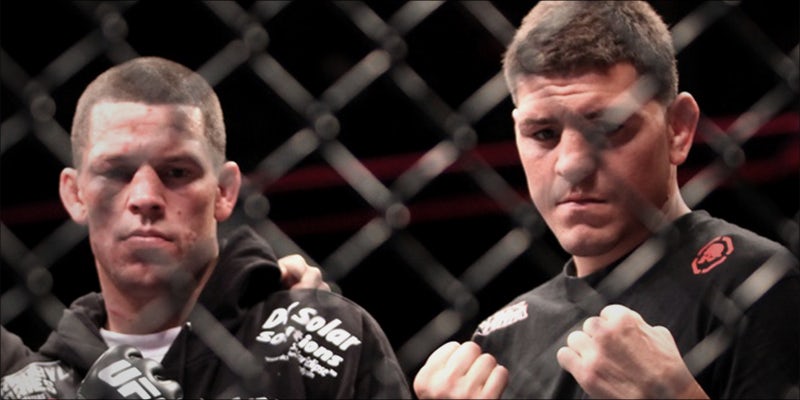 Everyone knows there is constant attention surrounding Nick and Nate Diaz. Not just because they're excellent at fighting and the fans love them, but also because of their obvious interest in Mary Jane.
For this reason, UFC made the hugest mistake of their life by not inviting them to Saturday's UFC 209. This point, in particular, became apparent to UFC officials on Friday while they staged a public weigh-in.
During the weigh-in, some unfortunate news came to light. As it turns out, Khabib Nurmagomedov became ill while trying to make weight for his fight against Tony Ferguson.
Meanwhile, the Diaz brothers hosted a meet-and-greet with fans at a local cannabis dispensary. And as expected, Nate didn't hold back one bit when it came time to discuss Friday's appearance,
It made so much sense. I wasn't sad. I feel like they were put off by it, like they were saying, 'We don't need you.' They didn't even ask. I'm like, 'Well, that's a big ball drop for you guys. Look at your card.'

They don't want us any bigger than we are, they try to shut us down.
The conflict between the Diaz brothers and UFC's president Dana White has been going on for some time now. Still, there is no doubt lots of interest in the brothers coming from fans, both of which are highly trained in boxing and jujitsu,
I don't know what it is. I'm still here after all the holding back I've been through. And my brother. We've fought everybody, did everything and they're saying I'm still the most troubled?
The Diaz's public interest in cannabis is what makes them real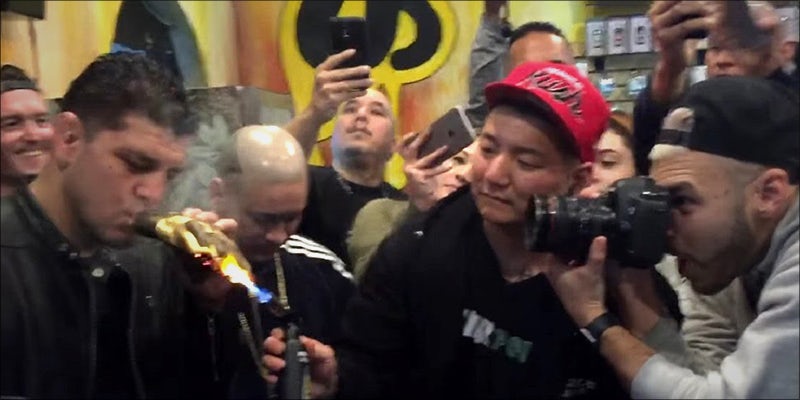 After Nate was caught puffing on a weed-friendly vape pen during his UFC 202 post-fight news conference, UFC was not happy. But to their fans, the Diaz's open love for the herb is what makes them real.
Roughly 18 months following Nick's suspension from fighting for five years, which was due to testing positive for cannabis, the brothers arrived at Blum cannabis dispensary near the Las Vegas Strip on Friday.
Fans aren't the only ones that love the brothers. In fact, according to Derek Peterson, chief executive of Terra Tech Corp., several professional athletes also purchase his product at Nevada and California shops,
We've got a drug that's showing a tremendous amount of advocacy for a variety of ailments and there's not a lot of professional athletes who are willing to step up and say something. They're doing so under the shadows of night. It's about who's willing to speak up.

It's about showcasing a lack of concern the [sports] leagues have about taking a hard look at the science and data of this product rather than just passing on a gateway-drug, stigma type of mentality."
Although Diaz says he's uncertain as to what will come of his third fight with McGregor, he did point out that the August fight against McGregor had more pay-per-views than UFC 205,
I've been a game-changer. … Everybody's following me now, demanding the money fight.