Rihanna recently released her newest music video for her song, "Work." This video, featuring Drake, was shot inside a local Caribbean restaurant in Drake's hometown of Toronto. The restaurant, The Real Jerk, welcomed the two as they turned the place into a dance party filled with lots of twerking, and of course, a lot of weed smoking.
Exceptions all around for Rihanna and Drake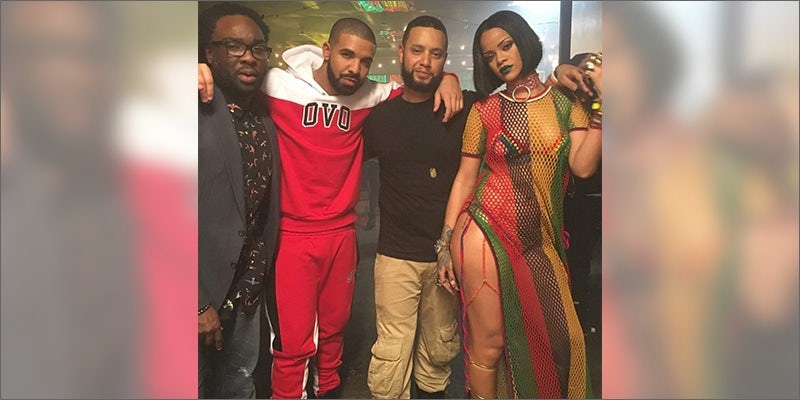 While marijuana for recreational use remains illegal in Canada, Rihanna and Drake were able to get the go-ahead from the restaurant's owners Edward and Lili Pottinger. However, the owners told TMZ to make it clear that they have a, "zero tolerance policy for any illegal substances in the building." They may have a zero policy for illegal substances in the building, but for Rihanna and Drake? Nope, not at all.
Even though medical marijuana is legal in Canada, one could assume that both Rihanna and Drake do not use cannabis for any medicinal purposes. But I could be wrong?
Wait a second, you want to do what?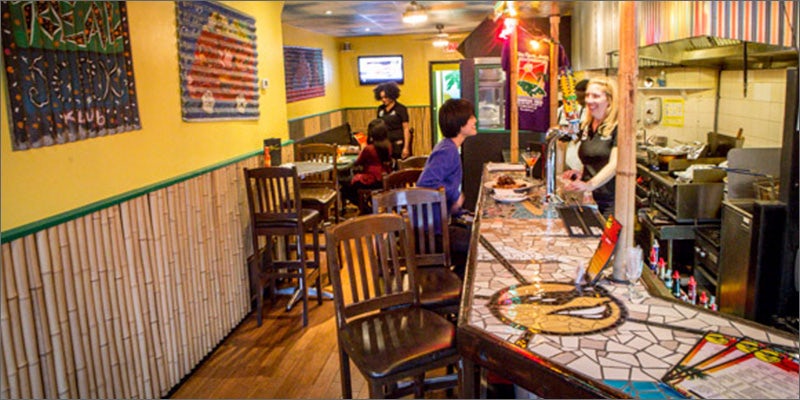 Despite the zero tolerance policy at The Real Jerk, exceptions made for two of music's biggest stars have helped bring upon more business to this little Caribbean joint than ever before. Yet, convincing the owners to shoot inside their kitchen was no easy task at first.
When Rihanna's team called up Pottinger to ask if they could use his restaurant on a busy Friday for a total of 24 hours to shoot their video, Edward Pottinger was a bit hesitant. Pottinger told Canada's CBC News, "They had to convince me to do it because I don't really give up a regular restaurant night to shoot movies or video clips."
Pottinger added, "I value my customers, who come from all over. They come from far away, so when they come and see a closed restaurant, it's not really nice for them." But it wouldn't be long before the owners would see that shooting a video inside their restaurant would only end up to their advantage.
Special thanks to RhiRhi and Drake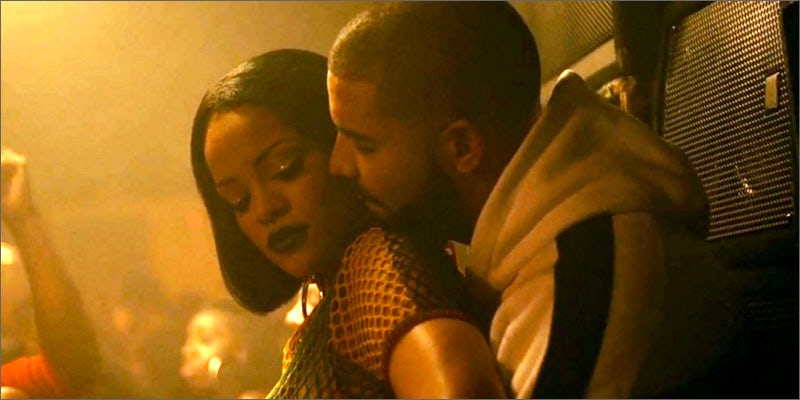 It's nice to see that Pottinger cares about his customers, but after realizing the impact that two of the world's biggest musicians would have on his business, he decided that giving up his restaurant for 24 hours would be a great investment. Pottinger said, "I realized how powerful it would be to have the name associated with us." He added, "It was like, OK, let's do this thing."
After seeing the video in its final edited form, Pottinger was certainly pleased but even more pleased at the amount of business he was getting as a result. Pottinger's wife told TMZ that their restaurant has seen a major boost in sales, bringing about a 20 percent surge since the video was released. Well, duh. Who wouldn't want to go to a restaurant where Rihanna and Drake lit up?
No matter how many blunt wrappers Pottinger and his wife may have had to pick up after the shoot, having Rihanna and Drake's hit music video in their restaurant was more than worth it.
Do you think it's okay that Rihanna and Drake don't have to follow the rules? Let us know on social media or in the comments below.