In 2013, there was a fad that left as quickly as it came. You can be forgiven if you don't remember it. It was clothing with pictures or patterns of all kinds of foods; from burgers and pizza to smarties and popcorn even gummy bears. Well, that fad has made a return and this time, it is brought to you by Vans shoes.
You almost think that Van's had the growing population of marijuana users in mind when it created this line. The foods depicted are of all the classic snack foods that we all know are perfect for when you get the munchies after the THC kicks in. If you've ever wished you could wear your love for your favorite snack food on your feet, Vans' new footwear collection is going to make you very happy. "The Late Night Pack" is brimming with printed sneakers perfect for any foodie, whether you're into sweet or savory. Let's have a look at each pair:
Pizza slip-on's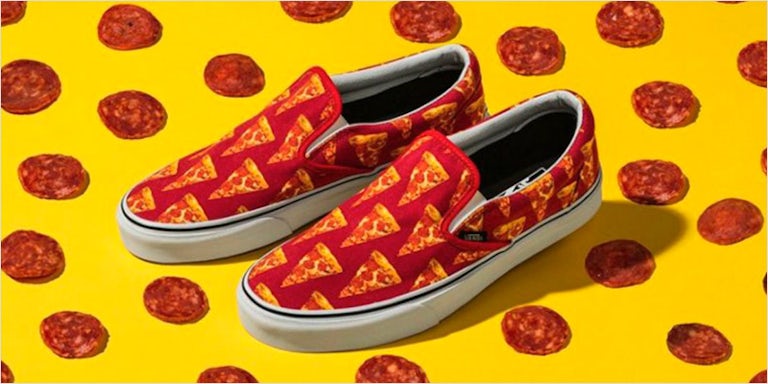 This one has to top the list of all-time favorite snack foods and as easy as it is to order is as easy as it is to slip on these shoes.  Sadly they only come in pepperoni flavor so if you are a Hawaiian or meat lovers kind of pizza person, you will have to settle for just a plain old pepperoni.
Taco tie-ons
Tacos, the most complete meal you will probably have when you are high and hungry. They have all the fixings, lettuce, tomato, meat, sour cream, cheese, salsa, maybe eve some guacamole. Sometimes slip-on's tend to slip off and for those who are a little more active and require their shoes to stay on, the laces are a good choice.
Cupcake cutie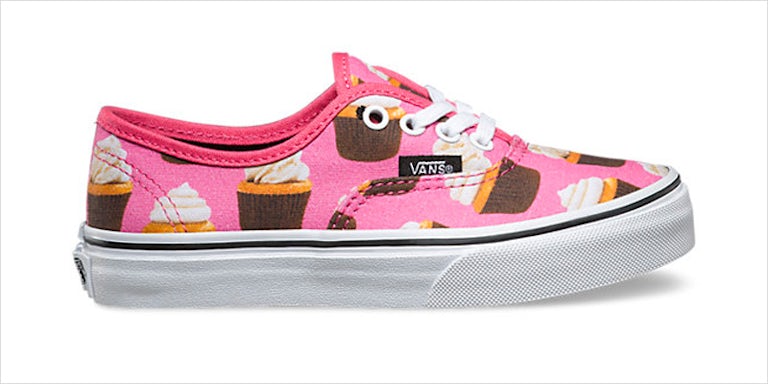 Vans shoes haven't forgotten the ladies. Yummy cupcakes are available only in pink (Sorry guys). I'm sure Vans wasn't attempting any sexism here. It also adds some sweetness to the mix. Sodium is a favorite of hungry people everywhere, but nothing finishes it all off better than some delicious sweets.
Macaroon mania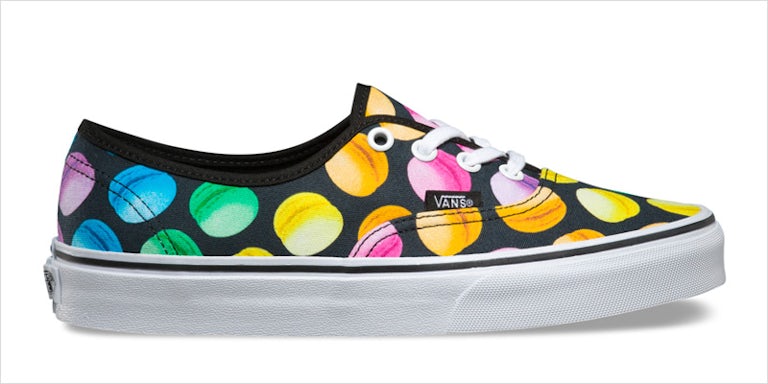 This selection is questionable. I wouldn't put macaroons at the top of my munchie list, but these shoes are colorful and could be passed off as just polka-dots if that's your thing. Maybe you can pretend they are M&M's or Smarties.
Big burger hightops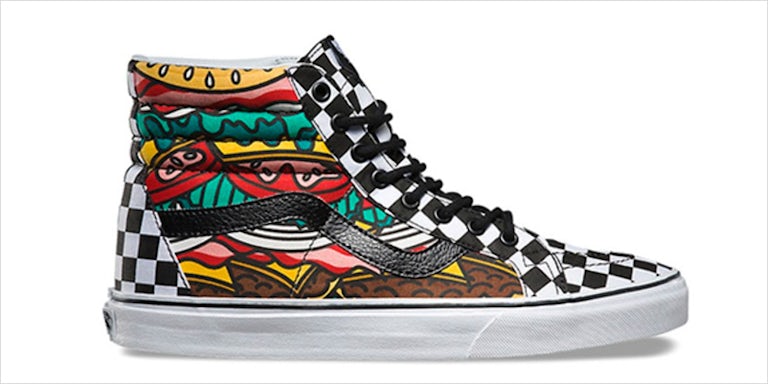 The other champion of late night eating is the burger, which also features an array of food groups and makes a complete meal.  Meat, lettuce, bread, tomatoes, cheese, pickles, onions etc. I guess it depends on how high you like to stack your burger and just how wide you can open your mouth.  The high top is classic too. Nice throwback Vans!
We aren't sure if Van's had the cannabis culture in mind when they designed these shoes, but you can be certain that some of that culture will be buying into this design.
Do you like the new food designed shoes from Vans? Share your opinion with us on social media or in the comments section below.