Like carving out a jack-o-lantern with your parents, there comes a time in every good smoker's life when he or she must learn how to fashion an everyday apple into a bong. While glassware pipes, bongs and vaporizers are more easy to get a hold of than ever, sometimes getting there is as important as getting. A survey from Detox, a substance information group, explored just that phenomenon by surveying people on do-it-yourself bongs.
While Detox's survey only polled 1,000 men and women, their data seems to reinforce a lot of safely held assumptions about MacGyver bongs. The vast majority of people who decide to build-a-bong do so as young adults.
Sixty-four percent of respondents were between the ages of 18 and 24, suggesting the majority of people pick up on these skills in their college years. Younger teenagers made up 23 percent, while anyone over the age of 25 only accounted for around 10 percent.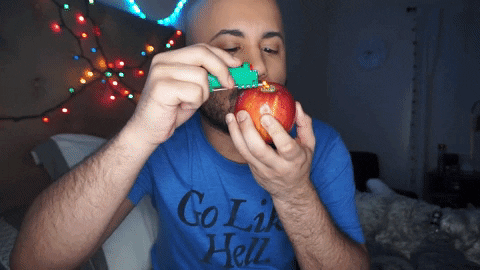 Of all the produce, apple bongs were by far and away the most popular, with 74 percent saying it was their preferred fruit for carving a DIY rig. Fruits are generally more popular than vegetables; Melons and pears keeping an edge on carrots, cucumbers, squash, peppers, eggplants and pumpkins. Some surveyed said they used strawberries and bananas to make bongs, which sounds pretty messy.
People forgoing the fridge entirely for the recycling bin most often chose the plastic bottle. Over 50 percent of respondents said that if they were using household materials, those materials would be water bottles or two-liter soda bottles. Aluminum foil followed, with a small percentage saying they use pens, mason jars and Pringles tubes.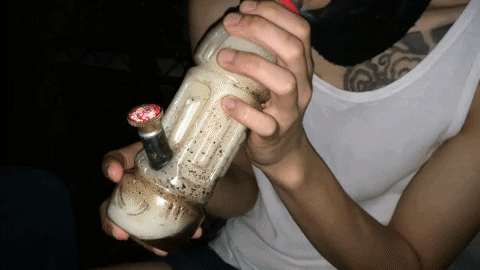 If the materials being used aren't surprising, then perhaps the reasoning is. Nearly 50 percent said that they used a DIY bong because nothing else was available. Less than 10 percent said it was because they were too young to get away with buying a real bong, and only about 7 percent said it was because they couldn't afford anything else. Everyone else said they did it for fun. The most troubling statistic is that about 4 percent said their makeshift bongs lasted them 'years.' Buddy. Throw out that apple bong.