If you've been looking for an excuse to gather your friends and have a massive smoke session, a new stoner flick might just be the perfect reason. Launching January 17, the hilarious new comedy Doobious Sources will have viewers laughing for hours, reciting catchy one-liners and inventing their own smoking games to accompany the scenes. With above average characters and an intelligent storyline, Doobious Sources has elevated the typical stoner persona to a level that meets the new-age standards.
Meet the guys

Main characters, Reginald Block-Hunsleigh, AKA The Reg, and Zorn Tappadapo, are two freelance video journalist that share a love for cannabis.
Unlike stoner flicks of the past, where the main characters can be dimwitted and faced with challenges caused by their cannabis use, these guys are bright, intelligent and never question their copious amounts of smoking.
After being introduced to a local news reporter, who mistakes the friends for dopes, The Reg and Zorn are coaxed into working on a case that deals with government corruption, sex scandals and a whole host of illegal activities, all in pursuit of a good story.
Despite the setbacks the pair gets themselves into, their one constant is staying high through it all, helping them to keep an uplifting mindset even when things start to look bleak.
When can you watch Doobious Sources?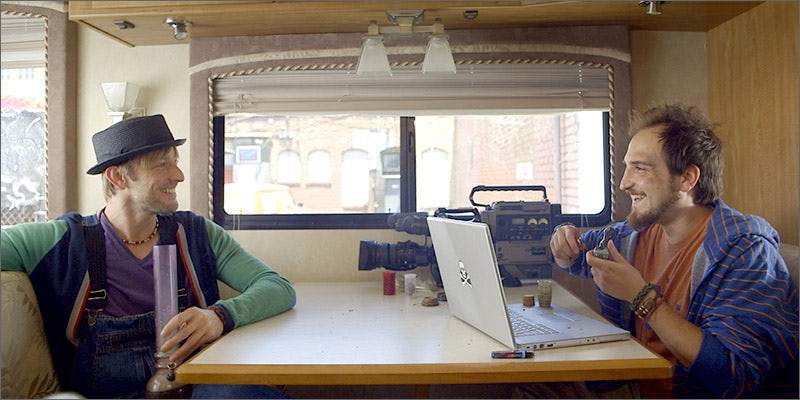 The recipient of the coveted Golden Leaf Award, Doobious Sources is the perfect party film to watch with friends. Stock up on munchies and share in a bowl or two while viewing because the only thing better than watching the film alone, is watching it in an elevated atmosphere with friends.
Doobious Sources is available on iTunes, Amazon, and Vudu on January 17, and to make sure you don't forget, you can pre-order your digital download on iTunes today.
Lucky cannabis enthusiasts living in the Los Angeles area will have the opportunity to take this party from the living room to the theater, as Doobious Sources is playing for a limited time at the Arena Cinelounge.
From January 20-26, groups will have the opportunity to watch the latest and greatest stoner film on the big screen. The film premieres on January 21 at 4:20 pm.
Even more exciting, those same Los Angeles residents are able to enter to win the actual BloomBox used in the film, valued at over $5,000. All you have to do is click here to enter and be available to pick up the prize.
Prepare your stash and gather the crew because Doobious Sources is one film you won't want to miss. Keep up to date with the movie on Facebook, Instagram, and Twitter.