This is a tale of adventure. A story of unmatched heroism worthy of a 90-minute made-for-TV special. It is the story of mountaineers, brave woodsman, of four friends who got too high to walk.
At 6:30 pm on September 23rd, Cumbria police in the U.K. received an emergency call from a group of would-be outdoorsmen who deiced to scale the 3,210ft peak at Scafell Pike. The only catch was: they couldn't do it. After bringing along what they might have thought to be a performance-enhancing substance, the four men set out to conquer England's tallest mountain. And who could blame them?
After all, Olympic swimmer Michael Phelps won more medals than any other Olympian while smoking weed. Even the most reliable source of endless studies: science, has told us that cannabis can boost endurance during exercise. So, it's perfectly reasonable to expect that a little bud might help a group of friends along on a mountainside hike.
Unfortunately, in this situation, both the mountain and the climbers were too high to handle. According to rescuers, one of the friends reported that he was too high to continue and they were forced to call the police to report his paralyzed state.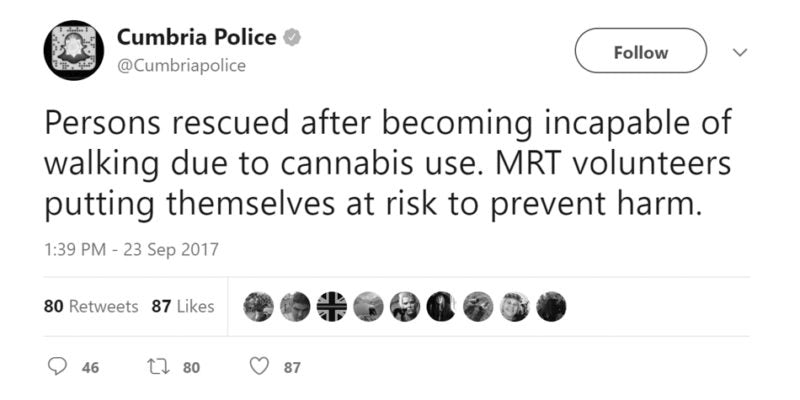 In a social-media savvy fashion that seems to be a hallmark of British law enforcement, Cumbria Police announced the incident in a humorous Facebook post writing, "Persons phoning Cumbria police because they are stuck on a mountain, after taking cannabis. Now having to deploy rescue, air support and ambulance to rescue them. Words fail us …"
Cumbria Police enlisted the help of the Wasdale Mountain Rescue team who located and brought the men safely down the mountain by 9:45 pm. No arrests were made, though police did give the men a stern talking to while the Mountain Rescue team emphasized the importance of safety and preparedness for hikers.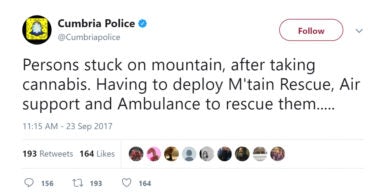 In response to the news, many taxpaying Cumbrians seemed to be outraged that their hard-earned money had been spent to save the men, some suggesting that the rescuers ought to have left them on the mountain. Others were entertained by the news and took the time to post messages thanking the mountain rescue team which appeared to have a busy day.
According to Wasdale Mountain Rescue's Facebook page, five requests for help had been sent out that weekend with three on the day of the cannabis rescue. Upon returning from their retrieval of the four men the team was sent back into the field where they searched for another group of lost mountaineers until the early hours of the morning