Big things are coming to Canada in 2018. But for the time being, no one really knows what those big things will entail. What will a nationwide recreational market look like?  Who will be allowed to take part in it? And what will happen to those plants that definitely aren't growing in my basement?
As of now, even the provinces seem a bit confused and most have yet to pass local regulations allowing weed in. Through all that uncertainty, there's another group in Canada that is considering entering the market: indigenous communities.
With regulations still up in the air, one community has placed a moratorium on all cannabis-related business, from growing to consumption: the Mohawk of Kahnawake.
"Whether we like it or not, Canada is going to legalize cannabis," Chief Gina Deer of the Mohawk Council of Kahnawake (MCK) said in an announcement, "With federal legislation expected within a year, we are prepared to work together with the community to ensure we respect their wishes."
Deer insists it's important that the government considers what's best for all Canadians, but when it comes to indigenous communities, it's also important that the people of Kahnawake are able to decide for itself what would be best.
She emphasizes that the Mohawk and many other indigenous groups openly recognize the medicinal benefits of cannabis. The MCK has been following the provincial and federal governments' legalization process very closely and they've been keeping up to date on all the latest studies, but there remains a lot of uncertainty around what a recreational market would look like.
To fill that information gap, Deer and other leaders of the community have met with experts and visited legal grow operations to gain as much information as possible. When it comes to an industry that has been stigmatized since the Great Depression, education is key.
"Yes it's a plant," Deer told Herb, "yes it's used for medicinal purposes, but what does it mean when it's used recreationally?"
The MCK is taking its cues from the past when the government issued tobacco licenses causing the industry to spiral out of control. They have also visited other Mohawk territories which have already begun to venture into the industry.
In Tyendinaga, the newly formed Kenhteke Cannabis Council (KCC) gained the support of 10 of the territory's dispensaries after Police Chief Ron Maracle vowed to shut down their businesses despite the fact that legalization is just months away.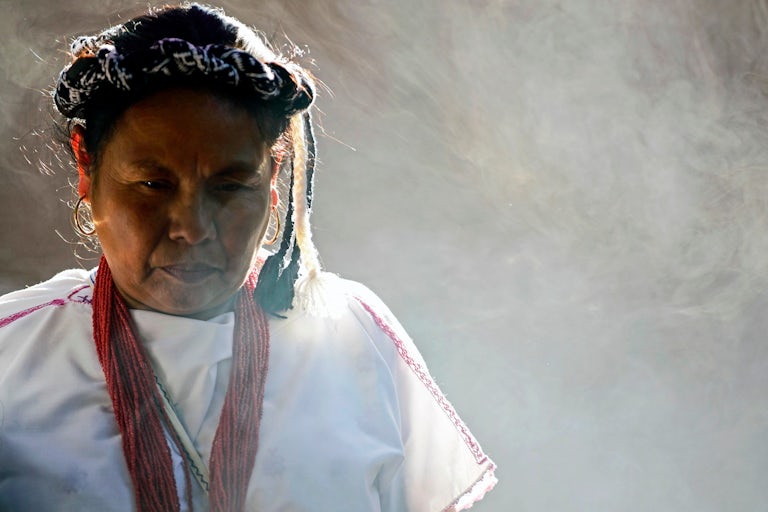 In a statement directed at Maracle, the KCC said that they would not recognize the authority of outside law enforcement and announced their intention to maintain their dispensaries.
"As Onkwehon: we people we have an intrinsic right to use natural medicines to heal ourselves, and an intrinsic responsibility to provide medicine to all those who need it."
The territory, just east of Belleville, Ontario, only has 8,000 residents and is now home to more than a dozen dispensaries.
The people of Tyendinaga are in a unique position of being outside the government's jurisdiction while also having widespread support for their businesses among the community. That open support is something that hasn't come as easily to Kahnawake.
In speaking to their community, the MCK have found that the people who live there are not opposed to recreational marijuana. They are even eager to hear about the opportunities that it may bring for them, but they would also prefer that any distribution is done away from their homes.
"We've been a zero-tolerance community for many years," Deer says, "so to change the mindset that cannabis is no longer an illegal substance is not going to be easy."
If they do decide to leap into the industry, the MCK might do so with the help of brokers like the Pontiac Group, an organization which brings businesses together with indigenous communities to ensure that they benefit the people. It was founded in 2014 by Anishinabek Nation members Jonathon Araujo of Wikwemikong First Nation and Jacob Taylor of Curve Lake.
In just three years, they have partnered with medical cannabis provider Delshen Therapeutics, Indigenous Cannabis Access (a native-focused cannabis health care provider and educator), and the Global Indigenous Bank, among many others.
What inspired Jacob and Jonathon to start Pontiac was something known as the Seven Fires Prophecy, an Anishinaabe tale which foretells the coming of a great unification of all mankind. Pontiac Group sees themselves as agents of that unification and a bridge between communities.
Among the positive effects the cannabis industry could have on indigenous communities is its ability to fund programs like education. It's one issue Deer speaks passionately about, noting the history of residential schools that nearly wiped out indigenous culture and language across the country. That history, in which the state took indigenous children from their families and put them boarding schools, has recently been acknowledged by Prime Minister Trudeau and a Truth and Reconciliation Commission was put together to recommend how Canada can best address indigenous issues.
Despite these steps forward in indigenous relations with the Canadian government, the MCK recently expressed concerns that Native groups were left out of discussions on what provincial markets would look like.
For his part, Jacob thinks that Prime Minister Trudeau's rhetoric towards Native Americans has been a refreshing change from past administrations. But Chief Deer is less optimistic about the Prime Minister's rhetoric because, he says, he has yet to see it manifest in meaningful action.
"There are many things that have been recognized," she says, "but the recommendations haven't been implemented."
The MCK currently has a two-year program that can accommodate 16 students to take full-time classes which teach the Mohawk language. The program is funded by the revenue generated through online gaming, another industry which is unique to indigenous communities.
With the potential revenue that cannabusinesses could bring, that program and others could be expanded, yet relying on a single industry could also be unsustainable if something were to go wrong which is why—for now— Chief Deer is treading carefully.