Canadian Prime Minister Justin Trudeau said in a VICE Media interview that his late brother, Michel, was able to avoid a criminal record following a cannabis possession arrest after his father used legal connections to make the offences "go away." The prime minister made the comment during a broadcast interview with Vice on Monday evening while discussing Canada's plan to legalize cannabis.
Watch: Cannabis charges need to "go away"
Trudeau explained in the interview his brother was involved in a car accident while on his way back to Montreal from the West Coast, about six months before Michel passed away.
The prime minister said his brother was charged with cannabis possession after police found "a couple of joints" in a box while officers were assisting his brother in picking up his belongings from the road following the car accident.
When he got back home to Montreal, my dad said, "OK, don't worry about it." He reached out to his friends in the legal community, got the best possible lawyer and was very confident that we were going to able to make those charges go away.

We were able to do that because we had resources, my dad had a couple connections and we were confident that my little brother wasn't going to be saddled with a criminal record for life. – PM Justin Trudeau
Members of the Canadian cannabis community were particularly annoyed by this comment. Seeing how many of them have criminal records of their own because of cannabis, the PM's comment was insensitive to all the people that don't have the privilege of having a team of lawyers.
Two sets of rules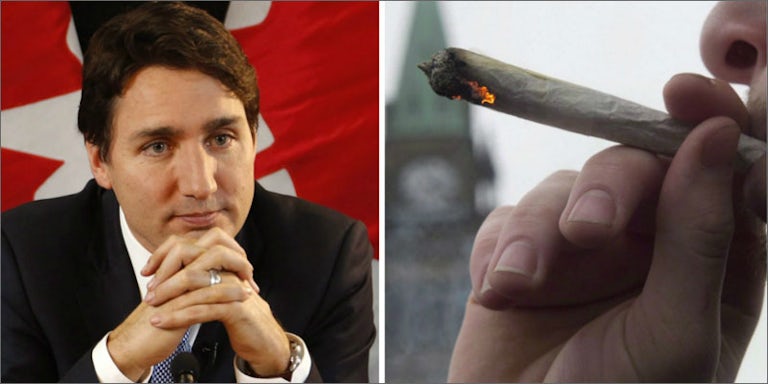 Over 50,000 Canadians were charged with possession in 2015, The Guardian reported last year. The Liberal government has recognized that citizens who face such charges may have difficulty finding employment, housing, and may be prevented from traveling outside Canada.
The prime minister did say in the same interview that his liberal government will be taking steps to look at those who have a criminal record due to cannabis-related offenses. But for all we know, that statement could have been conjured up to satisfy the people in the room.
The Liberal's more progressive opposition party, the NDP's, have called for an immediate decriminalization of the plant. But Trudeau is not budging, saying that until his bill passes into law next year, people can still rack up criminal charges for possessing and selling the herb.
This will only add to the list of people that will need their records expunged once 2018 legalization takes strides, simply adding more citizens to the "pissed off at Trudeau" List.