In a crowded California Senate race of just over 30 candidates, the front-runner Democrat Sen. Dianne Feinstein leads all of her opponents by double digits. Only two candidates currently stand a chance to face her in November: white-nationalist Patrick Little who has made some seriously questionable remarks, and the president of the California state Senate, Kevin DeLeón, a fellow Democrat and the only viable cannabis candidate on offer. Her opponents couldn't be farther apart ideologically, because while Little has criticized Feinstein's religion, De León has questioned the 26-year Senator on her choices in office.
"It's been 23 years since marijuana was first legalized in California for medicinal use," DeLeón told Herb, "and for 23 of [Sen. Feinstein's] 26 years in office, she has been silent on this civil rights issue."
That silence was finally broken in May when Feinstein cautiously expressed her support of legalization for the first time in her career. Even then, it was hardly a rallying cry and more of a promise to review legislation currently being considered in Congress, "to determine whether it's the best path forward".
For his part, DeLeón has taken a decidedly pro-cannabis stance. "If I'm elected to represent California in the United States Senate I'll sign on to Senator Cory Booker's legislation immediately after my swearing-in ceremony," he said, referring to the Marijuana Justice Act.
DeLeón has represented the Los Angeles area in California's legislature since 2006 when he was elected to the State Assembly. In 2010, he moved over to the State Senate and was chosen to lead his fellow senators four years later.
When he announced his run against Feinstein in October of last year,  DeLeón was seen as one of the first serious challenges to the long-time US senator in years. As Democrats were reeling from seemingly pro-Trump comments made by Feinstein,  DeLeón was pushing a bill through the California legislature to limit Immigration and Customs Enforcement agents ability to use local police to carry out their work.
As the son of a single immigrant mother, DeLeón spent much of his early life as an activist fighting for education initiatives in low-income communities and working for groups which provide assistance to undocumented immigrants. It's that history of activism which has set him apart from Feinstein and earned him the support of Democrats who believe it's time for the old-guard to make room for some fresh faces.
Last Saturday (May 5th), California voters were meant to see that contrast between the candidates in a debate organized by the anti-Trump group Indivisible Los Angeles. The event was canceled because Feinstein refused to attend. The issue, her staff told the LA Times, was that her campaign schedule conflicted with that of the debate.
In response, the debate organizers offered Feinstein an opportunity to choose a date that fit her schedule and again the senator refused on the grounds that the list of candidates is too long and that narrowing it down to the front runners wouldn't be fair to her opponents.
Instead, Feinstein has told the San Francisco Chronicle that she would face whoever her final opponent is after the primary on June 5th.
"It isn't enough to communicate with tweets and press releases alone," the DeLeón campaign said in response. "As elected leaders, we owe our constituents the respect and dignity of an open discussion in a public forum."
But this wouldn't be the first time Feinstein has refused to debate. In 2012, she refused to face her Republican opponent, Elizabeth Emken because, in Feinstein's view, Emken's policies were not worthy of debate.
Strategically, avoiding a showdown with DeLeón was a smart move. Because of the way California's so-called "jungle primary" elections are set up, her challenger in November may not be a Republican. California's open primary offers a spot on the ballot for the top two candidates on primary day, regardless of their party affiliation. This means that Feinstein could face DeLeón or a fringe Republican candidate, who was kicked out of his party's convention, and the latter is likely what her campaign is counting on.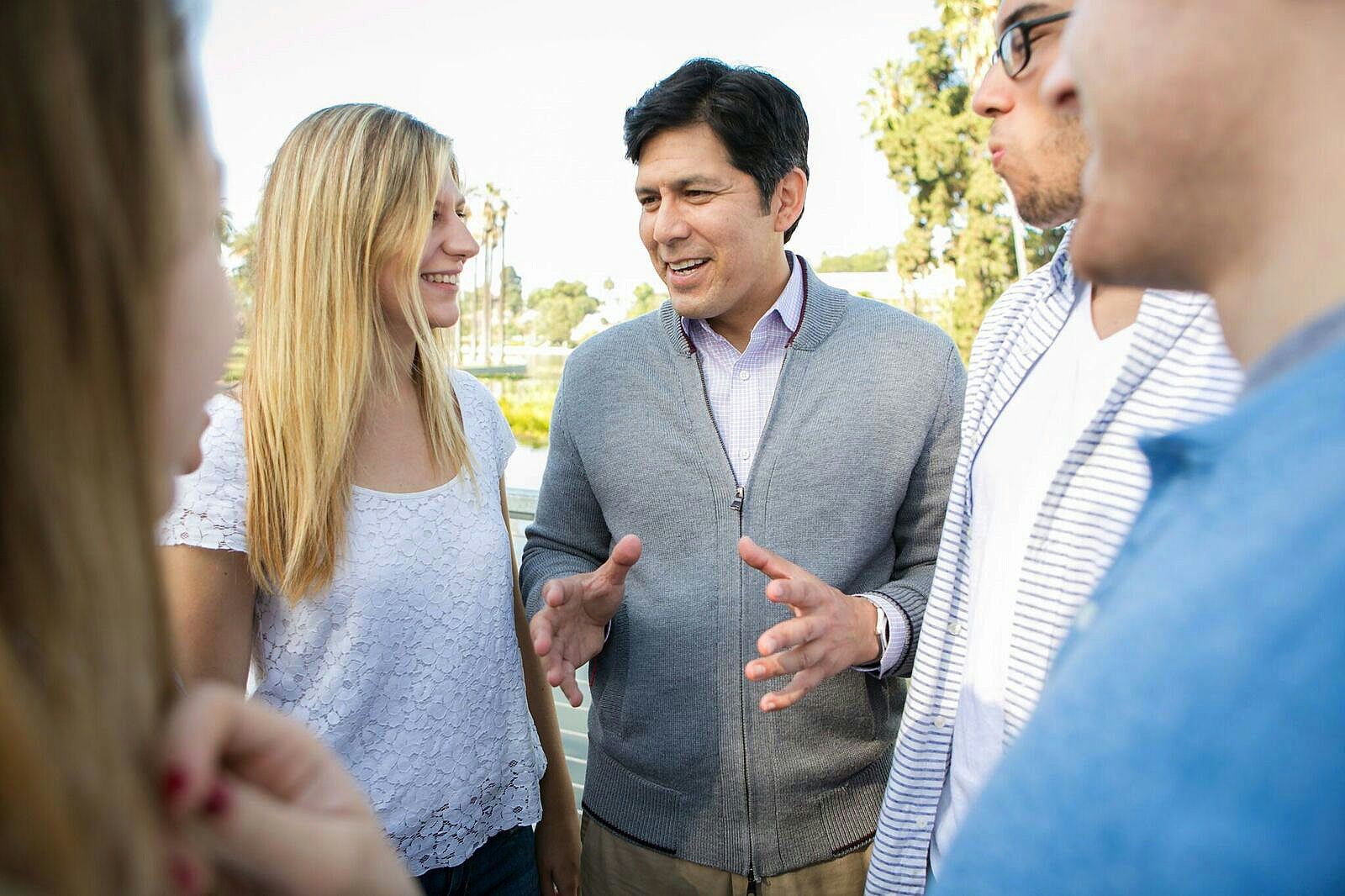 According to a recent poll from SurveyUSA, DeLeón is currently running third, just behind Little. If voters' choices reflect those polling numbers on June 5th, Feinstein could face an easy run against a far-right candidate who once praised Hitler, rather than a tougher challenge from DeLeón, whose progressive policies make her look more like a Republican.
For Feinstein, who has out-funded all of her opponents as one of the state's most well-established politicians, a debate can be a liability because it offers airtime to her less well-known challengers. Airtime which could have benefited DeLeón, who claims that the more people hear his message the more supporters he gains.
That Republicans haven't bothered to seriously challenge Feinstein in her fifth run for Senate should be an indication of the grip she has on her Senate seat. Feinstein has raised over $10 million according to Federal Election Commission records compared to the nearly $700,000 of the DeLeón campaign and next-to-nothing collected by Republicans.
In one of the most expensive states to run a campaign, that kind of funding gap can make the difference, while a debate offers candidates a direct line to voters.
But since voters were denied that chance to compare their candidates, let's imagine what that debate might have looked like. For the first time in years, Feinstein might have had to face public questions her support for the Iraq War as well as government surveillance programs and warrantless searches authorized by the US PATRIOT Act. And of course, as a criminal justice issue which also touches on immigration and a major part of California's economy, cannabis policy might have been front and center.
As a member of the Senate Judiciary Committee, a bill to legalize marijuana is likely to cross Feinstein's path before it's voted on in the Senate and as a longtime member of Congress' Caucus on International Narcotics Control, her record on legalization has been less than stellar.
Until her recent change of heart, Feinstein had opposed nearly every piece of cannabis legislation that was placed before her, including the amendment proposed by California Republican Congressman Dana Rohrabacher which protects legal medical marijuana states from federal prosecution.
In California, she's opposed every proposal the state has ever made to legalize, including the most recent, Prop. 64, which passed despite her public opposition and claims that legalization would make cannabis more accessible to children.
At the time, DeLeón had also expressed some reservations about recreational cannabis. Telling Herb that, "I've evolved over time," he has promised the industry that he would, "not just defend it, but proactively move measures to make sure that this industry is protected and thrives."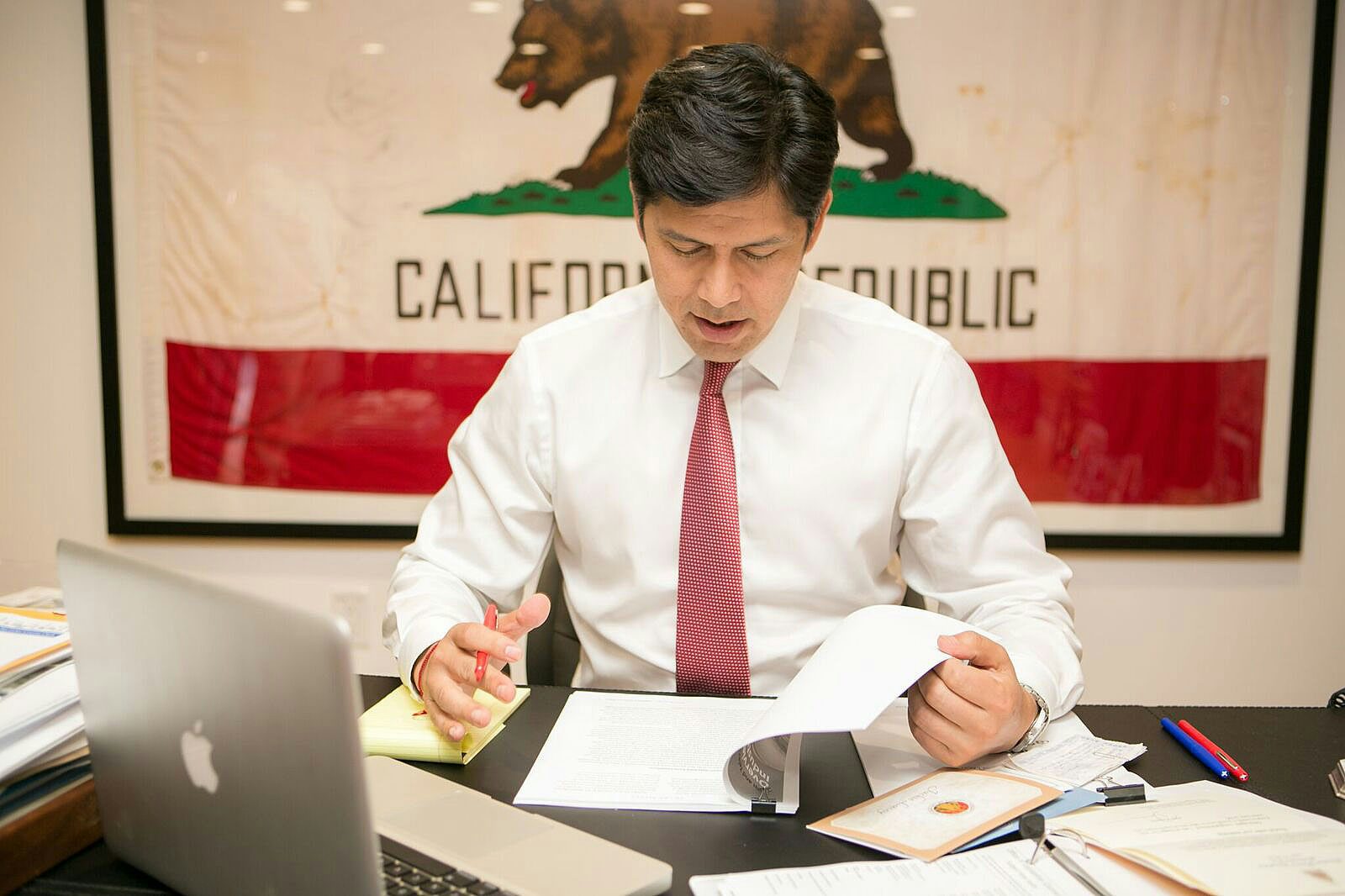 The difference between the two politicians is that one approached a public policy issue with caution and the other with outright hostility.
For DeLeón, it's easy to see how Booker's Marijuana Justice Act would fit his agenda on Capitol Hill. He tells Herb that an ideal form of legalization would see tax revenues from cannabis sales reinvested in communities most affected by the war on drugs– a proposal that is consistent with the spirit of Booker's bill. In 2012, DeLeón did something similar when he structured the state's cap and trade climate change initiative to provide funding to low-income communities first.
DeLeón's progressive policies have won him the endorsement of a number of state groups including California's Young Democrats, billionaire Democrat donor and activist Tom Steyer, as well as the state's Democratic Party.
At the party's February convention, he stunned local media when he gained 54 percent of the party's support compared to Feinstein's 37. The vote fell just short of the 60 percent DeLeón needed to win the nomination outright, but it sent a significant message to Feinstein who has come under fire from members of her own party for her willingness to compromise with President Trump on certain issues.
Meanwhile, Feinstein continues to be the top choice of the national Democratic Party establishment, having gained the endorsement of former President Barack Obama and the party's major donors. Those who continue to support her cited her experience as Congress' oldest Senator. Her decades as a lawmaker, they claim, have given her what's known in Washington as political capital. In other words, Feinstein has learned the to navigate the favor-based relationships that get things done in Congress. As a freshman, it would take time for DeLeón to build those relationships and accumulate those favors. But tit-for-tat political capital is a limited resource and given Feinstein's history on cannabis reform, it's doubtful that she would spend much time and effort in Washington on an issue she's not passionate about.
If Democrats choose Feinstein in November, the message it would send is that they never really expected to win the election. Instead, they expected to need an experienced Senator like Feinstein who's willing to negotiate with a Republican majority.
When a lifelong opponent of legalization changes her mind, we should welcome the decision, but it's also worth considering whether a leader's policies are guided by vision or by hindsight.
Feinstein's campaign did not respond to a request for comment.