Last month, millions of dollars of marijuana crop went up in flames as wildfires swept across Northern California. Over 200,000 acres of land burned, reducing 6,700 homes, structures and businesses to charred rubble and ash.
The timing of the wildfires was particularly devastating for marijuana farmers, who were just preparing to harvest their crops. The media has been awash with stories like Marcos Morales', a cannabis farmer in Sonoma County who lost over 1,600 pounds of ready-for-market product, as reported by the Associated Press. Or Andrew Lopas, a grower outside Santa Rosa, who lost 900 plants worth $2 million.
These recent wildfires have turned what was already a devastating wildfire season into an unprecedented disaster.
At least 40 people have died since October 8th alone, in what many have called the most deadly week of wildfires in California history. In Sonoma County, about 88 people are still missing.
The smoke from the wildfires has also created the worst air pollution ever measured in the region.
And while wildfires have always affected Northern California's marijuana farms, growers in the region have been hit particularly hard this year. This is especially burdensome for an industry that is slated for official statewide legalization on January 1st.

"We can confirm significant damage or loss of crop on 34 would-be-licensed, compliant-type grows." Says Hezekiah Allen, the Executive Director of the California Growers Association. "So that's what we're really focused on, is that growers that were on path to get licenses in a few months don't miss that opportunity because of this event."
Allen tells me that due to marijuana's changing legal status, crop insurance—to guard against the impacts of wildfires—will become increasingly available for the state's cannabis farmers. " I think by this time next year we would be a much more widely insured crop. But right now, it's not going to help much because the crops weren't insured when the fire came."
While many of these farmers have insurance to protect their homes against wildfires, Allen tells me he isn't currently aware of any cannabis farmers with crop insurance. So unlike most winemakers in the region, who have also been affected by the fires, cannabis farmers who lost their entire crop in the flames will be unable to recoup any money.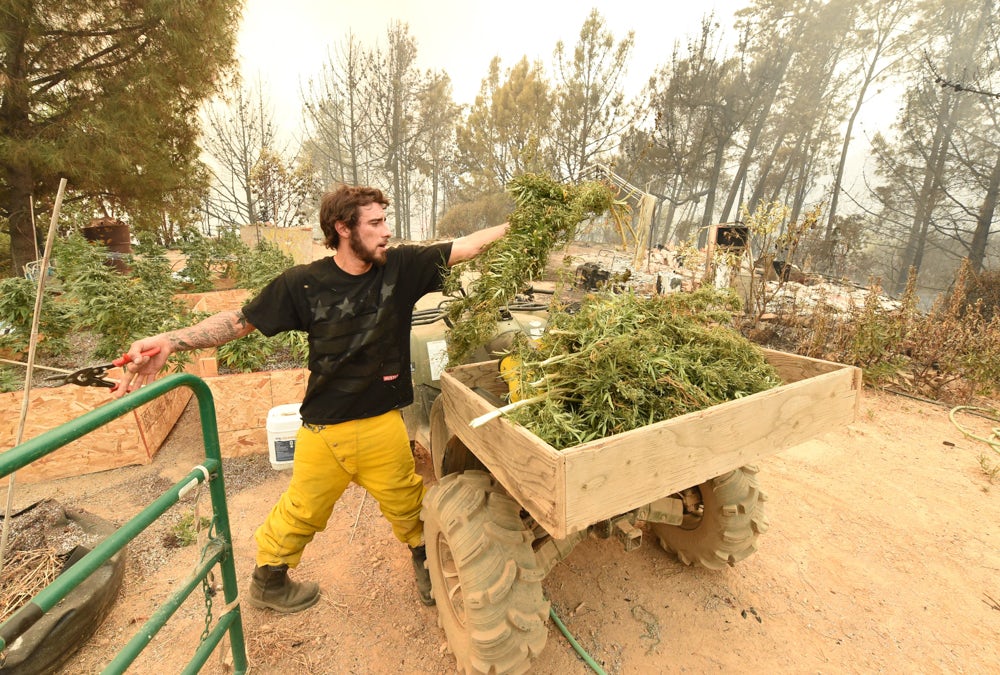 For many other farms in the region that avoided fire damage, concerns have shifted to the enormous amounts of smoke that now hangs in the air. Not only does this smoke decrease the value of marijuana in the region by affecting taste and smell, but farmers will also need to lab test their product for potential contaminants that could pose health risks. Allen tells me that the California Growers Association is currently working with public health specialists to find out just how much damage the smoke has caused.
Still, Allen is confident that the overall market won't be affected. Although these wildfires have been disastrous for a number of cannabis farmers, they still represent only a small percentage of the estimated 3,000 to 5,000 farms in the region.
Climate Change and Marijuana Farming?
Thanks to climate change and increasing population density in the region, the length, intensity and impact of wildfires in Northern California are only expected to get worse in the coming years.
Just as 2016 was the third year in a row to set global heat records, and nearly all of the 10 hottest years on record have occurred since 2005 (with the one exception of 1998), the damage caused by wildfires are only expected to get worse.
Much of this has to do with where we decide to build property. "Fire was there first. so fire is not going away, and if we continue to build more property in the path of where we know fire will come—and these areas are mapped— our bills will keep going up, and we'll be unable to get our arms around the problem." Lisa Dale, the Associate Director of Yale's Center for Environmental Law and Policy, told me during a conversation we had about wildfires earlier on in the season.
As Dale points out, California's high fire risk zones, known as "Red Zones," are mapped out on Cal Fire's publicly available "Wildland Hazard and Building Codes" section of their website. And yet, a 2014 study projects that "by 2050 that 645 thousand houses will be built in areas currently designated as 'very high' wildfire severity zones." "We'll never be able to protect all those homes. It's like building on the coastline. You can build on the coastline, you know it's going to flood" Said Dale.
The Emerald Triangle
The largest marijuana producing region in the U.S., known as the "Emerald Triangle" of Humboldt, Mendocino and Trinity counties, is also smack-dab in the center of some of California's most fire-prone areas.
As you can see from the Cal Fire map, Humboldt and Mendocino counties are both almost entirely red and orange, indicating a "high" and "very high" fire hazard risks for any growers in these counties. 
Allen believes the amount of red zones on these maps are only likely to increase. "There were some places that were grey on those maps that showed every bit of wildfire characteristics today. So, I think those maps, there's going to be a lot more red after the analysis of this fire event is completed."
And just like flood-prone homes that are built on the coastline, homes and farms in high fire hazard risk areas could also face insurance issues down the line.
"Insurers are using increasingly ever-more sophisticated modeling to assess their risks, and with climate change and droughts and more frequent fires of greater severity and greater unpredictability, some insurers are determining that they will restrict where they will write policies," California's Insurance Commissioner, Dave Jones, recently told SF Gate.
As wildfire hazards continue to increase, what happens if insurance companies decide to stop underwriting homes in red zones? You can't get a mortgage without insurance, which means the only people eligible to purchase these homes would be those with cash upfront. But even then, who would purchase that home?
Still, when I asked Allen if increasing wildfire risks would be cause for growers in these regions to consider relocating, his answer was a firm no.
"I think that it's about adaptation, I think it's about restoring a healthy relationship with fire," Allen tells me. "Where I come from, and the growers that I work with, we're very much on the cutting edge of that. You know more water storage on site. More defensible space. Everything that's required for sustainability can also play into a healthy fire strategy."
For now, as Allen points out, it's extremely unlikely that wildfires will force growers out of the region. After all, these growers have been dealing with wildfires for decades. But who knows what the next few decades will bring? Thanks to climate change, by the year 2050, the U.S. will experience wildfires that are at least twice as destructive, resulting in about 20 million additional acres of burned land each year, according to a U.S. Forest Service report. Maybe then, homeowners and cannabis farmers alike will have no choice.