Canadian singer-songwriter Shawn Mendes had a big night at the MMVAs. The rising star had the most nominations of any artist at the Canadian music awards this year, with Drake trailing just behind him.
But before beating Cardi B and Post Malone, among other heavyweights, for Best Artist of the Year, Mendes offered some insight into his own favorite jams…while high. He likes anything on John Mayer's "Continuum," he told The Globe and Mail, as the whole album "really, really resonated" with him as he was transitioning into adulthood.
Mendes was one of many celebrities asked on the way into the MMVAs on Aug. 26 about the best music for smoking weed. The question comes as Canada gears up for its recreational market, slated to open on Oct. 17.
To no one's surprise, Dr. Dre's iconic album "The Chronic" got two votes: one from guitarist Mike DeAngelis of Arkells, a Canadian band nominated for best Rock/ Alternative Artist, and one from Joe DePace of Loud Luxury, a Canadian production/ DJ Duo which won best song of the summer for their hit "Body." Andrew Fedyk, the other half of Loud Luxury, touted his master Spotify playlist, made just for that special time of day when he's enjoying the herb.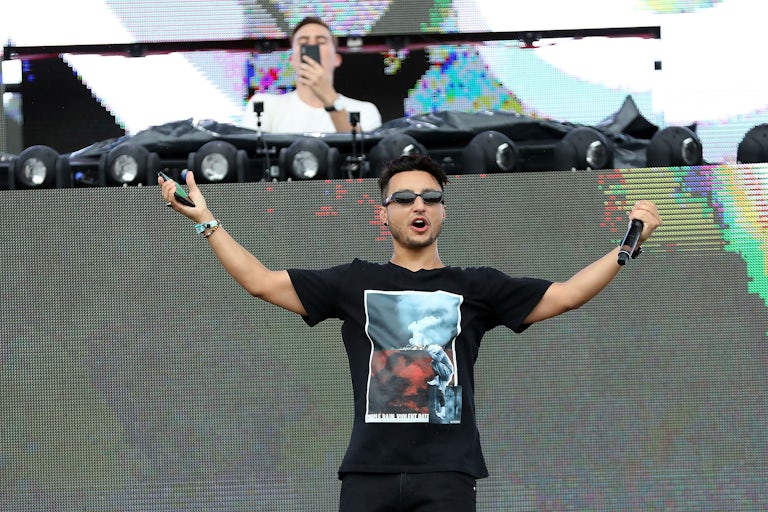 "Have you heard of Alina Baraz?" Fedyk asked the interviewer, referring to the up-and-coming R&B star from Cleveland. "It's actually just a bunch of weird trippy stuff. It's super slow and helps you vibe out a bit."
Other celebrities took the opportunity, ahead of legalization, to offer their political views on cannabis. Pop artist Scott Helman said he doesn't think anyone should be put in jail for something that to him "isn't a crime," before endorsing "anything Bob Marley" for a smoke session.
Rapper k-os commented on how bizarre it is for him to observe the slow normalization of weed smoking. The other day, he said, his close friend sent him a text about how she was going to have dinner with her mom and before they went to the dispensary together.
"I thought it was funny," he said. "Now like 40, 50-year-old people are going to be like 'I'm going to the pot store to buy some weed.'" "Brother Down" by Sam Roberts, a Canadian singer-songwriter, got his endorsement as "a hippie anthem." "You kids won't know what that is," said k-os. "But check it out."
Perhaps the most animated answer about the best music for smoking weed was given by Canadian electro-pop duo Elijah Woods x Jamie Fine. It's obvious, they said: "Because I Got High" by Afroman always fits the mood. And if you're not in the mood to smoke already, they said, it sure as hell will get you there.