Tom Huth wants you to know that he has no grand agenda with cannabis. Like most writers, he simply wants to tell you his story. And what a story. Recounted in his new memoir, Forty Years Stoned: A Journalist's Romance, released today, Huth looks to relate what he refers to as "the stoned experience," and his personal journey while enjoying that experience. His has been a tale of adventure, misfortune, hope, heartache, and inspiration, all guided by what he refers to as "the inspirations and insight of smoking marijuana."
"I'm not a marijuana advocate," the 74-year-old Huth says from his home in Santa Barbara, California. "I'm just a writer. I'm just a storyteller. I'm just telling my story."
Beginnings
Growing up in Detroit in the 1940s and 1950s, Huth had surprisingly little interaction with cannabis: the first time he ever tried it was when he was 19 years old. It wasn't until 10 years later that he had his first breakthrough. "When I was 30, I immediately realized this was the drug for me," he told HERB. "Even though I tried a lot of other drugs, including coke, I thought, 'Why would you do something dangerous when there's this wonderful drug that just gets me to where I want to be?"
The feelings that cannabis conjured in Huth, excitement, inspiration, and optimism, have been consistent in the forty-four years since he had his realization of what cannabis could do for him.
Tragedy
Huth's attitude towards cannabis has not only been shaped by how it influenced him and his writing; it has also enhanced his relationship with his wife of 20 years, Holly. Though not as avid a smoker as Tom, "she smokes, but she's not a stoner", he makes clear that cannabis has had a profound impact on Holly's life.
That is because Holly is in the final throes of a decades-long battle with Parkinson's Disease. "Parkinson's, unlike cancer, is a fight that everyone loses, day after endless day," Huth writes in the memoir. "Smoking marijuana will never lift this spell. But it has often worked to distract Holly from her discomforts and anxieties."
While cannabis has been instrumental in allowing his wife to keep some semblance of perspective and optimism, Huth says that it has been just as helpful in his own struggle of coming to grips with his wife's condition.
"It gives me what I call 'tens of thousands of sweet clemencies' over the years that have made the whole experience just totally bearable and made it an inspiration rather than what it could be."
Lessons
Huth remains optimistic for the future. His memoir is set for release today, April 20th (not a coincidence) and after Holly passes on, he plans to move out to a tiny town in the mountains of Colorado, where he also owns a home. And despite all of the trials and sadness brought on by his wife's illness, he hopes that his memoir can awaken readers to the wonderful experiences he has had with the most versatile of plants.
"It's about a successful and fulfilling life -my life–a life that's been full of adventure and some misfortune, but a life that's been lived guided by the inspirations and insight of smoking marijuana… For both of us, it's been really liberating."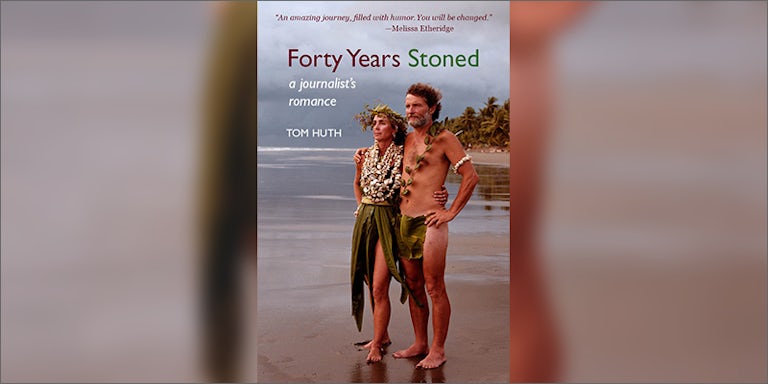 Tom Huth is a Washington Post alumnus, a magazine writer and the author of Forty Years Stoned: A Journalist's Romance,  published on 4/20 by Heliotrope Books.