The marijuana movement has made significant gains in recent years: Nine states plus D.C. have legalized adult-use cannabis, 30 states have legalized medical marijuana, and members of Congress on both sides of the aisle have introduced legislation to end federal prohibition. State-legal marijuana is now a multi-billion-dollar industry, and 63 percent of Americans support legalization.
Meanwhile, there are still people in this country who are serving life sentences for marijuana offenses.
This absurd state of affairs was on full display at the annual NYC Cannabis Parade & Rally – a tradition in the Big Apple since the '90s. The lineup included old-school Yippie activists, state and city lawmakers, cannabis industry entrepreneurs, and military veterans. While the event was still firmly entrenched in its countercultural roots, the mainstreaming of marijuana was apparent too. For the first time, a licensed medical marijuana company in New York – Etain – sponsored the event.
"We have to end the prison-industrial complex. We have to end the drug war!" proclaimed Dana Beal, a longtime cannabis activist who first started organizing NYC smoke-ins in 1971. Those protests evolved into the annual pot parade, which eventually went global as the Million Marijuana March.
"He really is an OG," said Jacobi Holland, a fellow parade speaker and part of the new guard of cannabis entrepreneurs and advocates.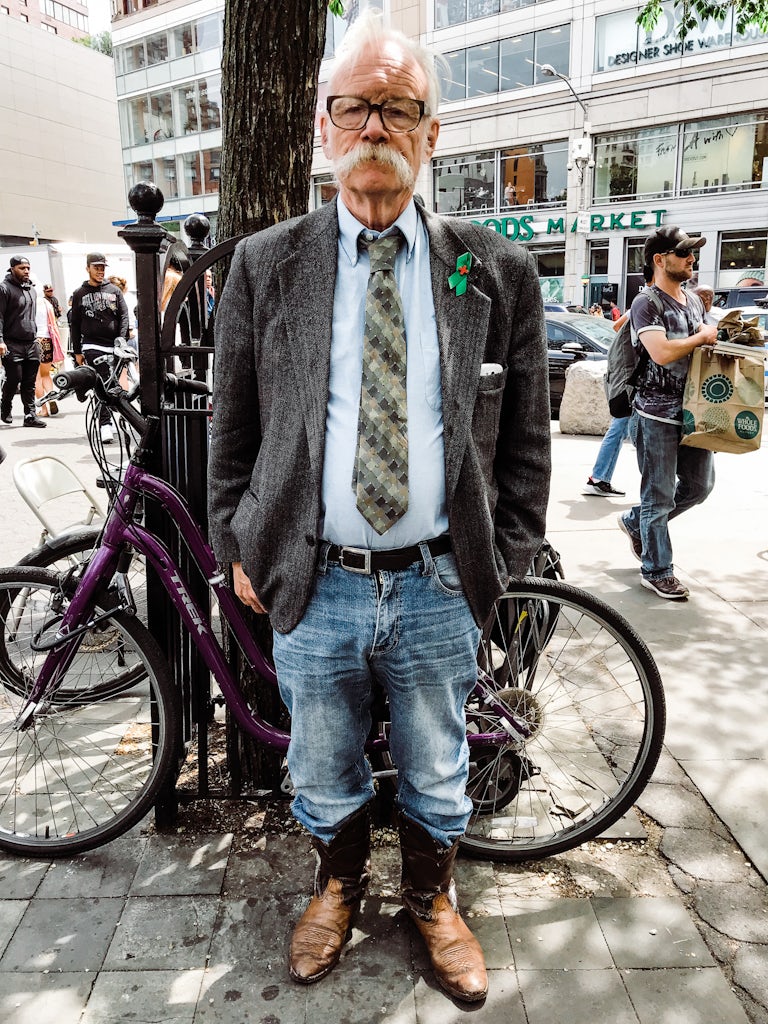 Rally attendees recognized him too. One man approached Beal after his stint on stage looking excited and incredulous. "I saw you in the '70s!" he exclaimed. "You still got it!"
While legalization laws are spreading around the nation, Beal is not ready to declare victory yet.
"Objectively speaking, different places are legalizing it," he said in an interview. "The problem is they're not really legalizing the people. The people that were dealing pot are continuing to deal pot. They can't easily get a license, and they can't necessarily afford to pay taxes."
That message was echoed throughout the event. These days, marijuana advocates are concerned with more than legalization. These days, people of color, who are disproportionately targeted for drug enforcement, find themselves shut out of the burgeoning industry. Longtime black-market cannabis cultivators don't have the resources to comply with restrictive regulations. But corporate types with coffers of investment dollars do.
"This movement is about more than legalizing a plant," said Chris Alexander, policy coordinator for the Drug Policy Alliance. "This is about ending the policies of stop-and-frisk, this is about reducing the disparities of those who are arrested and making sure that everybody in this audience – black and brown people – are able to take part in this multi-billion-dollar industry."
And that's a message that has been embraced by politicians too. Four candidates for New York governor spoke in favor of cannabis at the rally: Cynthia Nixon (Democrat), Joel Giambra (Republican-turned-Reform), Larry Sharpe (Libertarian), and Howie Hawkins (Green). Digs at governor Andrew Cuomo abounded.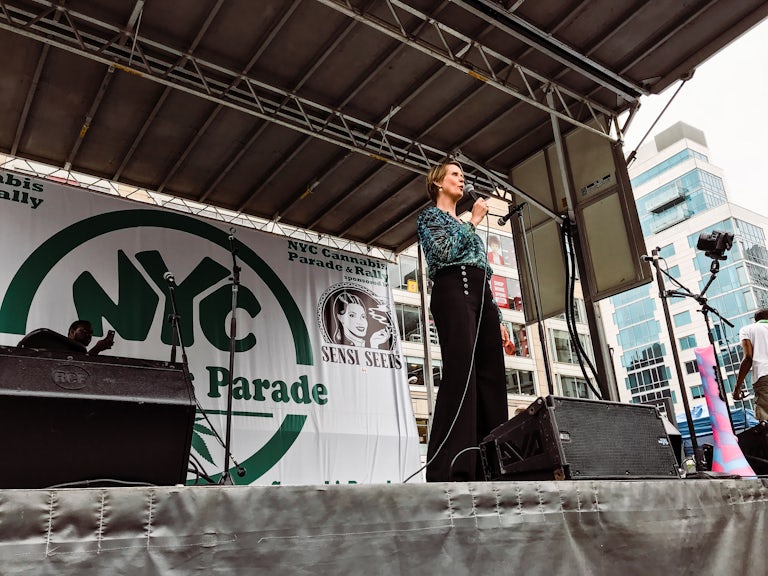 "When I am governor and when we legalize cannabis here, we will be sure to prioritize those communities of color for the licenses to sell cannabis," said Nixon, prompting cheers from the crowd. Her commitment to fixing the subway drew similar enthusiasm. If there's anything New Yorkers agree on, it's that weed should be legal and that the subway sucks.
"The cannabis movement is so powerful… they've been organizing on it for literally decades," said Nixon in an interview after her speech. "If you're for the legalization of cannabis, you're for so many other things."
The rally took a celebratory turn as 4:20 approached.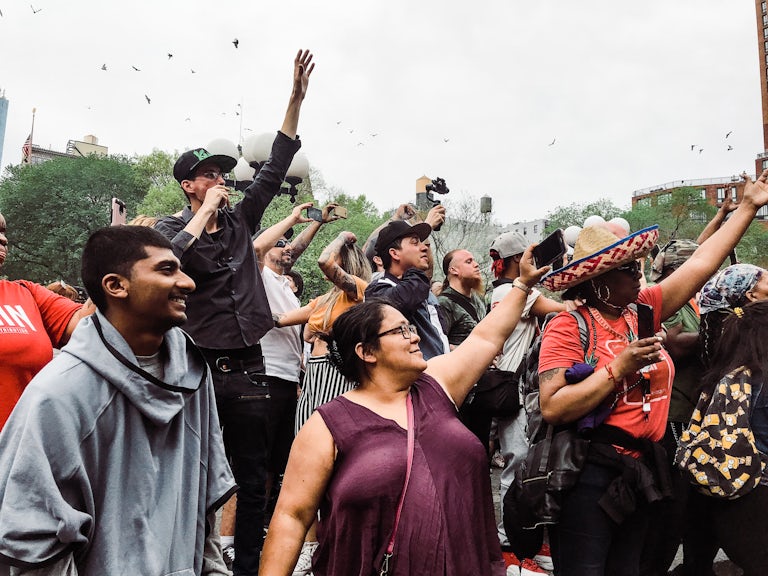 "I've been smoking weed for 45 years!" said Rick Cusick, a board member at The National Organization for the Reform of Marijuana Laws. "I used to buy weed when I was 15-years-old right there," he said, pointing at his pick-up spot in Union Square. Cusick went on to work for High Times and co-founded Whoopi & Maya, a medical cannabis company in California.
"And now, New Jersey is about to legalize. I can't believe this journey!" he exclaimed. "I was running from the police 40 years ago, and I'm on this stage here now."
Cusick led the countdown to 4:20 as thousands of attendees prepared to spark up.
"Ten! Nine! Eight! Seven! Six! Five! Four! Three! Two! One! Happy four twenty!" he shouted into the mic.
The crowd of thousands cheered. A cloud of weed smoke rose above them and the NYPD officers that were lining the park.
New York City still arrests tens of thousands of people a year for pot possession. People of color are ten times more likely to be arrested, accounting for 86 percent of arrests last year.
But for a brief moment on a sunny Saturday, activists, and police treated each other with friendliness and respect. Officers paid no attention to the ever-present fragrance of cannabis. They smiled for photos with protestors. They showed what the city could look like if the pro-legalization politicians get their way.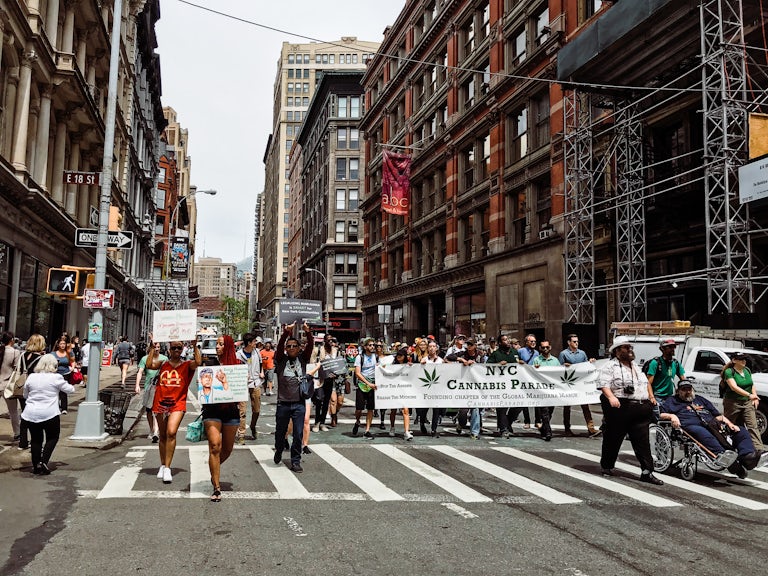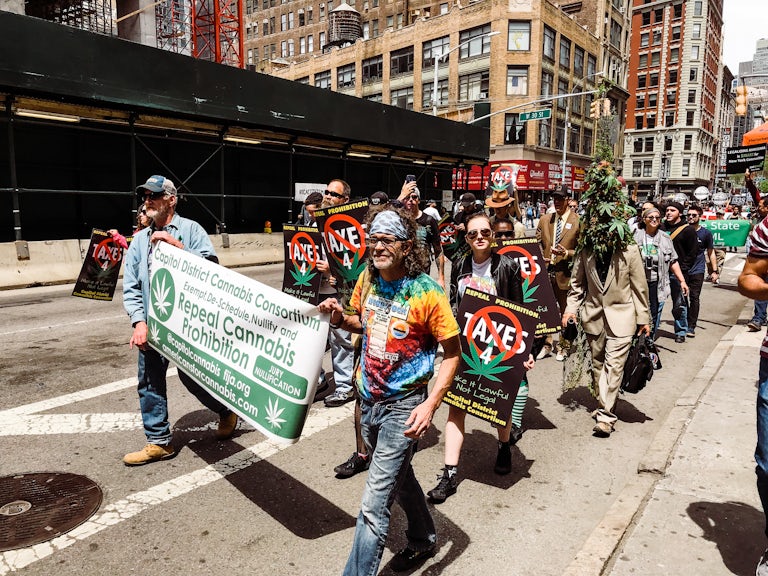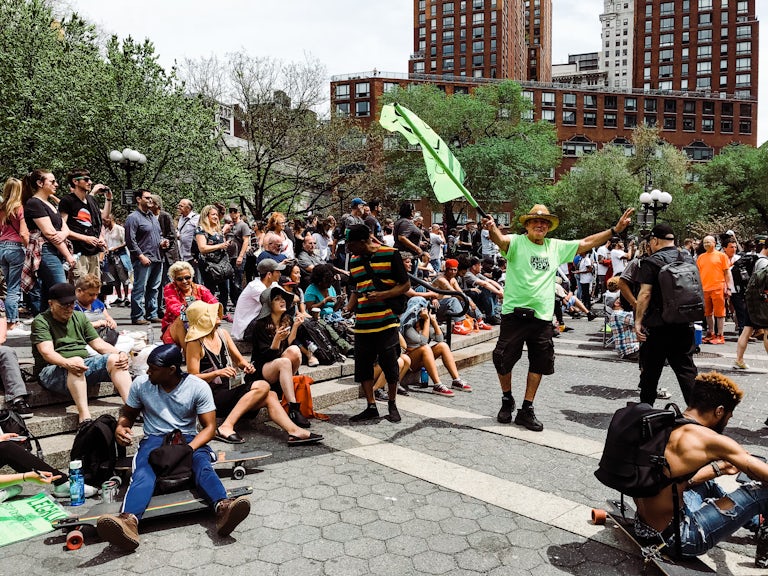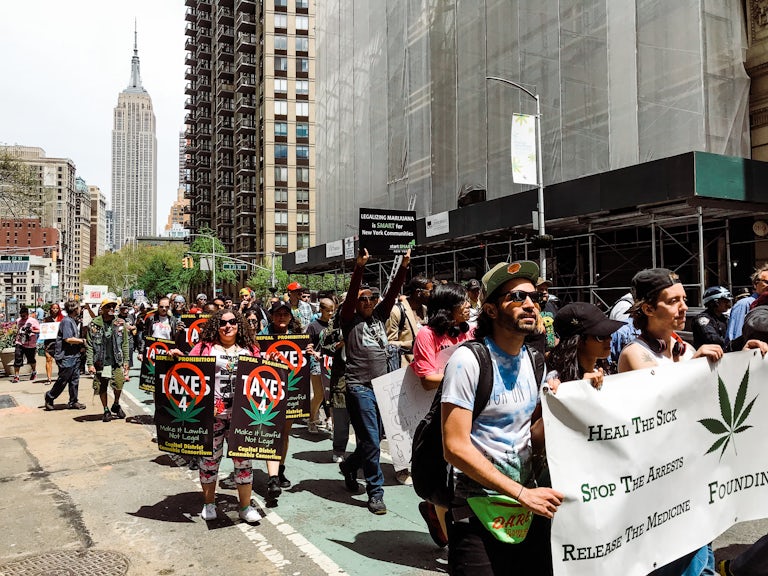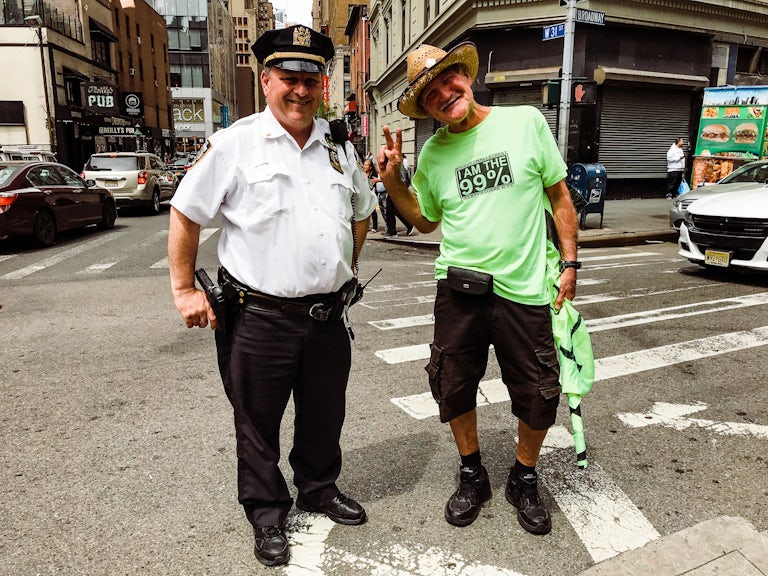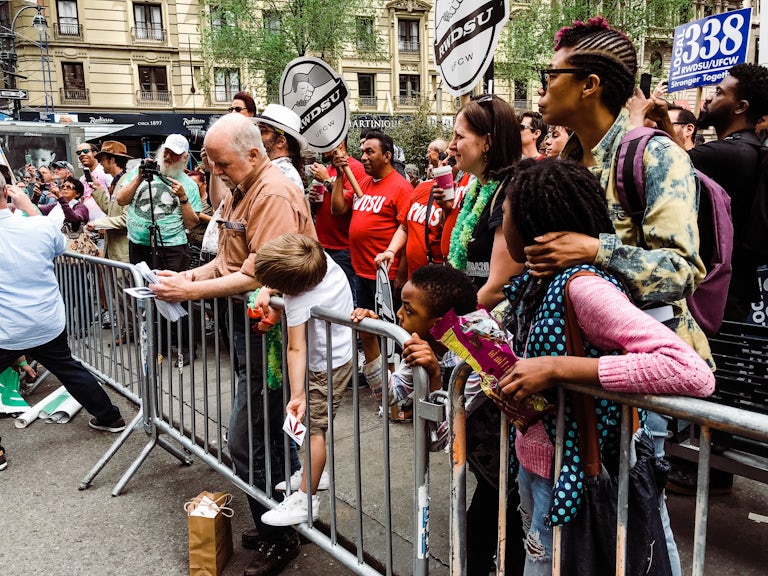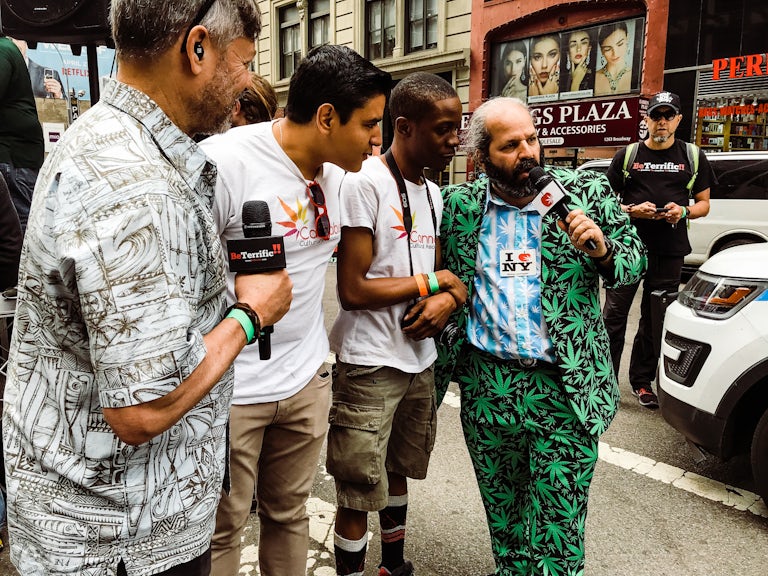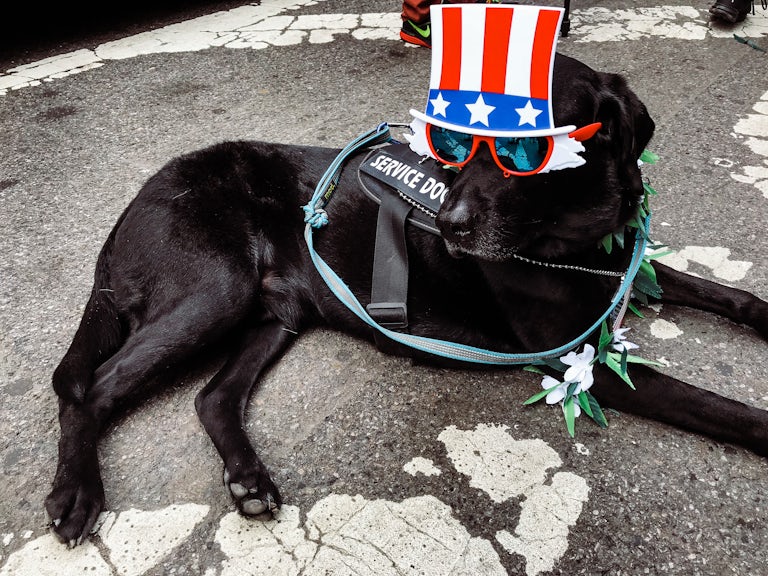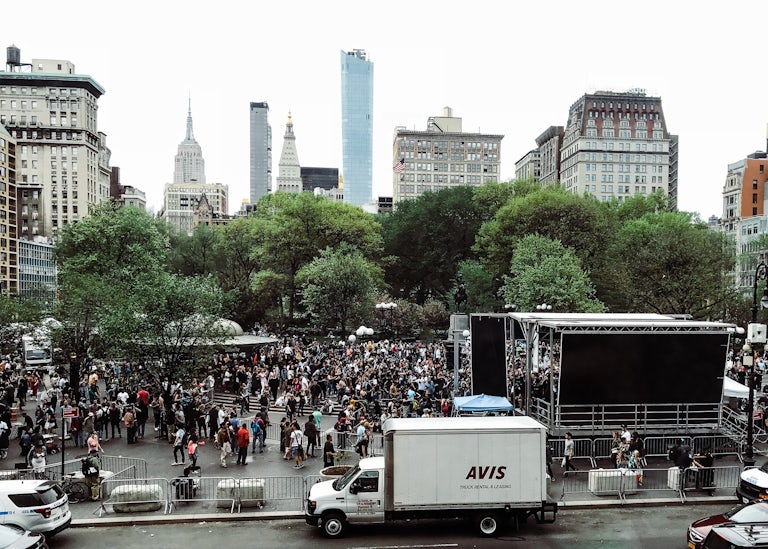 Correction:
A previous version of this article incorrectly spelled the name of cannabis activist David Beal as "David Beale."
The first NYC smoke-in took place in 1971, not in the 1960's.
Herb regrets these errors and has since updated this post for accuracy.