It's been a few decades since Democratic congressman Beto O'Rourke was a punk rocker. The El Paso native churned out a few albums with Mars Volta singer Cedric Bixler-Zavala in an outfit called Foss throughout the early 90s. But thirteen years into his life in politics, he still has a few things to stuff into the establishment pipe, so to speak. O'Rourke is looking to unseat one of the most prominent members of the Republican party, Senator Ted Cruz, and his secret weapon is legalizing marijuana.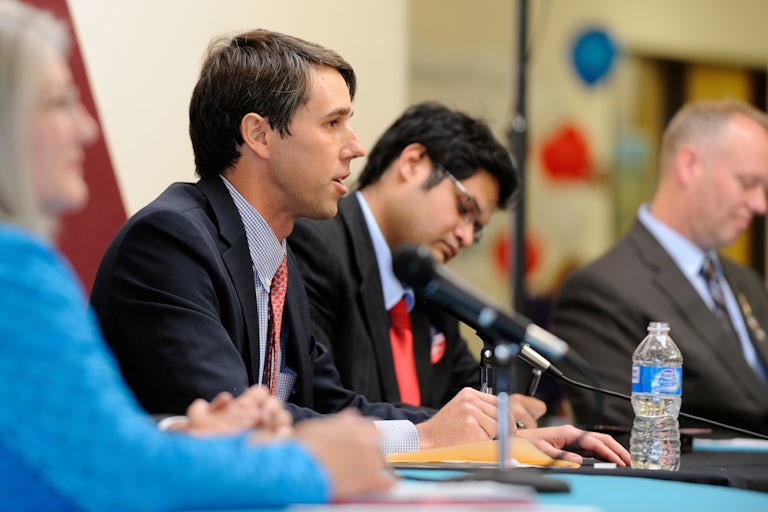 "It's going to be hard but it's absolutely worth doing," said O'Rourke at a Weslaco campaign stop. "(Washington is) listening to the corporations and the special interests and the PACs. And the folks who write the checks are calling the tune. It's not you and it's not me."
O'Rourke became a Texas rep in 2012 after a clinching battle with a vetted incumbent, eight-term rep Silvestre Reyes. Many expected Reyes to keep his seat. He had better funding and endorsements from both Bill Clinton and Barack Obama.  
Texas' 16th district, which El Paso is a part of, sits right next to Ciudad Juárez, a Mexican city known as one of the most violent hot spots of the cartel war. In his campaign against Reyes, O'Rourke submitted legalization as a way to significantly declaw the neighboring cartels. According to a recent study, this strategy works. Cartel-related violence has dropped significantly in states with medical marijuana that border Mexico. 
"You have 10,000 people killed in the most brutal fashion in Ciudad Juarez in the last 10 years," said O'Rourke, "without a single word from the congressman about what we can do to change the dynamic and stop the bloodshed. (Marijuana is) the cornerstone of the cartel economy."

Reyes swiped back at O'Rourke with an ad that played during the Academy Awards, reiterating that marijuana was a gateway drug. O'Rourke beat Reyes on election day with 50% of the vote to Reyes' 44%.
O'Rourke's next target is much bigger, and even his most enthusiastic supporters don't love the odds. He's looking to become the next senator for the entire state of Texas. This would require unseating none other than Ted Cruz, the filibustering, technically Canadian, failed presidential nominee and off-putting dinner haver that's been in office since 2013. Even if his chances are unlikely, O'Rourke is running to win (many of his campaign stops are literal fun runs). In addition to legalizing cannabis, his main ballot issues is opposing the proposed border wall. And making fun of Ted Cruz's failures. Not like that's especially hard or anything.