The 2020 presidential race may seem like a long way off, but the early stages of the campaign have been underway for some time. It won't be long after the November midterms that we begin to see some names floated around for presidential candidates.
In fact, the Trump campaign has been underway for well over a year with President Trump having filed for re-election on the day of his inauguration. He ended 2017 with $22 million in donations.
With that kind of headstart, the president is not likely to have many Republican challengers who can catch up. But on the other side of the aisle, a range of potential presidential candidates have kept their names in the headlines and felt the pressure to propel themselves to Democratic party leadership. And among the front-runners, very few have shied away from a pro-marijuana stance, leaving voters with plenty to chose from. Here are the top 5 presidential candidates who could finally end prohibition.
1. Bernie Sanders
Bernie Sanders is probably our best bet among pro-cannabis presidential candidates. Several landmark pieces of cannabis legislation now being pushed by other lawmakers were originally introduced by Sanders.
He's long advocated for the right of states to decide for themselves whether they want to legalize. In the Senate, he introduced legislation in 2015, known as the Ending Federal Marijuana Prohibition Act, which would have prevented the federal government from interfering with local legalization efforts.
"The state of Vermont voted to decriminalize the possession of small amounts of marijuana and I support that. I have supported the use of medical marijuana," the senator said in 2015. "And when I was mayor of Burlington, in a city with a large population, I can tell you very few people were arrested for smoking marijuana. Our police had more important things to do…"
Sanders has also made drug policy reform a central part of his criminal justice platform. He supported The Smarter Sentencing Act of 2014, which would have reformed mandatory minimum sentencing for non-violent drug offenses and allowed non-violent drug offenders currently serving time to seek reductions in their sentences.
Perhaps the most encouraging thing about Sanders is that he only gained popularity among Democrats after his 2016 loss, while he and his supporters fought to include legalization in the national Democratic Party's platform for the first time that year.
On his own personal use, he says it's not for him "because I coughed a lot, I don't know. I smoked marijuana twice, didn't quite work for me." He said during the 2016 campaign: "It's not my thing, but it is the thing of a whole lot of people."
2. Cory Booker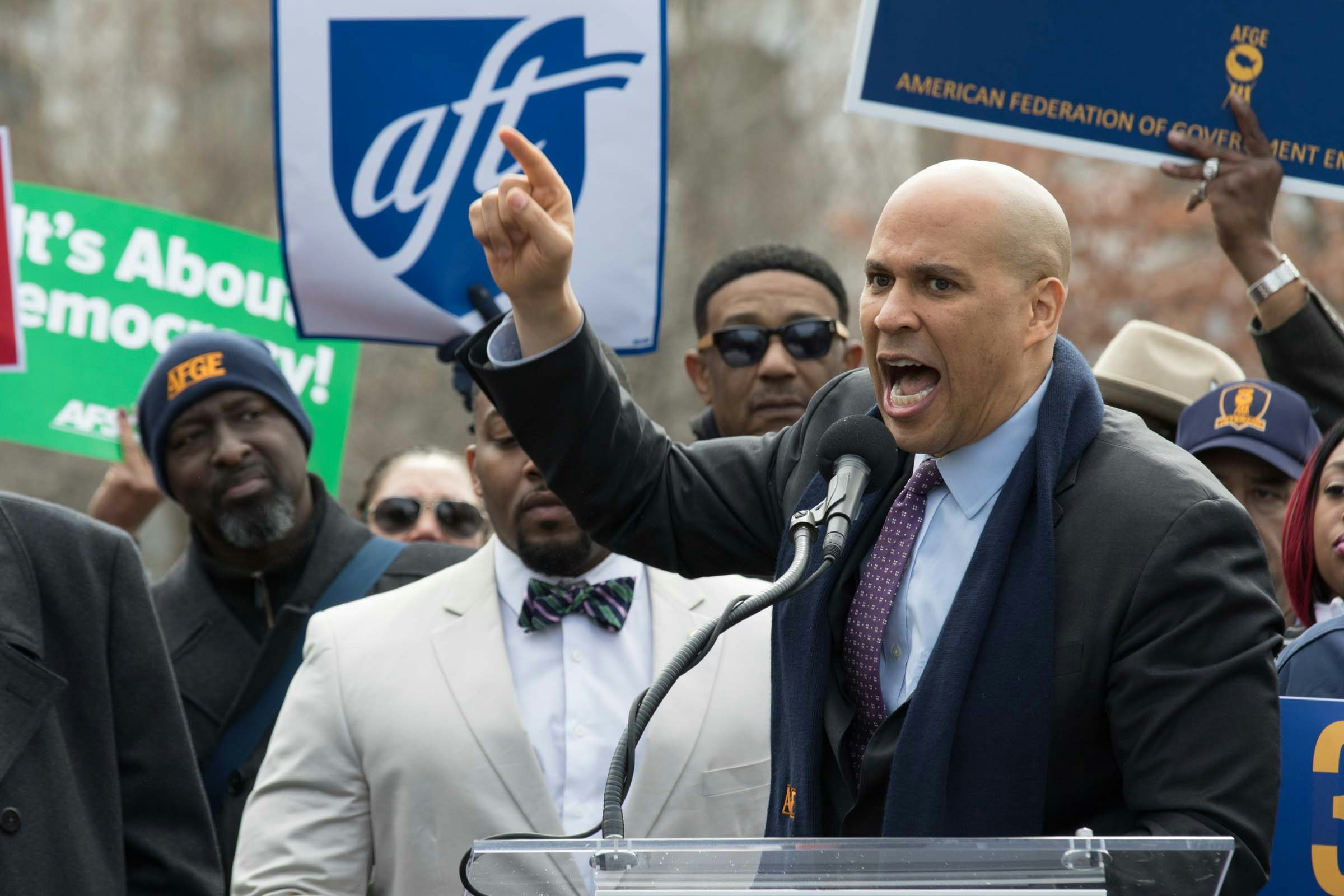 Speculation that Booker will be among 2020 presidential candidates first emerged when he gave a speech at the 2016 Democratic National Convention. With his continued vocal criticism of the Trump administration—which hardly grabs headlines outside of regular political coverage—and his routine engagement with his social media following, Booker sure looks like he's testing the waters for a run.
The good news for cannabis activists is that Booker's flagship issue, criminal justice reform, has made him perhaps the most vocal supporter of legalization on Capitol Hill right now.
The Marijuana Justice Act (MJA), which he introduced in the Summer of 2017, is the most well-publicized piece of cannabis legislation put forward. It's also the most ambitious since it not only aims to remove the federal ban on cannabis but also to expunge non-violent cannabis-related criminal records. The bill would not force all 50 states to legalize, but it would end federal prohibition and penalize states which enforce their cannabis laws disproportionately against minorities.
Unfortunately, Booker also received criticism for his history of accepting contributions from the pharmaceutical industry; donations which he pledged to stop accepting after receiving too much heat for them.
3. Elizabeth Warren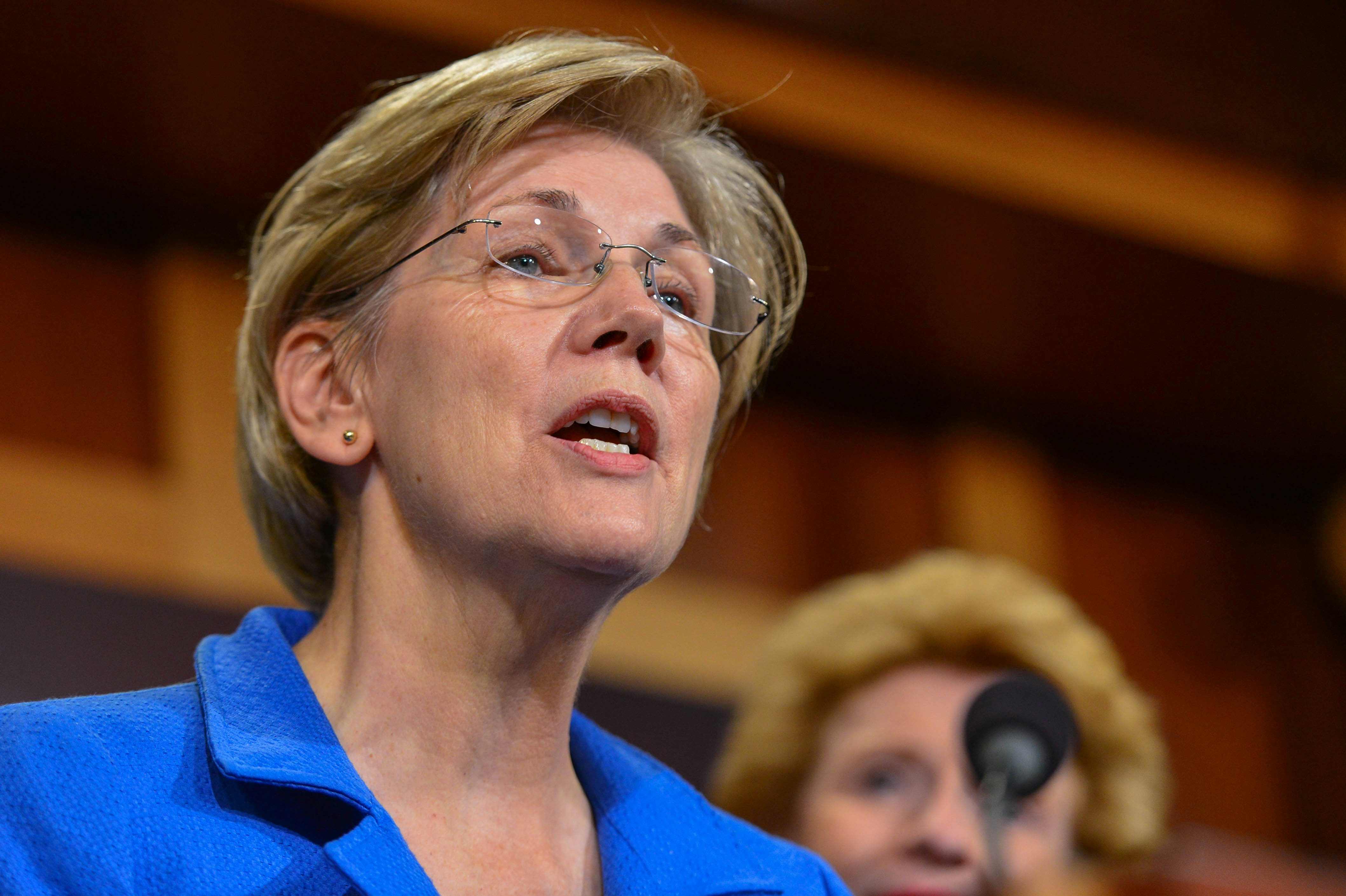 Despite her name being floated year after year as a potential candidate, Massachusetts Senator Elizabeth Warren has always denied that she is running for president. Yet that hasn't stopped pundits from continuing to speculate, especially since she became a vocal opponent of President Trump.
In 2016, as her home state faced and passed a ballot question to legalize, Warren said she would be open to legalization in order to regulate the market for safety purposes. "I think what we really need is to have some regulation of it, and that means I would be open to the possibility of legalizing marijuana in Massachusetts," Warren said.
That year, Warren also floated marijuana as a solution to the opioid crisis and urged the Centers for Disease Control and Prevention to do so as well. The senator continued that push in 2017, demanding that then-nominee for Secretary of Health and Human Services, Alex Azar, do the same.
"Medical marijuana has the potential to mitigate the effects of the opioid crisis," she wrote in a letter to Azar, citing data from studies conducted in Colorado which showed that marijuana was effective in reducing overdose deaths by 25 percent.
Warren has also stood up to Attorney General Jeff Sessions and his anti-marijuana rhetoric and policies. When the AG reversed the Cole Memo in early January, which protected state-legal marijuana businesses from federal prosecution, Warren responded by calling it "an incredibly destructive thing to do."
Warren is currently the co-sponsor of banking legislation which would allow cannabusinesses in legal states to file their taxes and make use of financial institutions without fear of federal prosecution.
For Warren, however, it appears that the biggest obstacle to beating other presidential candidates is that she doesn't seem to want to. Each time she has been asked whether she is considering a run, she has denied it and stood by that decision.
4. Kirsten Gillibrand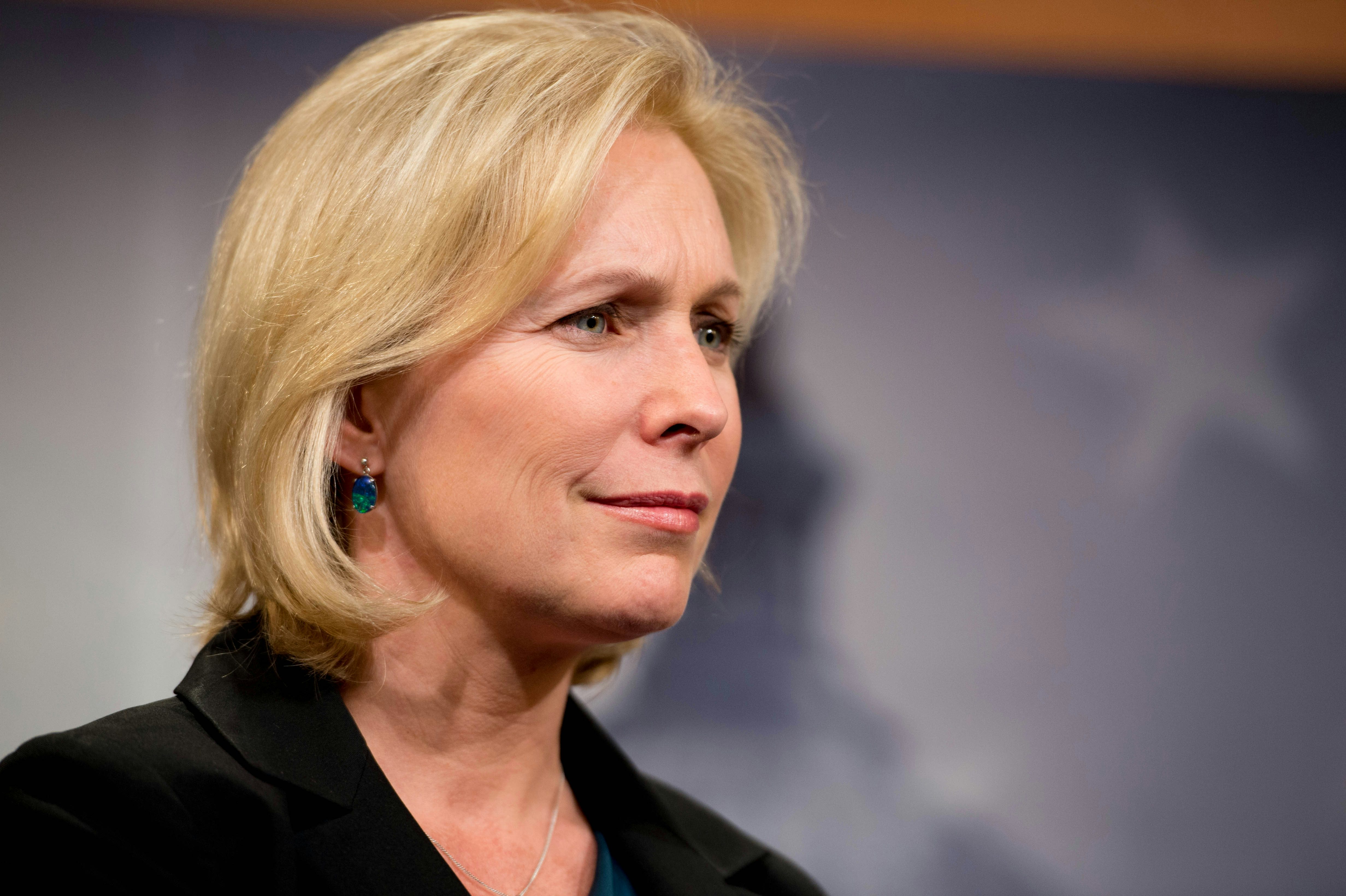 In February, Democratic Senator Kirsten Gillibrand of New York joined Booker in publicly pushing for the passage of the Marijuana Justice Act. Gillibrand became a co-sponsor of the legislation on February 14th and quickly became one of its most active supporters.
"I've met with a lot of my constituents, their lives are forever affected when they get a conviction for marijuana, it changes everything," Gillibrand said. "It's shocking how easily their lives can be destroyed."
A week later, Gillibrand called out Big Pharma on Good Day New York saying, "To them, it's competition for chronic pain, and that's outrageous because we don't have a crisis with people who take marijuana for chronic pain having overdose issues."
The MJA is not the first time Gillibrand has shown her support for legalization, having called and voted for the renewal of the Rohrabacher-Blumenauer amendment multiple times. She also sponsored the Industrial Hemp Farming Act of 2015, which would legalize industrial hemp, and introduced the CARERS Act with Booker and Republican Senator Rand Paul of Kentucky in March 2015.
CARERS would have allowed states to decide whether to legalize medical cannabis without fear of federal interference and reduced restrictions on federal approval of marijuana research applications.
The senator's name has been thrown around as one of a few strong presidential candidates, especially after her active support of the #MeToo and Never Again movements. She has denied the speculation.
5. Mark Cuban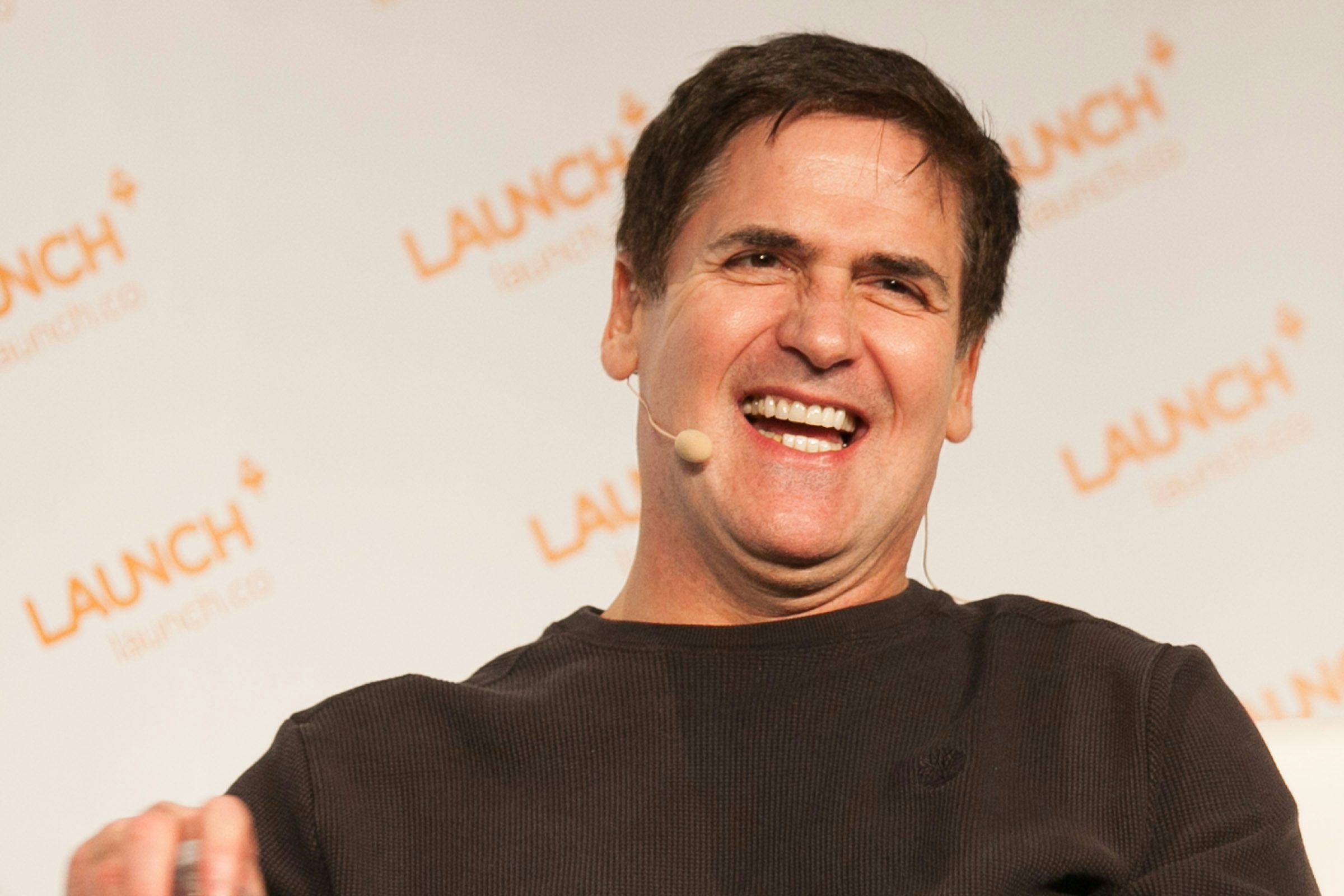 While people like Corey Gardner of Colorado and Jeff Flake of Arizona may be taken more seriously as presidential candidates, the truth is that there aren't many Republicans who could successfully challenge Trump in 2020 while supporting legalization.
So the closest Republicans will likely get to a cannabis candidate in time for the 2020 election is an unlikely challenge from Mark Cuban. The billionaire investor and owner of the NBA's Dallas Mavericks has said he would consider running against Trump during the New York Times BookDeal conference in 2017. He has also said, however, that he would not be on the list of presidential candidates unless he were single.
However unlikely, Cuban has been a supporter of recreational legalization, telling CNN's S.E. Cupp that he would take it a step further and consider criminal justice reform with it.
"Yes," Cuban said when asked if he supports legalization, "And release prisoners who are incarcerated for pot."
Unfortunately, when it comes to throwing his own money behind cannabis, Cuban has made it clear that he doesn't believe it is a wise investment. He also opposes the use of cannabis among NBA players.
"I saw a guy that smoked cigarettes, I would shame him all the way to the next team I traded him to," Cuban said in 2015. "Put aside the legal side of it. It still goes into your lungs and that's the thing that I'm more concerned about. If it impacts your lungs or your performance, I'm against it."