Snoop Dogg is now officially the 2651st celebrity added to the Hollywood Walk of Fame. The induction falls a few days short of the twenty-fifth anniversary of his debut album, Doggystyle, which launched his career into the mainstream back in 1993.

The rapper, author, philanthropist, and cannabis entrepreneur is classified under the Walk of Fame's 'Recording' category.

The unveiling of Snoop's star took place at 6840 Hollywood Boulevard in front of the Jimmy Kimmel Live Studios. Snoop joined Jimmy Kimmel, who handed him the honor, along with legendary composer and Hollywood Walk of Famer, Quincy Jones, producer and hip-hop legend Dr. Dre, Snoop's wife, Shante Taylor, and the rest of his family.

An official statement previously posted to the Hollywood Walk of Fame's website provided context for the honor.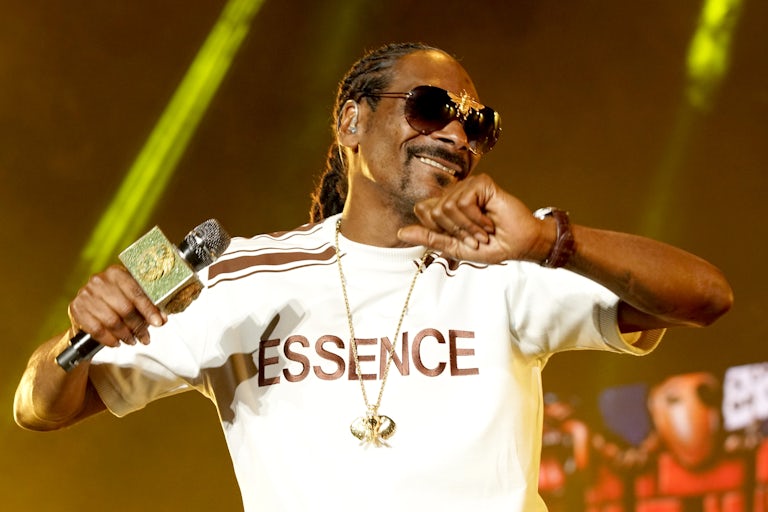 "Snoop Dogg is one of those people who can do anything. He raps, he acts, he hosts a television show, he cooks, and helps community kids with his philanthropic work," read the website. "He is a man of the ages, and we welcome him to our Hollywood Walk of Fame."

Snoop Dogg joins fellow musicians, such as fellow collaborator Pharell Williams, Michael Buble, and P Diddy, along with cannabis enthusiasts such as recent inductee Jack Black and Matthew McConaughey.

Only a handful of people in history can say that their name is on the Hollywood Walk of Fame, and now Snoop Dogg can add this accomplishment to his impressive year.
In addition to receiving permanent tenure on Hollywood Boulevard, in 2018 Snoop managed to release a cookbook with longtime pal Martha Stewart, star in a musical-theater production based on his life, and release his first Gospel-inspired album, Bible of Love. That doesn't even include his regular touring schedule and other appearances that he's made while being incredibly active on Instagram. 
Strangely enough, Snoop Dogg is the second Snoop to be added to the Hollywood Walk; The first was Snoopy of the Peanuts fame.