Years from now, Canadians will still be able to tell you exactly where they were and what they were doing on October 17, when the country legalized recreational cannabis. After all, Canada is the first G7 country to make recreational weed legal nationwide, and only the second country in the world after Uruguay.
To commemorate the historic milestone, cannabis-focused business accelerator, Leaf Forward, is giving the cannabis community the chance to set Bill C-45 on fire; at least, mini replicas of it.
Together with creative agency Rethink, Leaf Forward printed all 152 pages of Bill C-45 (over 90,000 words) onto limited-edition rolling papers using safe, non-toxic ink. They even packaged them in "official" government-looking documents. The idea, which strikes a balance between being playful and disruptive, pays homage to the past while also giving Canadians the chance to literally "pass the bill" today. 

"The rolling paper is our way of showing appreciation to the many individuals—activists, innovators, entrepreneurs, leaders–who made legalization possible by celebrating in a way that's true to the occasion," Leaf Forward's co-founder, Brett Chang, told Herb.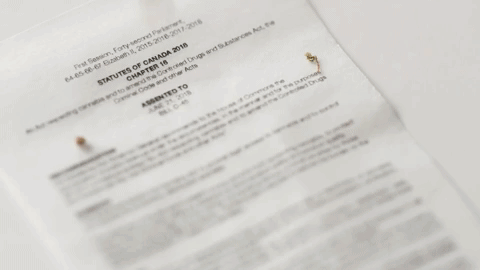 Fire—the only earthly element of four that humans can produce—often pertains to rituals of releasing past pain and negativity in order to move forward. Freud saw fire as an aspect of the libido representing forbidden passions, and it is seen in psychology as the necessary cycle between destruction and regeneration.

For all that Bill C-45 represents, lighting these joints becomes a ceremony as much as it is a celebration.
The rolling papers are being sent to entrepreneurs and influencers in Leaf Forward's extensive network. Based in Canada, Leaf Forward invests in early-stage cannabis companies, as well as hosts meetups and boot camps in six cities: Vancouver, Calgary, Winnipeg, Toronto, Montreal, and Melbourne. Companies are invited to participate in Leaf Forward's 12-week program where they work closely with the mentors and industry advisors.
Well played, Leaf Forward. Well played.