The tiny Mexican village of San Cristóbal is not somewhere you would immediately associate with North America's cannabis revolution. Smoking weed is still illegal there and there are no headshops in town, just a sleepy plaza ringed by narrow, cobblestone streets.
But the most recognizable of the town's 3,000 residents—Vicente Fox, the former president of Mexico—has recently become one of the continent's highest-profile cannabis legalization advocates.
Last month, Fox hosted the CannaMexico World Summit at his family's San Cristóbal ranch, a two-day conference designed to promote legalization and fuel the growth of a Mexican marijuana industry. Fox also uses the complex to meet with journalists, arguing that Mexico's spiraling violence warrants a new strategy that takes cannabis out of the hands of criminals. He believes that continental cannabis legalization could create a dynamic new industry, delivering jobs and profits on both sides of the border.
"It's absolutely contradictory that the United States legalizes and Mexico still has prohibition," Fox told Herb at a recent visit to his ranch. "We have to join in with new trends in the world. Mexico has to be on the vanguard."
A former Coca-Cola boss, Fox is best known for ending 71 years of one-party rule with his election in 2000. Nevertheless, as president, he failed to deliver on his ambitious economic promises.
Freed from the constraints of elected office, Fox now provokes change from outside the corridors of power. Even his clothing reflects this: the trademark navy suit is gone, replaced today with a bright yellow button-up, blue chinos and running shoes.
Yet despite this more relaxed role, Fox is clearly keen to retain influence. In 2007, the year after he left office, he opened a presidential library on his San Cristóbal ranch. Portraits of the former leader are mounted on walls throughout the lavish complex and the basement library displays gifts offered by various world leaders, including a riding saddle he received from former U.S. president George W. Bush.
Much has changed about his stance on cannabis—and drugs in general—since he was president. Throughout his six-year term, Fox oversaw aggressive efforts to destroy marijuana crops in the Mexican countryside as part of his commitment to fight the drug trade.
Today, Fox says his opinion on legalization has changed because crime levels tied to the drug trade have gone up. There were 11,806 murders across the country during Fox's last year in office, compared to 21,459 homicides during his successor Felipe Calderón's final year.
There is no way to isolate the impact of marijuana prohibition on this death toll, but we do know that the criminalization of any drug typically fuels violence. And although official figures do not signal which are cartel-related deaths, one study estimates that organized crime was to blame for more than half of the murders during Calderón's term.
In response to the growing homicides, Calderón deployed thousands of soldiers against the cartels and targeted major kingpins, something which Fox describes as a "terrible historical mistake" because it stoked the violence by splintering large trafficking gangs into dozens of smaller, competing factions.
Current Mexican President Enrique Peña Nieto has continued this militarized strategy. And based on the numbers documented for the first four months of 2018, Mexico looks set to record more than 31,000 murder victims for Peña Nieto's final year in office.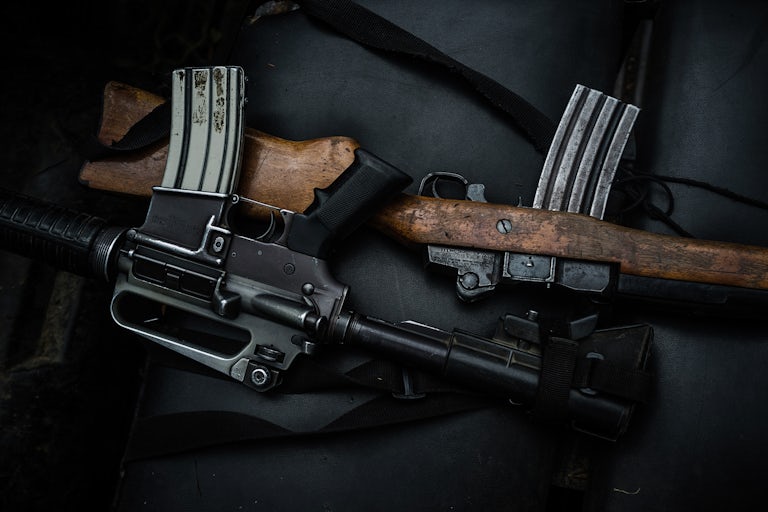 Consequently, since leaving power, Fox has joined other former Latin American presidents in denouncing prohibition. His Mexican predecessor Ernesto Zedillo, former Colombian president César Gaviria and former Brazilian head Fernando Cardoso have also called for the decriminalization and regulation of drugs, including cannabis.
In the case of Fox, however, it's difficult to say how much he genuinely had a change of heart. His former position on drugs—including cannabis—was undoubtedly in part motivated by politics. Despite the slow but steady relaxation of cannabis prohibition laws, a majority of Mexicans are still opposed to legalization, with only 29 percent in favor, according to a survey by the polling firm Parametría.
"I wish they [the former presidents calling for legalization] hadn't waited," says Raul Elizalde, an activist who won a Supreme Court ruling for his epileptic daughter to use medical cannabis in 2015. "Why don't they support it when they're in power? Maybe they lacked the courage, but at least they are doing it now."
It is still against the law to sell recreational cannabis in Mexico, as it is everywhere in Latin America except Uruguay, which became the first country in the world to fully legalize in 2013. Nevertheless, Mexico began gradually liberalizing its cannabis laws in 2009, when the government decriminalized the possession of small amounts of drugs. In 2015, the Supreme Court granted four legalization advocates the right to grow and consume their own marijuana.
"The ruling was historic," says Juan Francisco Torres-Landa, a lawyer and one of the four plaintiffs. "Our main purpose was to make sure this topic was on the agenda, and that has been the case ever since."
Mexico's Supreme Court granted another individual the right to grow cannabis for personal consumption in April. And last year, the government legalized the sale of some marijuana-based medicines.
The topic has proved so divisive, however, that the leading presidential candidate, Andrés Manuel López Obrador, has barely mentioned it in the run-up to the elections in July. His closest rival in the polls, the right-left coalition candidate Ricardo Anaya, has remained ambivalent, saying he is open to debate but that drug legalization would not resolve Mexico's security problems.
"While they are campaigning they don't want to speak about this issue," Fox says. "They think that it's negative for voters."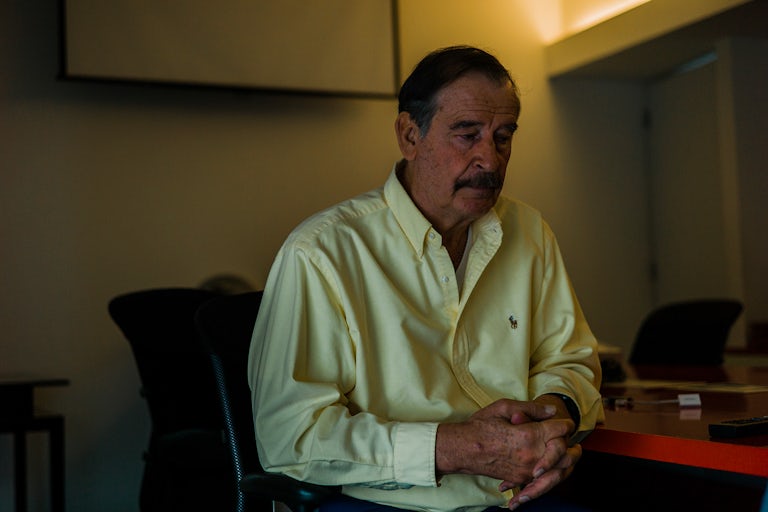 Nevertheless, support for reform has risen from just seven percent recorded by Parametría in 2008, suggesting attitudes have shifted as Mexicans have watched Uruguay—as well as nine U.S. states and Washington D.C.—opt for legalization.
Consumption has also risen steadily in recent years. As of 2016, 8.6 percent of the population had tried cannabis compared to 4.2 percent in 2008, according to Mexico's National Addiction Survey.
Fox says he has never used cannabis himself, although he is open to trying it in the future.
"When I go to a speaking conference I have a tequila or a glass of wine before," he says. "It puts you in a much better mood…This is what you can get out of marijuana."
Fox would like to see a robust continental cannabis market as the plant is incorporated into the North American Free Trade Agreement (NAFTA), allowing Mexican farmers to grow weed for their northern neighbors. Last year, he projected Mexico could eventually produce up to 60 percent of legal cannabis consumed in the United States.
His family has farmed in Guanajuato for five generations and he would happily grow the plant in the future.
"We are always open to diversification," Fox says, but the "first step is it has to be legal."
Nevertheless, he concedes that Donald Trump's rise to power represents a challenge to this aspiration. It's difficult, he says, to advance legalization with "an ignorant president" heading the U.S. government.
Fox believes a thriving cannabis industry in Mexico would provide economic opportunities for those currently operating outside of the law, including small-scale farmers who have little option but to grow weed for cartels.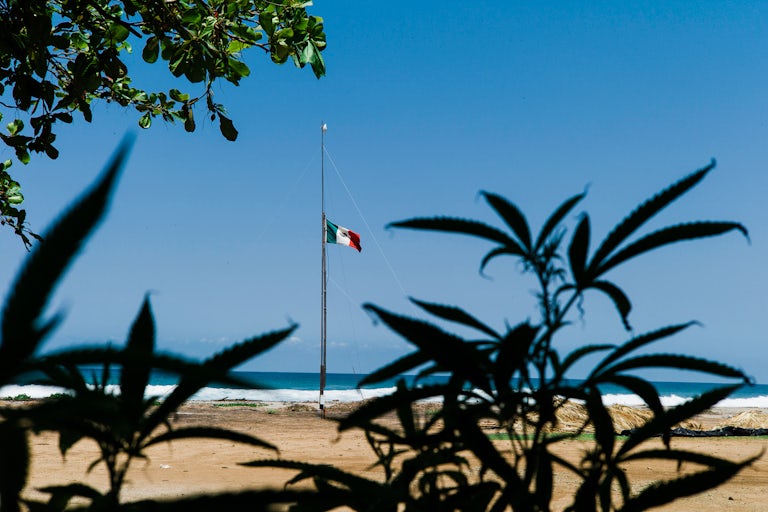 He concedes that criminal groups in Mexico could turn to kidnapping, extortion and other crimes that more directly impact law-abiding citizens if continental cannabis legalization triggered a curb in profits. Yet in the long term, he argues that cutting the supply of money from the U.S. market is the only way to disempower criminals.
Cartels "are very active on many fronts," Fox says, but "the easiest way" for them to make money is through drugs.
The authorization of marijuana sales in the United States has already had an impact on cartels and cartel-related violence. Last year, U.S. Border Patrol seized less than 900,000 pounds of marijuana, compared to more than 2.4 million pounds in 2013, the year before retail pot shops began opening in the United States. To make up for the shortfall, cartels have turned to importing more potent drugs such as heroin and methamphetamine.
Fox would like to see these drugs legalized eventually as well, although he argues that full legalization of weed alone could offer drug traffickers the opportunity to move out of the shadows.
"With a new culture, a new way of thinking, all those criminals for the first time have options," Fox says. "We can move out of criminalization—with death, blood on the streets, underground activities—into a new industry. That's a real change."