With cannabis legalization spreading around the world, the popularity of cannabis video games is steadfastly increasing. Weedcraft Inc., an emerging cannabis game currently in the works by Devolver Digital and Vile Monarch, is the latest creation to corner this evolving area of the entertainment market.
Weedcraft Inc. is a 'tycoon-parody' scheduled for release within the first few months of 2019. The video game isn't just another run-of-the-mill strategy game, but a cannabis game designed specifically for cannabis enthusiasts.
Weedcraft Inc. lets players experience the ins-and-outs of running an illegal cannabis business, which can then transition to the legal market if their region legalizes. Through a cannabis game, Weedcraft Inc. emulates nearly every aspect of running a cannabusiness, with a realistic narrative weaved throughout.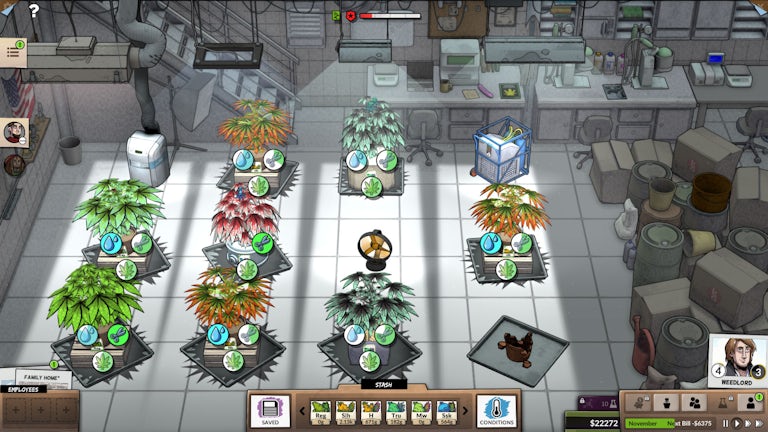 Set in Detroit, Michigan, Weedcraft Inc. follows two brothers who start a little grow-op to provide medication and funds for their father who is battling cancer. Regular duties in Weedcraft Inc. include everything from upgrading indoor heating lamps to increase crop growth to dealing with costly police visits.
As with any worthwhile video game, responsibilities and challenges increase as the game progresses, such as keeping the right NPK (nitrogen, phosphorus, and potassium) levels in fertilizer to keep crops growing smoothly, with other hurdles including competition and business losses. To get an idea of how complex things get in this cannabis game, players can even open additional businesses to cover up their profits and launder money.
Weedcraft Inc. head writer Scott Alexander told Polygon that beating the game without double-crossing is nearly impossible. Though you have the option of being a good cannabis entrepreneur or a bad weed dealer, there's no way to keep your morals intact and stay in business.
You can watch a trailer for Weedcraft Inc. below.