Indiana's First Church of Cannabis just suffered a major setback in its quest to circumvent the state's harsh marijuana laws by getting cannabis classified as a religious sacrament. Last week, Marion County Superior Court Judge Sheryl Lynch ruled that while the First Church of Cannabis is a valid church, smoking and selling pot is not protected as a religious exemption.
"The FCOC can continue to be a church without giving marijuana as a holy sacrament and selling it in the gift shop," she concluded. The church planned to conduct ceremonies in which each member was given a joint, all to be consumed at a specific point in the service. Joints would also have been available via the church's attached gift shop.
"I love you.  We lost. We are appealing… and so it goes," said Bill Levin, the First Church of Cannabis' founder and a longtime Indiana cannabis activist, in a Facebook post.
His pot-as-holy-sacrament claim was prompted in part by the passage of then-Governor Mike Pence's Religious Freedom Restoration Act. "Levin and other church founders filed incorporation papers for the First Church of Cannabis (FCOC) with the Indiana Secretary of State on March 26, 2015— the very same day that then-Governor Pence signed Indiana's RFRA into law," Lynch's decision notes.
The RFRA was intended to protect people like the Colorado baker who refused to bake a wedding cake for a gay couple, but Levin saw it as a potential loophole in the state's cannabis law. The RFRA prevents the state from "substantially burdening a person's exercise of religion" unless there is a "compelling governmental interest" in doing so.
In the sacrament case, which has been ongoing since shortly after the RFRA was passed in 2015, Lynch argued that there were several reasons to ban the church's cannabis practice. Primarily, she concluded that allowing First Church of Cannabis members an exception under the RFRA was just too confusing.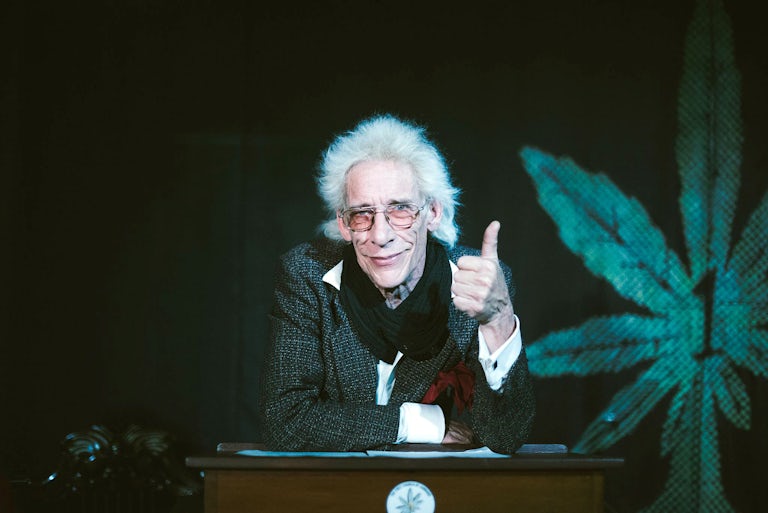 "Levin himself has admitted that only the marijuana user can know for sure whether the use is 'sacramental' or merely recreational," her decision notes, quoting Levin as saying, "Pretty much you have to ask yourself that, you know. That's within yourself." That subjectivity, she contended, would make it virtually impossible for law enforcement officers to conduct searches or make arrests, given that they would have no objective way of knowing whether a person in possession of cannabis was actually violating the law.
"Permitting exceptions to Indiana's laws prohibiting the sale, possession and use of marijuana for religious exercise would undermine Indiana's ability to enforce anti-marijuana laws at all," Lynch wrote. "Anyone charged with violating those laws could simply invoke "religious" exemption, triggering time-consuming (if not practically impossible) efforts to sort legitimate from illegitimate uses."
Beyond that, she raised concerns about diversion to illicit markets, impaired driving, and public health, citing evidence submitted by the state that Levin's camp described as biased. The issue of where the First Church of Cannabis would get cannabis, when it's illegal in the state, was also a concern. Somewhat bafflingly, Levin offered up that "there are many growers out there that will give us product," suggesting that he'd be buying it from illicit sources. This did not sit well with Lynch.
"On this record, FCOC has not made clear who will supply the marijuana, what form or forms its consumption will take, where it will be stored and used, or how (if at all) it would be safeguarded from children, criminals, and recreational users," she wrote. All things worth thinking about, if you're trying to establish a legal pot enclave in a very pot averse state.