The organization that fought for legal recreational cannabis in Washington DC (Initiative 71) had a very busy morning before Trump's inauguration. Calling it #Trump420, DCMJ set up a booth to hand out up to 4200 joints for anyone that wanted to light up before the President-Elect officially took office. The organization is concerned with the new government's plans for cannabis and hope that their Inauguration event can cement what the people stand for in DC and across the country.
#Trump420: Sending a message to Trump and Jeff Sessions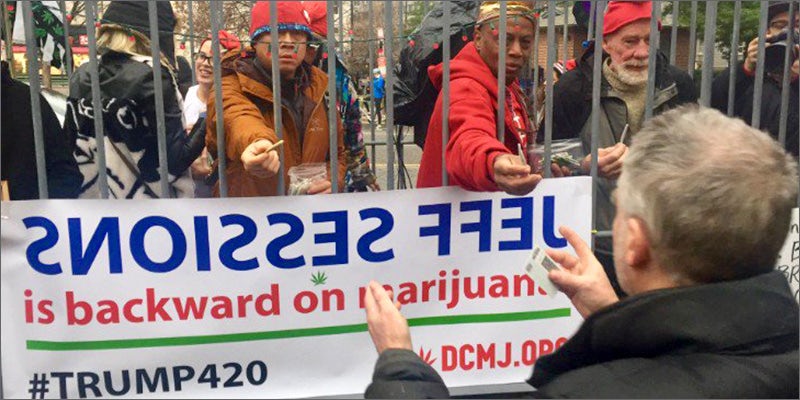 Protestors participating in #Trump420 all lit up their joints exactly four minutes and twenty seconds into President Trump's inauguration speech. Upwards of for thousand people were risking a criminal record in order to send a message to the new US government.
We're defending our initiative against the federal government because we're concerned that (attorney general nominee) Jeff Sessions will try to overturn our local laws here.

We're being proactive to share marijuana, which is our right, before it's too late. We also want to educate Trump supporters that we can do this legally. – DCMJ founder Adam Eidinger told CNN earlier this month.
The lines for free cannabis spanned up to three city blocks, which should show that DCMJ deserves a lot of credit for supporting this movement. All the work they had put in really shows their passion towards federal cannabis reform, and the efforts that they are willing to take.
Many cannabis supporters have a sort of grudge against newly appointed Attorney General Jeff Sessions because of his views on the community. Once claiming that "good people don't smoke marijuana."
Enforcing federally outdated cannabis laws?
The approach that the DCMJ founder Adam Eidinger is making against our current cannabis laws are purely for ethical solutions. He, like the majority of American people, are tired of seeing families and lives ruined because of marijuana related charges.
The call to completely decriminalize cannabis at the federal level is the new mission for the DCMJ organization and the American cannabis community as a whole.
Whether that will ever happen under a Trump/Sessions presidency is still an unknown, but the fight to reach that goal won't be slowing down in the next four years.
Check out these tweets from people that participated in #Trump420 on Inauguration Day. That is quite the crowd!