Marijuana enthusiasts in Vancouver, British Columbia are having a heated argument about grass. Which doesn't sound completely out of the ordinary until you take into account that it's the type of grass you walk on.
Approximately 40,000 people and 300 vendors last week attended the final 420 celebration in Vancouver before Canada legalizes pot nationwide. The city announced the following day that repairs on the park grounds could take up to ten weeks, potentially cutting into summer. The city's Park Board said that following the festivities at Sunset Beach Park, crews stayed overnight in an attempt to clean things up.
"One of the problems is there's an awful lot of cigarette butts and glass and plastics here," said Park Board chair Stuart MacKinnon. "We're afraid when they aerate, those things are going to get punched down into the field and that's really not healthy for it… I'm just standing near a pile of spaghetti so I guess we are going to have the birds coming in soon."
Smokers and weed activists have pushed back on the city's narrative, citing not only additional measures taken this year to keep the park rubbish free for the celebration but posting photos immediately after the 420 party to prove that whatever the problem is, weed isn't to blame for the tall fences around the park.
"All garbage gone after volunteers cleaned late last night & this morning," tweeted Jeremiah Vandermeer, director of Vancouver's 420 event. "$28,000 we spent on deck to protect the field was well worth it. Grass looks great & almost no mud!"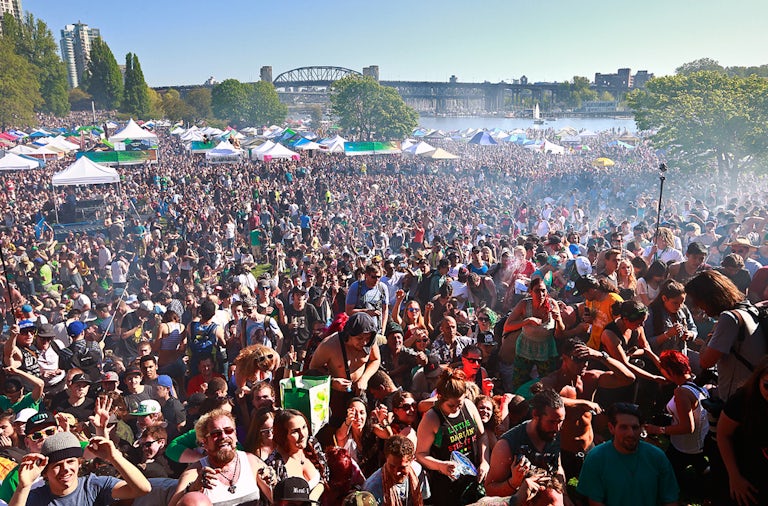 "It's terrible how (MacKinnon) smeared #420Vancouver when our volunteer nonprofit hosted 40,000 people enjoying *our* park with no damage, violence or fights," tweeted activist Jodie Emery, "and paid $30,000 for ground protection — then (MacKinnon) closes off perfectly useable field on April 21 & blames us?"
Some of the folks on team weed said that some trash and puddles were already in the waterfront park before the festivities began. The Park Board's initial estimate of ten weeks repairs has since been scaled down to six. They hope the Sunset Beach Park will be reopened for Canada Day weekend, when more people will probably smoke weed there.