With medical cannabis on the forefront of the most exciting discoveries in modern medicine, many are wondering just how far-reaching are the treatment implications for the popular herb. In recent years testing of the incomparably versatile yet non-toxic plant has finally been allowed to flourish, and amazing new benefits are discovered almost daily.
One group that stands to benefit greatly from this advancement of science is American military veterans. Doctors are confirming that cannabinoids can improve and even save the lives of those who have nobly served in combat areas and returned with symptoms of PTSI (post-traumatic stress injury).
Scott Murphy and Kenneth MacIntosh are from Massachusetts, a state in which medical cannabis is legal. They both served in the armed forces and are vocal advocates for veterans of war having the freedom to use cannabis under medical supervision — often a last resort, strangely, to a succession of pills, opioid addiction, or suicide.
These two men are prime examples of vets seeking treatment but left with confusion regarding the stance of the Veterans' Administration.
Real life heroes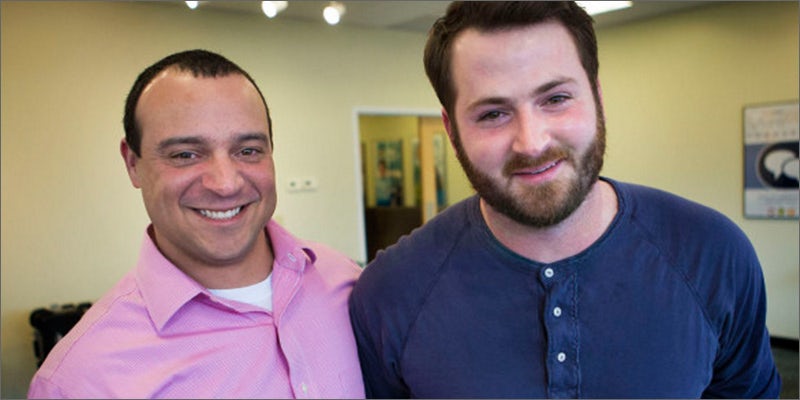 Scott Murphy (left) was in the Army for four years and completed a 15-month tour in Iraq in 2007. Kenneth MacIntosh was a combat medic in the Navy and served in Afghanistan from 2010-2011, where his main focus was to find IEDs (improvised explosive devices).
These are both brave men who returned home after serving their country with pride, and now have some serious medical conditions. To ease their multiple symptoms, both have found maximum success with cannabis. Now, they openly advocate for the basic human right of other veterans to experience the same relief for their injuries.
Murphy uses medical cannabis for chronic pain that resulted from a motorcycle accident when he was 18 years old that fractured the shaft of his femur and shattered his hip. In an interview with WBUR 90.9, Boston's NPR News Station, he explained:
"Because of the injuries, when I got older I would've gotten arthritis. But because of the strenuous work I did in the military in marches and heavy lifting and stuff, it just progressed the disease…[Medical cannabis] helps me because it allows me not to take an opioid-based drug. It allows me to use a medication that actually works.

When I was on tramadol, which recently got classified under the Controlled Substances Act, it was never enough. My dosage kept going up until I ended up being prescribed Vicodin (hydrocodone with acetaminophen). And I was also prescribed a secondary drug for sleeping. Medical marijuana allows me to use one drug and not have to worry about going down the path of opioid addiction."
Sanity: not on the Schedule
Here's a summary of the Schedules situation for Scott Murphy so far:
Schedule V (least dangerous): contains addictive opioid narcotics
Tramadol: Schedule IV (low-danger) addictive opioid narcotic
Hydrocodone: Schedule III (more dangerous) addictive opioid narcotic
Vicodin: Schedule II (listed with crack, meth, oxy) addictive opioid narcotic
Cannabis: Schedule I (most dangerous), non-toxic, contains NO opioid narcotic
Like thousands of other veterans, MacIntosh uses cannabis to ease the symptoms of PTSI.
"I was diagnosed with it when I came home from Afghanistan. Symptoms include trouble sleeping, anxiety… The cocktail [of 10 prescription drugs for PTSD] was so debilitating that my GPA at school was being affected. My ability to go to school was being affected from the sedation. But with marijuana, it actually helps during the day to focus. And then at night, if you use a marijuana (strain) with more THC, it'll actually help you sleep. And there's no real negative interaction there."
Some readers may be thinking things have come a long way and consider this endorsement a win for the green side, but there is one key factor that plays into the discussion of veterans and medical cannabis: No one can receive cannabis directly from the VA. But at least things are heading in the right direction.
Haven't they earned freedom of choice?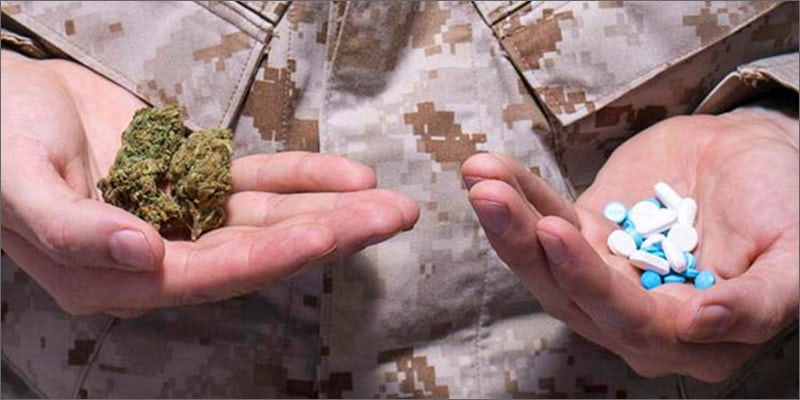 According to a federal government directive, up until April 19, 2016, VA medical providers were prohibited from even discussing or mentioning, let alone recommending, medical cannabis for their patients, no matter how beneficial the doctor knew it to be. Incredibly, doctors were forced not to comment on the potential use of cannabis, regardless of the laws of the state in which their patients may reside.
In a stunning victory for veterans, Inquistr reports that the Senate Appropriations Committee has passed an amendment permitting VA health professionals to encourage the use of medical marijuana in ailments such as PTSI. The amendment was part of the 2017 Military Construction, Veterans' Affairs and Related Agencies bill and will be life-changing for veterans across the country.
The discussion of medical cannabis and veterans has been sparking up in recent years. In 2015 a small win threw the debate into overdrive and changed everything. The U.S. Senate passed an amendment that allowed veterans access to medical cannabis, but the House of Representatives shot it down.
In January of this year, lawmakers took the issue into their own hands and wrote a letter to VA Secretary Bob McDonald looking for a change in regulations. Twenty-one members of Congress joined forces, demanding that doctors be allowed to freely discuss medical cannabis with their patients.
In a report by Green Rush Daily, the amendment that passed in April specifically states that VA funds cannot be used to KEEP patients from accessing cannabis, as long as the state in which they reside allows it.
"Veterans should not be denied access to a medicine that can help alleviate their condition, and doctors must be able to discuss and recommend all treatments. They have served this country and shouldn't be discriminated against." –  Michael Collins, deputy director for the Drug Policy Alliance's Office of National Affairs.
Coming to an agreement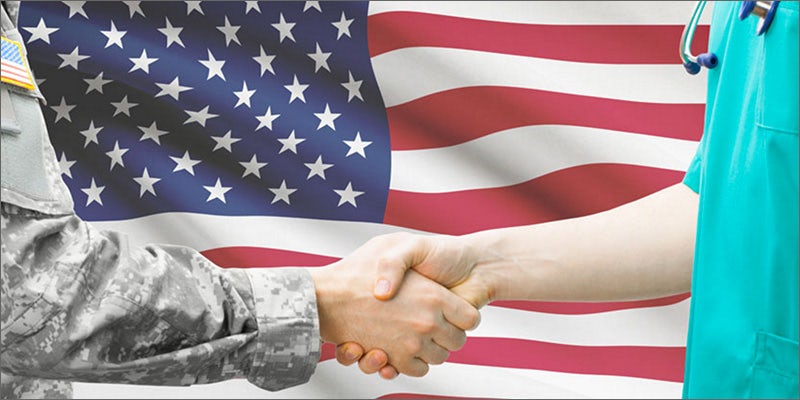 While freedom to access the medicine through the VA is still not on the table, things are moving in the right direction. Hopefully by the end of the year, cannabis will be a viable, affordable treatment option for veterans in 24 states.
This could potentially be life-altering, and many will need an easier way to turn their medical cannabis into easily measured doses. For those who don't care for smoke, MagicalButter.com makes the first kitchen appliance designed specifically for converting cannabis into edibles.
The website offers the labor-saving Botanical Extractor machine and dozens of recipes to create with it. It was invented because the last thing anyone who's ill or injured needs is more work. So the machine does everything; put in the ingredients, and press a button. Relax for an hour or two till it beeps. With a whole new world of medical cannabis strains on the horizon to learn about, it's a great way to take the guesswork out of cannabutter or tincture, and whip up something healthful and delicious.
Hopefully it's only a matter of time before everyone — most especially the unsung heroes among us, our honored veterans — can in turn have the freedom to enjoy the health benefits of cooking with cannabis.
SHARE this landmark in the fight for veterans' rights and legal medical cannabis with your friends on Facebook and let them know things are changing!
ABOUT THE AUTHOR
Garyn Angel is an inventor, entrepreneur, award-winning financial consultant, and CEO of MagicalButter.com, which manufactures the appliance he invented for converting cannabis to edible form. Angel is committed to cannabis law reform and was named to the CNBC NEXT List of global business leaders for his work on legal marijuana. He is also founder of the Cheers to Goodness Foundation, a charity that helps "medical refugees" — veterans and children who need cannabis therapy when traditional treatment options have failed. Angel's charity helps families relocate to states where cannabis medicine is legally accessible.
Do you believe medical cannabis should be legal for veterans everywhere in the U.S.? Let us know on social media or in the comments below.