At a time when cancer patients are fighting for their lives, many patients that use cannabis to find relief feel forced to campaign for the right to live comfortably. Herb has mobilized a social movement to empower these patients to speak up to end the stigma around cannabis and reform cannabis laws so that patients can gain information and critical access to a plant that has changed their lives for the better under #HerbHeals.
While anecdotes about cannabis effectively managing the side effects of chemotherapy and radiation have existed among cancer communities for decades, science now needs to catch up. Israeli researchers Lihi Bar-Lev Schleider and Raphael Mechoulam surveyed nearly 3000 cancer patients who used cannabis between 2015 and 2017. Over 95 percent of these patients stated that cannabis improved symptoms such as pain, nausea, insomnia, and a lack of appetite. This data, while promising, is considered preliminary and thus has yet to be widely accepted by oncologists.
Meanwhile, in the United States, many cancer patients who use cannabis as an adjunct or alternative treatment feel ignored by the medical community and their own government. Due to the Schedule 1 status of cannabis in the Controlled Substances Act, doctors are wary of recommending cannabis and those who do lack sufficient knowledge to support their patients. Beyond encountering stigma due to marijuana's federal designation as an illegal substance, American cancer patients currently have limited access to information about which cannabis products might benefit them, and in some cases, medical-grade cannabis itself.  
Augusta Fleming was diagnosed with lymphoma after finding a lump in her neck following the birth of her second child.
"I was on 24 pharmaceuticals per day to combat chemotherapy reactions," says Fleming.
Fleming says she felt pressured by her doctor to start chemotherapy despite feeling unsure if it was right for her. Soon, a chemotherapy drug called Bleomycin caused her lungs to fill with blood clots. She developed pneumonia. She also gained 90 pounds.
"After almost dying in the hospital from chemotherapy toxicity, I knew that I had to have a different approach," says Fleming.
She began using Rick Simpson Oil, a highly concentrated form of cannabis oil, after learning about Rick Simpson, a Canadian engineer who developed the oil and claims that it cured his own cancer. While there have been several small studies that indicate cannabinoids may inhibit cellular respiration of cancer cells, slow tumor growth, and kill gastric cancer cells, the statement that cannabis can treat cancer is a point of controversy.
"Trying to find an oncologist that was willing to work with someone who was using naturopathic medicine was extremely difficult," says Fleming.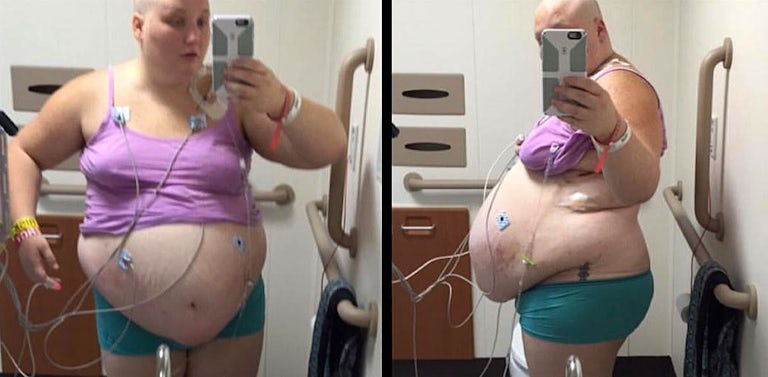 While more research needs to be done on the efficacy of cannabis as a cancer treatment, the stories of patients who have positively benefited have never been more important.
The Schedule 1 classification of cannabis creates a catch-22 situation. Schedule 1 drugs are defined as having "no accepted medical value." This creates major barriers to conducting research, namely double-blind clinical trials, to explore the claims that cancer patients have been making for years.
In many regions where medical cannabis remains taboo, illegal or highly restricted, cancer patients are forced to the black market to obtain a medicine that they use to manage the side effects of the medications prescribed to them.
Jonno Boyer-Dry was diagnosed with Stage 4 Hodgkin's Lymphoma in 2014. He began six months of chemotherapy, and like many other cancer patients that undergo the intensive treatment, he suffered nausea, muscle cramps that resulted in extreme pain, and chronic anxiety-induced insomnia.
His symptoms were helped but also exacerbated by the opioids he was prescribed, a common problem. As the opioid crisis continues across the country, many cancer patients like Boyer-Dry prefer to use cannabis products like edibles rather than endure the side effects of opioids, which include addiction. In 2017 alone, 65,000 Americans died from opioid overdoses.
While Boyer-Dry's doctor was supportive of cannabis as an adjunct treatment, his doctor's lack of knowledge on cannabis strains and medical products forced him to do his own research through experimentation. This resulted in uncomfortable experiences before he found products that worked for him. Luckily, he was a resident of California where medical cannabis is legal.
At CancerCon, an annual gathering for young adults who have been diagnosed with Cancer, Boyer-Dry stated: "There's one reason I'm not addicted to opioids today—and that's cannabis."
Currently, medical cannabis remains illegal in more than 40 percent of the United States. Without regulations that enforce cannabis testing, like those in legal states, patients looking for alternatives are subject to the dangers of contaminated cannabis. For cancer patients undergoing traditional treatments with weakened immune systems, contaminants like fungi and mold can be fatal.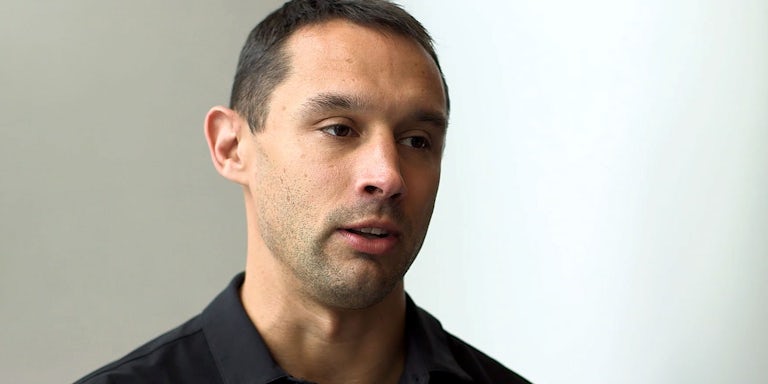 Currently, 12.7 million people are diagnosed with cancer each year. It is said that a society can be judged by how it treats its most vulnerable members. Denying medical professionals the ability to properly research the efficacy of a plant that so many patients claim has positively benefited them isn't only immoral, it's cruel.
We're merely at the beginning of understanding the medical potential of the cannabis plant. Herb urges those who have been diagnosed with cancer and benefited from medical cannabis use or those who know a cancer patient who has used cannabinoids to improve their life to share their story to gain support for cannabis research in the United States. Become a part of the movement and share your story via video or text at #HerbHeals. Your voice has never been more important.