A new study published in the Journal of the American College of Cardiology suggests that cocaine and cannabis use are associated with higher mortality rates among patients who experience heart attacks. 
The authors, most of whom were from Harvard Medical School, write that the purpose of the study was to address the potential health risks of both the recent increase in cannabis legalization and "substance use among young adults." They looked specifically at patients who experienced a type of heart attack known as a type 1, myocardial infarction.
To make their findings, the researchers analyzed the medical records of patients less than 50 years old, using 2000 to 2016 data from two academic hospitals in Boston. They determined whether the patients were using substances by reviewing whether they reported using substances or substances appeared on toxicology screenings the week prior to their MI.
Of the 2,097 patients who had type 1 MI, 224 of them (roughly 10 percent) used cocaine and/or cannabis. Of these 224 patients, 99 used cocaine and 125 used cannabis. "The use of cocaine and/or marijuana was associated with significantly higher cardiovascular mortality," reads the study.
According to the researchers, patients also engaged in an average nine percent increase in cannabis use for each year of the study period, demonstrating the growing popularity of cannabis. Other studies have given mixed results on the question of whether cannabis use is increasing, with some age groups showing a decline in cannabis use, while others have increased their use.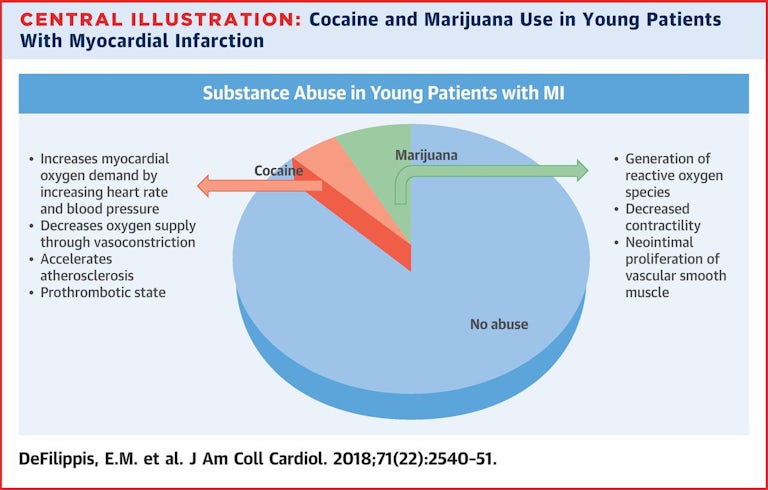 Interestingly, this recent study on cannabis' association with type 1 MIs also found that patients who had been using cocaine and/or cannabis had lower rates of diabetes and high cholesterol. Additionally, the substance-using patients were found to use tobacco at significantly higher rates. It's uncertain how these higher rates of tobacco use affected the data.
Overall, the researchers wrote that the mortality rate for cannabis users was 1.64 deaths per 100 person-years, compared to 1.11 deaths in the non-substance using group. They also wrote that they found "an increase in all-cause death" among patients who used cocaine and cannabis. However, they hypothesize that the reason for this may be that "individuals who use substances may also engage in other high-risk behaviors that can lead to noncardiovascular mortality."
This was also pointed out by researchers from New York University (NYU), who addressed the findings in an editorial, also published in the Journal of the American College of Cardiology, which refuted the thoroughness of the study. For one, said the NYU researchers, alcohol and opioid use weren't taken into consideration for the study. Neither were other medical or mental health conditions.
The NYU researchers also pointed out that the study failed to take into account the shifting methods of cannabis use, where non-smokable products like oils, topicals, vaporizers, and edibles are gaining popularity. In terms of cannabis use's impact on cardiovascular diseases (CVD), they concluded that "the evidence of a real cannabis-CVD risk is limited at best."