Last Wednesday, Canopy Animal Health received the green light from Canada's Ministry of Health to conduct clinical trials looking at CBD for anxiety in pets, The Toronto Star reports. Canopy Animal Health, a subsidiary of Canada's biggest licensed producer of cannabis, is the first Canadian cannabis provider to earn support from the federal government to test cannabis on animals. 
Dana Vaughn, executive vice president and chief scientific officer for Canopy Animal Health, told The Star that there has been little to no research on cannabis' effects on animals. She also said very few anti-anxiety medications exist for pets.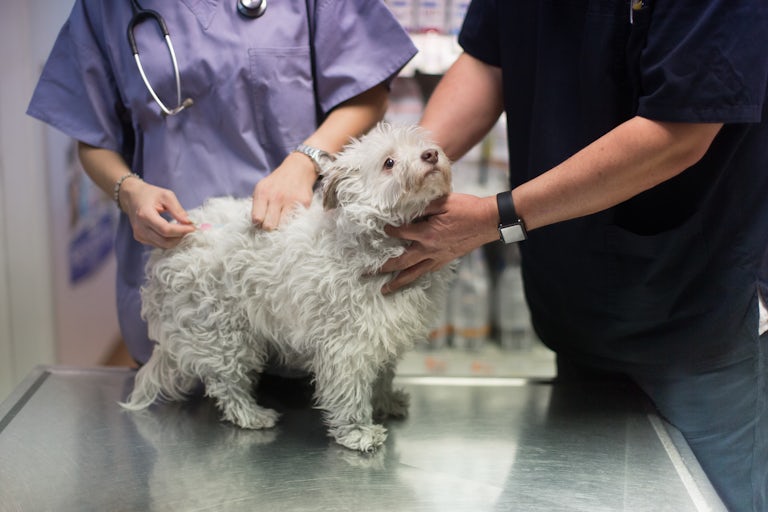 Currently, no cannabis products have been approved by the Canadian government for prescription by veterinarians. That hasn't stopped a growing number of pet owners, however, from trying CBD on their dogs and cats amid a lack of available treatments for anxiety as well as arthritis and other conditions that plague aging animals. (In February, Herb spoke to experts on how to give dogs CBD.) 
A spokesperson for Health Canada confirmed with The Star that lawmakers considered the use of cannabis for pets when drafting the country's cannabis regulations.
There are currently no states in the U.S. which have approved cannabis as a veterinary medicine although a number of them have considered it. A New York state assemblywoman introduced a bill to legalize medical marijuana for pets in March. California lawmakers are considering a similar measure. 
There's already a variety of hemp-based CBD products for pets available for shipping in all 50 states.