Despite opposition from physicians and health experts, Colorado's House of Representatives will now consider a bill which would add autism to the list of qualifying conditions for medical marijuana. After hearing from autism advocates, families and health experts for over five hours, a House committee voted on April 5 to allow the bill to come to a vote in the legislature.
The bill, which was introduced by Rep. Edie Hooton (D-Boulder and Gunbarrel), would allow adults as well as children under the age of 18 to treat symptoms of autism spectrum disorder (ASD), such as seizures, with the use of medical cannabis. For children, a prescription would have to be approved by two physicians.
If the bill passes, Colorado will join a number of other states which currently allow for the treatment of autism with medical marijuana. California, Oregon and Washington D.C. are among the jurisdictions which have fully legalized cannabis and list autism as a qualifying condition. Even states which have limited medical marijuana programs like Georgia have approved the treatment of autism with cannabis oils.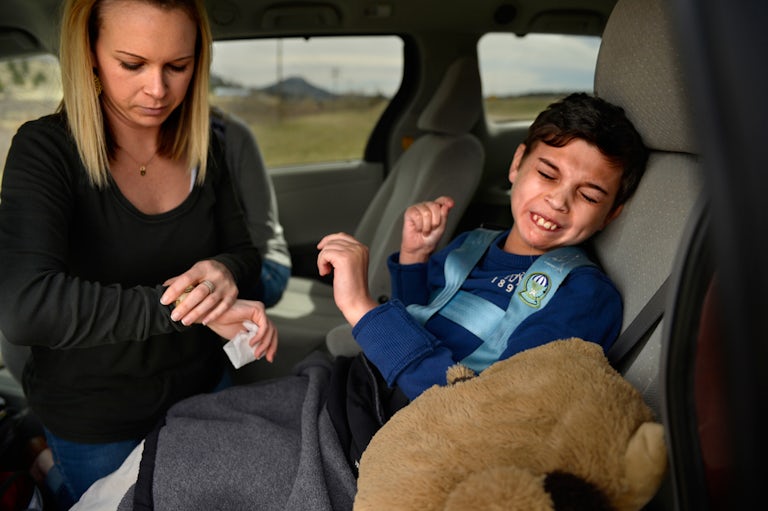 In Colorado, families are currently treating children who have been diagnosed with the disorder regardless of its legal status because of the effects they've seen firsthand. Several of those families appeared before lawmakers to testify in favor of the bill, including the Walker family from Texas.
The Walkers moved to Colorado to treat their 10-year-old son Vincent's epileptic seizures. Seizures are currently a qualifying condition in Colorado and the Walkers have successfully treated their son using an oral CBD spray they obtain in Colorado Springs. But since Vincent no longer suffers from seizures, he may no longer qualify.
"Our son is seizure-free for the first time ever, but that also comes with consequences that he may not qualify for medical cannabis next year," Walker's mother said. "To know that our son would have access to medical cannabis even though he's seizure-free would be comforting and give us a peace of mind that we don't have right now."
Unfortunately, the bill's most vocal opposition has come from the state's medical experts. Among the list of organizations opposed to the bill are the Colorado Academy of Family Physicians, the Colorado Psychiatric Society, the Children's Hospital Colorado, the American Academy of Pediatrics and the Colorado Department of Public Health.
"Given what we do know about marijuana," said Dr. Larry Wolk, executive director of the Colorado Department of Public Health, "it could actually be detrimental because of its interactions with other pharmaceuticals that ASD patients are already taking."
Wolk's biggest concern is the lack of published clinical trials conducted for the treatment of autism with medical marijuana. His concerns are shared by others in the medical community.
"We fully support research to determine the viability, benefits and risks of cannabis products as a treatment modality," reads a statement from the Colorado Psychiatric Society, "but we do not currently have any studies that meet the medical standards for establishing safety and efficacy for children and youth with autism spectrum disorder."
Yet lawmakers sided with the first-hand evidence provided by parents and their children, going as far as to support their cause over the bill's original intent. When Hooton first filed her bill, it was intended to address the opioid crisis, adding acute pain to the list of qualifying conditions in addition to ASD. But lawmakers now say they will support the bill so long as it focuses on ASD and removes acute pain from its provisions.
Some critics have also pointed out that qualifying conditions fall under the Colorado Department of Public Health and Environment (CDPHE), noting that the state's legislature is circumventing the proper process for adding new conditions. For its part, the CDPHE has not added a new condition to the list since it was enacted into law in 2002, while the legislature added PTSD in 2017.