Published on 24 May, the results from the Global Drug Survey (GDS) 2017 provides a wealth of information on how people around the world get high. A The latest survey asked 120,000 respondents from 50 countries a range of questions relating to drugs, including on the frequency of their use, the source of their purchases, and their methods of consumption.
Methods of cannabis consumption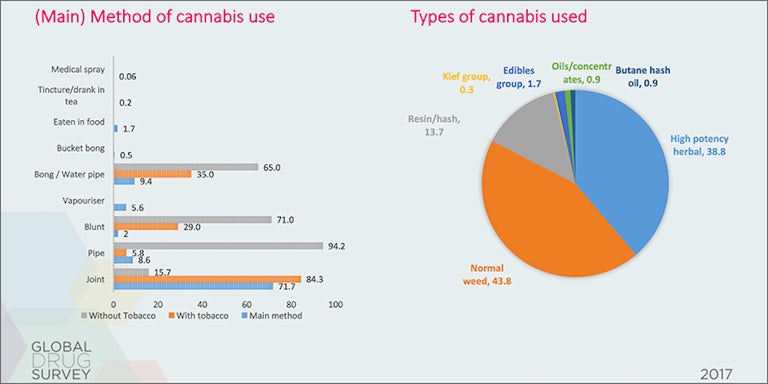 Smoking a joint is by far the most common method of cannabis consumption around the world. Over 71 per cent of respondents claimed joints to be their "main method" of consumption; those reporting the use of bongs, pipes, or vaporizers as their primary method made up less than 10 percent each.
However, the definition of a "joint" is perhaps the most marked international difference in cannabis consumption.
In European countries, over 50 percent of cannabis-using participants in each country reported smoking joints that contain both cannabis and tobacco as their primary method (spliffs). In America, mixing tobacco was relatively uncommon among respondents who consumed cannabis; in the US, only eight per cent claimed to do so.
Adam Winstock, the founder of the GDS, warned that millions of people who use cannabis around the world are significantly increasing the harm to themselves by mixing it with tobacco before smoking. In a blog post on the GDS website, Winstock writes that cultural changThis international drugs survey has given an up-to-date glimpse into how people from other countries around the world enjoy cannabis.e is vital for people to "dissociate tobacco use from cannabis".
We must teach people how to roll joints without tobacco. Or even better, vape! – Winstock
Less than six per cent of international GDS respondents claimed that using a vaporizer is their main method of cannabis consumption. This method was most common in Finland and the US, where it was reported as the main method by 18.9 per cent and 12.7 per cent of participants respectively.
Wake and bake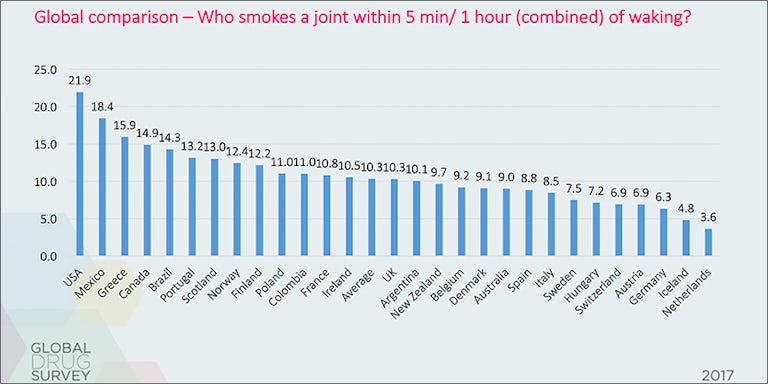 Another interesting global behavior difference emerged when respondents were asked how soon they smoke a joint after waking up.
Again, a marked difference appeared between respondents in the Americas and those in Europe. Four of the five nationalities most likely to smoke within an hour of waking were in the Americas; the US topped the list with over one in five respondents claiming to enjoy a regular wake and bake.
Nine of the 10 nationalities least likely to do so were European, with the lowest reported figure being the Netherlands' 3.6 per cent.
* People from over 50 countries participated in the survey. The majority of the 120,000 respondents were based in North America or Europe. Over 60 percent of participants were from either Germany, Denmark, the USA, Switzerland, or the UK. Over 90 percent of respondents identified as white, 68 percent were male, and almost one in three were full-time students.