Canada is coming to grips with the growing opioid epidemic and Vancouver is the epicenter of the growing problem. One pop-up overdose tent is using weed on the front lines to combat overdose deaths on the street.  
Sarah Blyth, one of the founders of the tent, helps run the Downtown Eastside Street Market in Vancouver. The opioid problem roared throughout the community, so Blyth and her coworkers knew something had to happen.
The decision to use cannabis products came from a close connection to the possible benefits of weed. Blyth's partner, a photographer, was in Afghanistan to capture the war on film. He had smoked weed before, but cannabis' medicinal benefits were more obvious in those extreme situations. "He tried hash over there to deal with the stress on the front lines," Blyth said.
The first goal of the overdose tent is to reverse any overdoses, for which Blyth uses naloxone. The weed is an alternative, harm reducing drug to wean people off opioids like fentanyl. They did not, however just starting passing joints out on the street.
"We looked into kratom, which we still use. And we spoke to dispensaries to see what our options were."
While it's too early to see what affect harm reduction strategies have on the overall makeup of overdoses in Vancouver, Blyth has turned into a kind of statistician. "We're doing some case studies on what people think of how people are using it so we're taking some data and working with students to learn what people are using, what they're using and how they're using it," she said.    
One of the most surprising aspects of Blyth's efforts has been the relative acceptance the overdose tent among police.
Blythe said both the city and police have been "relatively supportive," while some cops have caused a little trouble. 'There's been a lot of dispensaries that have opened the city hasn't been cracking them down," she notes.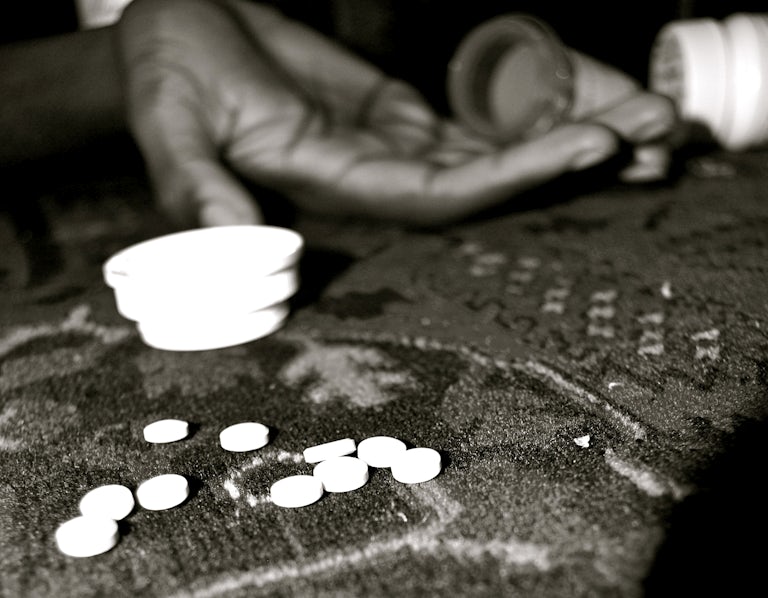 "They're just doing what they're doing. They're pretty supportive, supportive as they can be, seeing as it's illegal," says Blyth
This may be because of the gravity of the crisis in Vancouver. In British Columbia, overdoses killed 931 people in 2016. That makes opioids more deadly than suicides and car accidents combined. Roughly 1 in 4 of those deaths happened in Vancouver, even though the city has only one-seventh of the province's population.
The problem is so severe that even British Columbia's emergency vehicle is feeling the strain. In 2015, emergency vehicles made just less than 15,000 trips. That jumped to nearly 24,000 in 2016. And even with this level of crisis, a report from the Vancouver Police Department says there's "As high as these numbers are, there is evidence that overdoses are under-reported."
While the devastation rages, it's difficult to say what impact, if any local efforts had on the crisis. Blyth though has saved hundreds of lives over the past few months. "We can get 700 people a day at the tent," Blyth says. "A lot of the time, we spend all day reversing overdoses."
If and when those overdoses are successfully reversed, people can use weed, kratom, or CBD capsules are available to keep people away from opioids.
"This is just a way to give people another option, and it's working," Blyth said.
Blyth believes that as cannabis becomes more accepted, it will play a greater role in curbing the crisis. Especially for people like seniors who may be able to turn to CBD oil and weed to kill pain, rather than something like Oxycontin. When it comes to weed, Blyth says, "In Vancouver, people don't see it as a harmful drug anymore. It's a better option than most drugs."