PTSD Patients New York City
Especially relative to other states in the Northeast, New York has been particularly restrictive when it comes to medical marijuana.
Neighboring state New Jersey added PTSD to its list of qualifying conditions for medical marijuana in 2016 and now New York is doing the same, joining 27 other states. Governor Andrew Cuomo signed the bill to commemorate Veterans Day, explicitly mentioning the importance of caring for veterans who have PTSD.
New York's medical marijuana program is relatively new, but it began with extensive support from the state. The vote on medical marijuana in 2014 came out 49 to 10, signifying a clear interest. But back then even supporters criticized the legislation for its "stringent regulations," reported the New York Times. The law only allowed non-smokable forms of processed cannabis to be sold including lotions, patches, chewable products, and anything that can be vaped. The list of qualifiers was limited to conditions like ALS, spinal cord damage, and AIDS. No mental illnesses were included on the list.
At the time, Cuomo seemed happy with the legislation. He told the New York Times,
"There are certainly significant medical benefits that can be garnered; at the same time, it's a difficult issue because there are also risks that have to be averted. […] We believe this bill strikes the right balance."
The law also stipulated that Cuomo could "pull the plug" on the program at any time.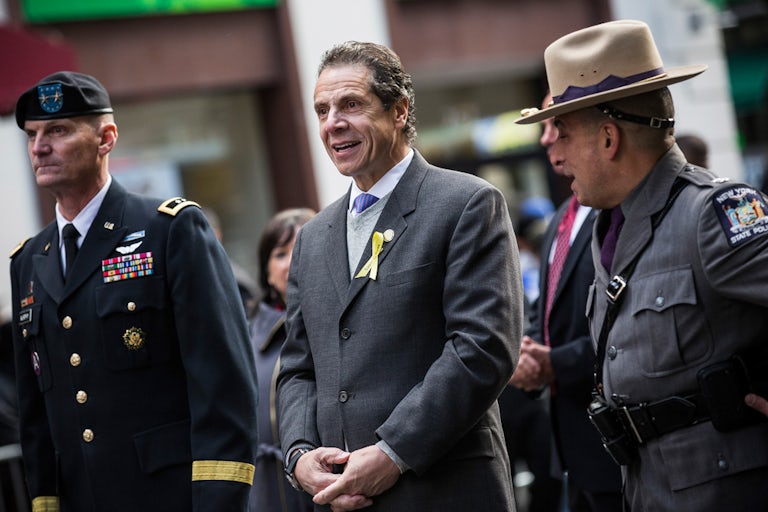 Cuomo seemed much looser this year—perhaps having been convinced of the medicinal properties of marijuana over the past two years, perhaps simply feeling compassion for those struggling with PTSD. He said, "Many of our veterans are suffering from PTSD […] and part of our commitment to do everything we can do if there are veterans who are suffering [is to] make a treatment available; we want to."
The New York Daily News reported that state senator Diane Savino mentioned "residents suffering from PTSD due to other traumatic experiences," an inclusive choice of words that Cuomo didn't offer with his focus on veterans.
prescribing medical marijuana to veterans
The federal government still won't participate in prescribing medical marijuana to veterans.
There is a reason for connecting PTSD with veterans, even if it doesn't show the whole picture of the mental illness' reach. PTSD affects 7.8% of the general public, but the numbers among veterans can range anywhere from 10 to 31%. Cuomo said that there are 19,000 New Yorkers with PTSD.
Considering these rates of affliction and how helpful marijuana has been shown to be in treating PTSD, it would be reasonable to assume that the Department of Veterans Affairs would jump on the chance to adopt this new treatment in its hospitals. In reality, of course, the VA is a federal agency and therefore follows federal laws that classify marijuana as a drug.
As New York Upstate reports, "VA health care providers are not allowed to recommend medical marijuana or help veterans obtain it." This means that people who don't know about marijuana as a treatment for PTSD will just continue suffering without being aware that a solution exists. Insurance coverage of medical cannabis would, of course, also lessen the financial burden on patients who are medicating since it can be an expensive treatment.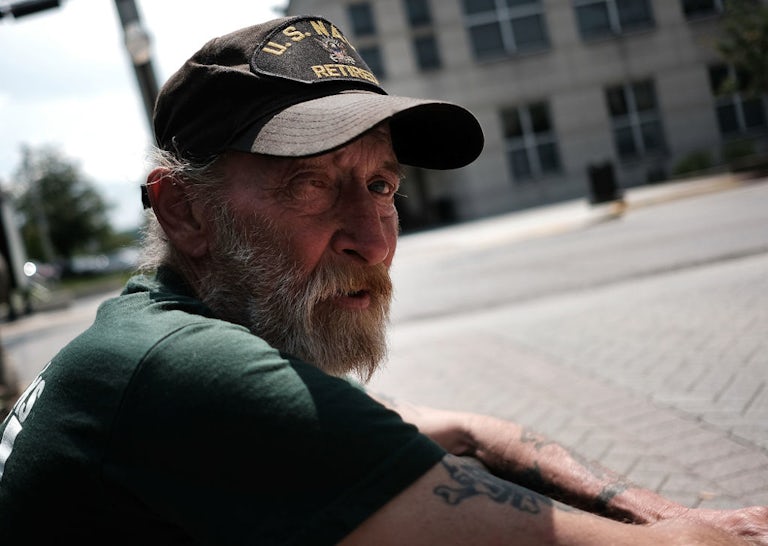 Cannabis shows significant promise in treating non-combat PTSD.
Often when PTSD is discussed it's without consideration of the people in the general population who are suffering. It's not only combat veterans, of course, who have PTSD. But they are a group that gets focused on because, more so than any other mental illness or PTSD among civilians, combat-related PTSD's high incidence rates among veterans means that the government has to spend money on them. (An ongoing study of veterans with PTSD in Colorado is going to cost, for instance, $2,156,000.)
It's important to acknowledge PTSD's occurrence outside of the context of war since so many people suffering from the effects of trauma are civilians. C-PTSD, or complex trauma disorder, for instance, is a condition resulting from ongoing trauma and imbalances in caregiver/interpersonal relationships—unrelated to combat and structurally very complicated. A study by psychiatrist Dr. Alan Flashman showed that cases of C-PTSD treated with low-level THC strains could help patients tolerate psychotherapy and feel "major improvement." CBD and THC certainly don't know the difference between a service person and a civilian.
Luckily even though Cuomo's language was exclusive, his legislation is not. Anyone with any form of PTSD in New York can now finally obtain marijuana as a medicine. Hopefully, it'll be a stepping stone for the state to expand the list of qualifying conditions to include other mental illnesses.