Democratic New York Senator, Kristen Gillibrand, pulled no punches during her recent appearance on Fox's Good Day New York when she was asked for her opinions on medical marijuana.
Specifically, the Good Day New York hosts asked Gillibrand whether or not she believes marijuana can act as a gateway drug to more dangerous substances. She responded by not only supporting medical marijuana but condemning Big Pharma.
"I don't see it as a gateway to opioids," responded Gillibrand. "What I see is the opioid industry, and the drug companies that manufacture them, and some of them in particular, are just trying to sell more drugs that addict patients and addict people across this country."
Gillibrand went on to criticize representatives from the opioid industry who publicly oppose medical marijuana. "Because to them, it's competition for chronic pain. And that's outrageous because we don't have a crisis in people who take marijuana for chronic pain having overdose issues. It's not the same thing. And it's not as highly addictive as opioids are."
These comments about Big Pharma's competitive attitude towards medical marijuana are well founded. In 2016, for example, pharmaceutical company Insys Therapeutics—a company that is widely criticized for its unethical business practices—launched a half-a-million-dollar lobbying effort in Arizona to prevent the state from legalizing marijuana.
In general, pharmaceutical companies have long used deceptive marketing campaigns to encourage the liberal prescription and consumption of their opioid medications while obscuring their dangers. A major public backlash has since mobilized against these pharmaceutical companies' approach to healthcare related commerce.
Numerous pharmaceutical manufacturers and distributors are currently embroiled in a series of lawsuits, filed by numerous cities and states—including New York City, Philadelphia, and the state of Delaware—that seek justice for these companies' roles in proliferating the United State's current opioid overdose epidemic. Hundreds of these lawsuits have been filed from coast to coast—so many in fact, that the Judicial Panel on Multidistrict Litigation has decided to consolidate them into one, all-encompassing court action.
Attorney General Jeff Sessions recently announced that the United States Justice Department will be filing a statement of interest in these lawsuits, which aims to force these pharmaceutical companies to reimburse the United States government for the massive economic burden of the opioid overdose epidemic. The Centers for Disease Control and Prevention estimate the total economic burden of this epidemic to be roughly $78.5 billion.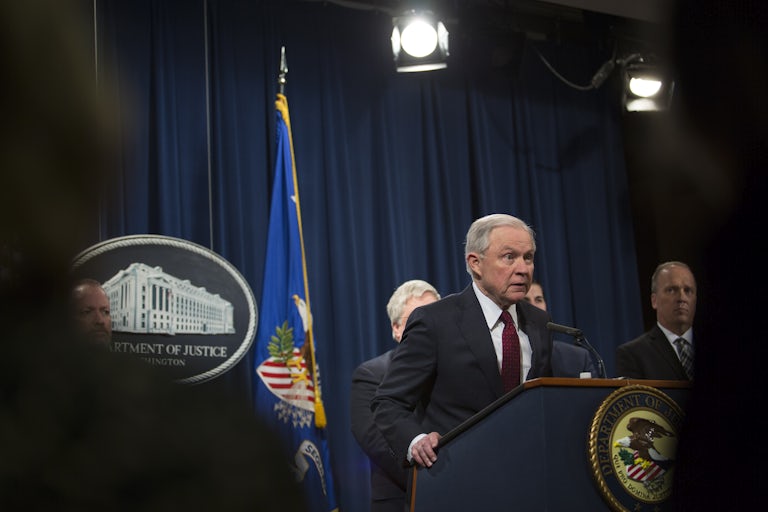 However, Sessions' policies against marijuana are also arguably detrimental to the push to reduce opioid overdose deaths. An increasingly large body of research now suggests that cannabis can be used as a form of treatment for opioid use disorders, acting as an "exit drug," rather than a gateway to other illicit substances. This is the research on which Gillibrand bases her position on medical marijuana.
Sessions, on the other hand, continues to actively hinder medical marijuana policies and promote the idea that marijuana is a "gateway drug."
This gateway drug theory has long pervaded the popular imagination thanks to decades of government campaigns against marijuana, misinformed D.A.R.E Program lectures, and the publicized beliefs of high ranking government officials like Sessions himself.
Speaking at the conservative think tank, the Heritage Foundation, Attorney General Sessions recently reiterated these beliefs to the Reagan Alumni Association, when he stated his theory that much of the country's current problems with opioid addiction and overdose deaths "is starting with marijuana and other drugs."
Congressman Pete Sessions, who holds a prominent legislative gatekeeper role as chairman of the House Rules Committee, recently made similar statements about his beliefs that marijuana is acting as a gateway drug to more dangerous opioids.
The United States' National Institute on Drug Abuse (NIDA) has publicly disagreed with this stance, writing that although there are a handful of studies that suggest that marijuana use often precedes the use of other illicit drugs, the same could be said for alcohol and nicotine, which are both legal. NIDA goes on to state that "the majority of people who use marijuana do not go on to use other, 'harder' substances."
Gillibrand has long supported legislation that aims to make medical marijuana more easily available to patients in need.
In 2015, Senator Gillibrand co-sponsored Senator Booker's  Compassionate Access, Research Expansion, and Respect States Act, which would exclude medical marijuana—as defined by state law—from marijuana's Schedule I status under the Controlled Substances Act. However, this bill is yet to progress past its March 2015 referral to the Committee on the Judiciary.
Kristen Gillibrand also recently co-sponsored Corey Booker's proposed Marijuana Justice Act, a bill that would reschedule marijuana altogether.
By rescheduling marijuana's restrictive Schedule I classification, Gillibrand hopes that medical marijuana patients—such as those afflicted with PTSD, glaucoma, multiple sclerosis, cancer, and more—will be able to gain easier and more lawful access to their medications.