Something strange is happening in North Carolina. Last month, more than 60 people were admitted to medical clinics suffering from the same ailment. All from the American military. And their sicknesses were not some kind of flu or contagion. Their illnesses were all deemed to be vape related. Two people have already died.
While the matter is still under investigation, it is believed that the military personnel had been smoking 'synthetic cannabinoid,' sometimes known as Spice or K2. Synthetic cannabinoids vary, but they are often a cocktail of psychoactive chemicals sprayed over shredded plant odds, and sold as a dubious alternative to actual cannabis. The source of the synthetic cannabinoid found in the admitted soldiers has not been determined.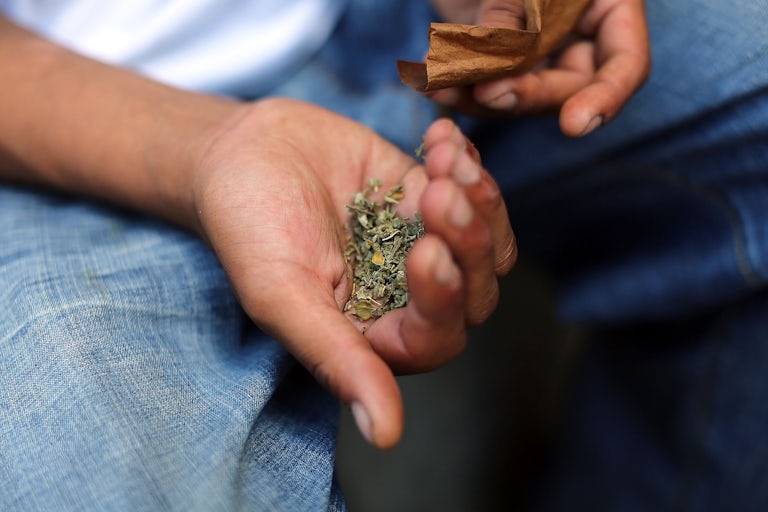 The North Carolina patients experienced extreme bouts of "headaches, nausea, vomiting, palpitations, dilated pupils and dizziness to confusion, disorientation, agitation and seizures." The two patients who died suffered from seizures; their deaths are blamed on accidents caused by the symptoms and not the chemicals themselves. Local news says that the trend seems to be limited to members of the army, and that there hasn't been an increase in civilians with the vape-related illness.
"This problem has the potential to spread quickly across the Army," says a statement from the Army Public Health Center. "Although some vape oils may contain CBD oil, CBD, THC, and/or synthetic cannabinoids, many vape oils do not disclose that they may contain illegal and/or potentially hazardous substances to include synthetic cannabinoids."
In recent years, there has been some leniency in admitting soldiers with a history with weed, but they still expect the toking to stop at the gates. While the statement reiterates that there are no negative health effects affiliated with CBD oil, all hemp and cannabis products are forbidden from use in the military. It seems that that ban isn't too effective as it's encouraging the use of a more dangerous alternative to cannabis.