Last month, officials in New Haven, Connecticut, released a public health alert after local police tended to 12 synthetic marijuana overdoses in a single week. They have not yet released information on how many of these overdoses resulted in deaths.
The synthetic marijuana causing the public health concern goes under the name K2 or Spice. In one case, an individual who smoked K2/Spice was put into an induced coma. Others experienced cardiac arrest after smoking the drug.
According to one study, published in the journal Trends in Pharmacological Sciences, K2/Spice "produce a variety of dangerous acute and chronic adverse effects, including psychosis, seizures, tolerance, dependence, and death, with a greater severity and frequency than observed following marijuana use."
While K2/Spice is listed as a Schedule I drug, another synthetic version of cannabis with similarly harmful side effects and potential for abuse was recently approved by the DEA for medical use.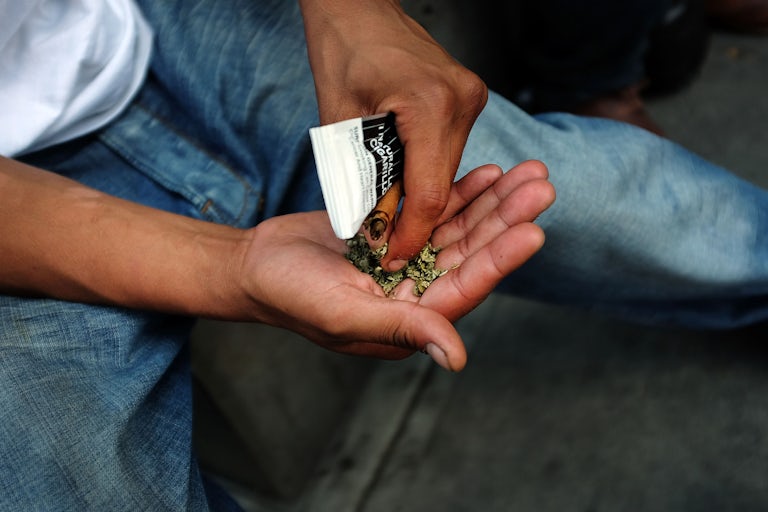 Last November, the United States Drug Enforcement Administration (DEA) and Department of Justice (DOJ) announced their approval of this synthetic cannabis, called dronabinol, which is made by pharmaceutical company Insys Therapeutics under the name Syndros. Dronabinol is now listed as a Schedule II drug under the Controlled Substances Act, despite the fact that real marijuana remains a Schedule I drug with "no currently accepted medical treatment use."
According to the DEA's own summary of this synthetic marijuana, "Oral consumption of dronabinol, compared to inhaled THC, may result in psychoactive effects that are delayed and stronger with an increased risk of experiencing serious adverse events." The DEA also admits that this synthetic marijuana "can easily be abused orally and may result in unintended overdoses."
By contrast, there is still no evidence that it is possible to overdose on cannabis.
Synthetic marijuana targets the same two receptors in the brain— known as CB1 and CB2—that are activated by consuming cannabis. For this reason, many are left scratching their heads as to why a synthetic version of marijuana with a high potential for harm and abuse is federally permitted to be used as a medicine when real marijuana can achieve similar medical benefits without these risks and negative side effects.
While the makers of Syndros are based in Arizona, K2 is manufactured in factories in China. Despite K2's illegal status, it can still be found in convenience stores across America. More recently, in New Haven, eight individuals were arrested and charged with selling K2.