For almost a decade, 15-year-old Taylor Rehmeyer has been battling an aggressive form of brain cancer. When radiation failed to help, Karen Owen, Taylor's mom, decided enough was enough. Determined to heal her daughter, she then turned to cannabis oil therapy. Now, Taylor is not only cancer-free but is also attending school, which wasn't always a possibility. And according to Taylor and her mom, it's all thanks to cannabis.
Taylor Rehmeyer: Cancer-free and says it's all thanks to cannabis
Since age six, Taylor Rehmeyer has been battling with ganglioglioma, a rare brain tumor that required her to have radiation treatment. But according to her and her mother, Karen Owen, it's cannabis that finally cured her,
She got an MRI (in May) that said no major abnormalities. The doctors at Seattle Children's Hospital don't want to admit it was cannabis, but I don't care.

She's cancer-free. It's more than we could have ever hoped for.
In September of 2012, Taylor became the first child in the world to undergo proton radiation at Philadelphia's Roberts Proton Therapy Center. While the treatments seemed to do the trick for awhile, the tumor began growing last August again.
That's when Owen decided enough was enough. Determined to heal her daughter, she then turned to cannabis oil. And like any mother, she had her concerns, but knew it couldn't harm her,
I absolutely had concerns about it. This is definitely out-of-the-box thinking, but we didn't have any other choices.

We knew we would be under a microscope. Everyone had an opinion on what we were doing. But, with all the research I did, I knew it couldn't hurt her.
Taylor was treated with a 1 gram dose of cannabis oil every day for three months.
The future is brighter than ever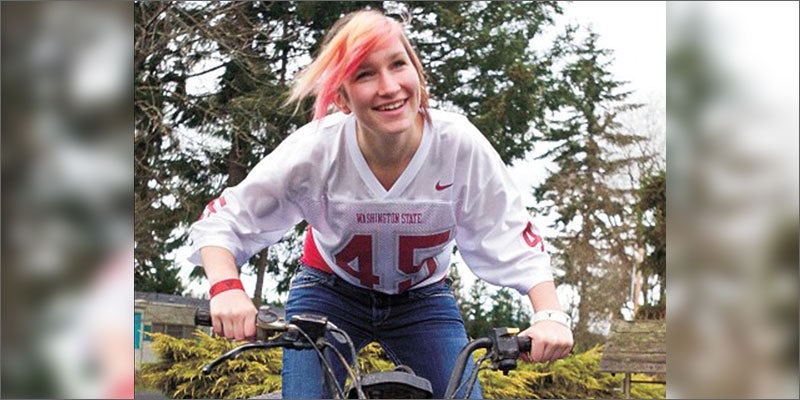 Starting the treatment was no easy task. According to Owen, Taylor was experiencing hallucinations that would last about 10 hours. For this reason, she had to be carefully monitored by a naturopath (an alternative medicine practitioner),
It's not an easy treatment. It's not fun. It is a very strong medicine, and that's why it's medicine. It's not recreational.
Because the medicine was so strong, Taylor had to be removed from school. But nowadays, she is certainly improving.
Today, Taylor is monitored every six months, rather than every three months. She is also now able to return to school, though she only attends four days a week for three hours each day.
For the rest of her life, Taylor will have to take a daily dose to keep cancer at bay, according to Owen. However, the future is brighter than ever for the family.
Instead of planning for the next MRI, Taylor and her mom and planning family vacations. And although Taylor's oncologist at St. John Medical Center in Longview gives cannabis no credit, both Taylor and Owen fully believe it was cannabis that cured her.