Every year, the National Institute on Drug Abuse (NIDA) conducts a survey called Monitoring the Future, which measures drug, alcohol and cigarette use among teenagers from across the country. The survey has been conducted every year since 1975, but this year researchers discovered something they never had before.
For the first time since the survey began, the 2017 data, conducted in coordination with researchers from the University of Michigan, shows that daily marijuana use has surpassed cigarettes in America. It found a decline in drug use across all categories except marijuana.
"Overall, we're observing that the pattern of drugs use among teenagers in the United States has continued to go down," said Director of NIDA, Dr. Nora Volkow, in a video on the survey.
Survey Finds Teenage Marijuana Use Higher Than Cigarette Use Since 1975
This trend among teenagers appears to be the result of a decline in tobacco use rather than an increase in marijuana use. The survey's results are consistent with others, which have been conducted among the same age groups and shown that marijuana use is not on the rise, but on a steady plateau.
NIDA found that cigarette use was down among teenagers while marijuana use has remained relatively stable. With cigarette use reported at 4.2 percent overall, the number of smokers fell by nearly a quarter from 1997, when the highest levels of use were reported. As for marijuana, overall use stood at 5.9 percent—an increase of only 1.9 percent from 1992, which was the year with the lowest rate of use among teenagers.
In addition to these findings, the survey discovered that more than a quarter—or 27.8 percent—of 12th graders reported consistent use of vaping devices (containing flavoring, nicotine or marijuana).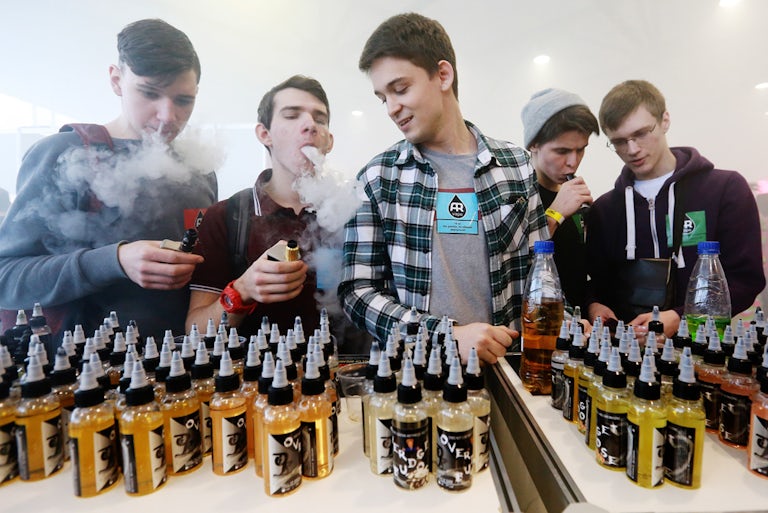 The survey polled more than 43,000 teenagers in the eighth, 10th and 12th grades across 360 schools.
Attitudes toward marijuana are also changing. Among 12th graders, there was a nearly four percent increase in positive opinions of marijuana—a change that has become an issue of concern for NIDA's researchers.
"We see fewer and fewer kids think that marijuana can be dangerous or harmful and fewer and fewer kids disapprove of use," said Deputy-Director of NIDA, Dr. Wilson Compton. "This is of course concerning because if they don't think it's harmful or if they don't disapprove they may be more likely to use the substance."
When it comes to the health effects of marijuana among teenagers, the science remains controversial. Medicinal use among youth is not uncommon, and in many cases, isolated chemicals like CBD and delta-8-THC—the non-psychoactive medicinal components of the cannabis plant—are used to treat conditions like epilepsy in children.
"The big concern about vaping is both because of the exposure to nicotine and other psychoactive substances in a developing brain," said Compton, noting that more than 30 percent responded that nicotine was their substance of choice. Among the youngest group of respondents, only 1.6 percent reported vaping marijuana and 3.5 percent for nicotine.
Among the most interesting findings that researchers emphasized is that it appears many teenagers who are vaping don't know exactly what is in their devices. When asked what it was they were inhaling, 51.8 percent of 12th graders responded with "just flavoring," by far the most popular response across all age groups. Marijuana and hash oil stood at just over 11 percent.
Still, a high number of teenagers continue to have a negative view of marijuana. Disapproval ratings among 12th graders, which landed at 64.7 percent, were still significantly higher than those of adults. By contrast, a 2017 poll out of Quinnipiac University found that the highest level of support for legalization was among adults aged 35-49 and stood at 77 percent.