The average cannabis enthusiast probably knows more about hemp and hemp farms today than in any other point in history. The conversations we have about hemp, however, tend to focus on whether or not it's legal to grow (sometimes) if it will get you high (it won't) and how evil the government is for trying to halt its production (very evil).
It's my job to know these things, so I also know that in 2017, there were almost 26,000 acres dedicated to growing hemp in the United States, up from under 10,000 in 2016. That's a lot of new hemp, and there's only going to be more. That's not a number to balk at. Sales of hemp-derived CBD products are expected to top $640 million by 2022, meaning the market will become more and more saturated with CBD products.
On one hand, more choice is great for consumers. The flipside, however, means that more and more companies will smell the money, and attempt to jump into the market with a less-than-quality product. It's the same story in so many industries—the surge of capital and bandwagoneers versus those who have values, principles and a commitment to quality. When it comes to hemp farms, I wanted to learn what quality meant, how it is made, and how it's maintained.
A Different Kind Of Hemp Farm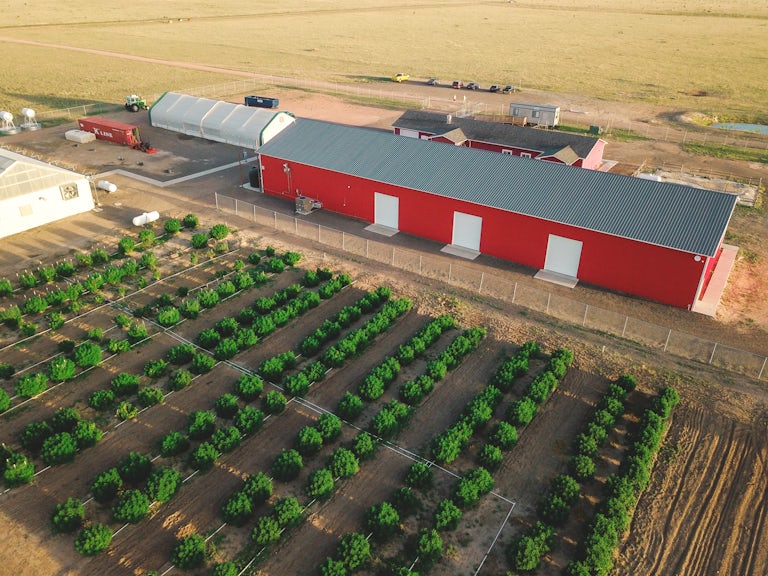 "Each of my days starts with an interaction with my ladies." That's Veritas Farms' VP of Operations, Rianna Meyer. Her ladies are, of course, the plants themselves. Each morning's checkup is just one of many touchpoints Meyer and her team have with the plants. "I'm looking at the overall health of the plants and cleanliness of their controlled environment. My dedicated Farms Operations and Cultivation managers oversee a focused team whose vision of healthy plants equals healthy people. They meticulously care for every detail of the plant's success."
This hands-on approach typifies Veritas Farms' entire approach. The 135 acre Pueblo, Colorado farm is fully vertically integrated, meaning they control every aspect of their supply chain: cultivation, extraction, and manufacturing. This is all driven by their passion for creating quality products that serve their customers needs, which are often very serious.
Another key ingredient in Veritas Farms' recipe for quality, is their all-natural approach to farming. Concerns about the environmental impact of cannabis and hemp growth are, in many cases, being ignored by both legal and illegal growing operations. As a consumer, it can be difficult to balance making ethical and practical decisions without proper education. Veritas Farms uses a mechanism called drip irrigation to carefully control the amount of water each plant receives while leaning on traditional farming techniques to provide intensive care.
What Is In Hemp Oil?
Ensuring potency and freshness in each of their products starts at the very beginning of a plant's lifecycle, Meyer explains. "We do not use any pesticide, herbicides or fungicides on our farm. We extract from only the flowers and leaves, recycling our stalks and stems for other uses."
While this is obviously a business, speaking with Meyer is adamant that quality comes first, exclaiming, "we only do things the right way!" That said, Veritas Farms, and other companies with similar mandates and principles aren't going to miss out on the hemp and CBD oil windfall. The same New Frontier report suggests that the "natural and specialty" CBD market could be worth a colossal $184.3 million by 2022. That's not a number to balk at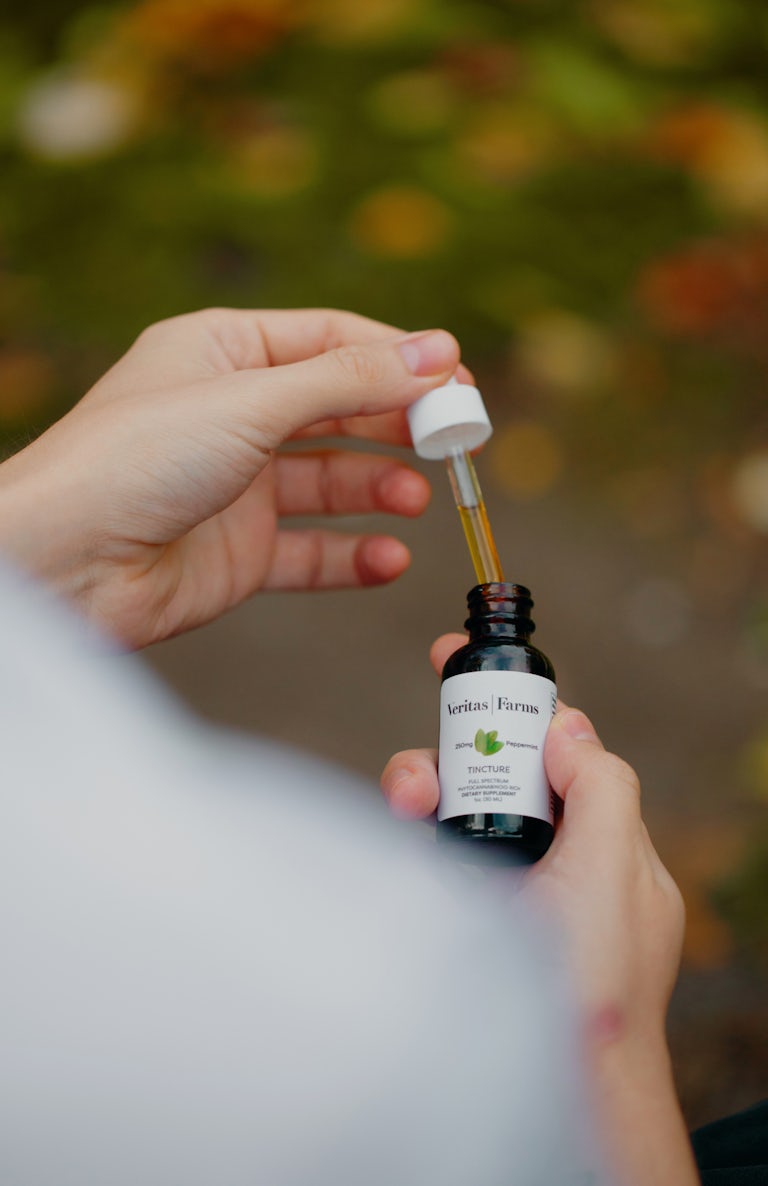 "We want to provide and bring a product that benefits all walks of life the way mother nature intended," Meyer tells me. For Veritas, that means full spectrum hemp (CBD) products. which capture a full range of cannabinoids from each plant, including trace amounts of THC which enable what is known as the entourage effect.
While many companies extract just the CBD for use in oils, there are many that believe extracts miss out on the full range of benefits. A growing number of studies are lending a scientific voice to this argument.
Proper extraction is not a simple process, however. Pulling every last drop of goodness out of the plant is costly, complex and time-consuming. Many companies happy to get in on the CBD boom aren't as enthusiastic about putting in the legwork. "There are few making claims or producing unstable products," Meyer says. "I see these companies eventually being weeded out. No pun intended."
Natural Full Spectrum CBD Oil
Weeding these companies out can be challenging, however, without consistent government enforced regulations. The only viable strategy seems to be raising consumer awareness around less-than-legit products. It can be an uphill struggle, but Meyer is optimistic. "Continued education and knowledge will eventually empower all consumers of CBD products—working together and discovering the benefit will yield results."
Knowing the truth about how your hemp oil is produced can mean not only making the right purchase but getting the relief you need. A farm like Veritas Farms' goes beyond that, allowing consumers to make purchasing decisions that don't put an additional toll on our already diminishing environmental resources.  As Meyer tells me, "we are passionate about the customer, our earth and want to provide the cleanest and healthiest product available."
Those products include Veritas Farms' signature hemp oil tinctures, which come in a range of potencies and flavors, each of which comes with an internal and third-party lab report. They also have a range of salves for topical application, as well as capsules, gummies and even pet tinctures. Each and every product has the same guarantee of quality, with third-party testing results, as well as Veritas' own guarantee of quality.
A Craft Approach To Hemp Farms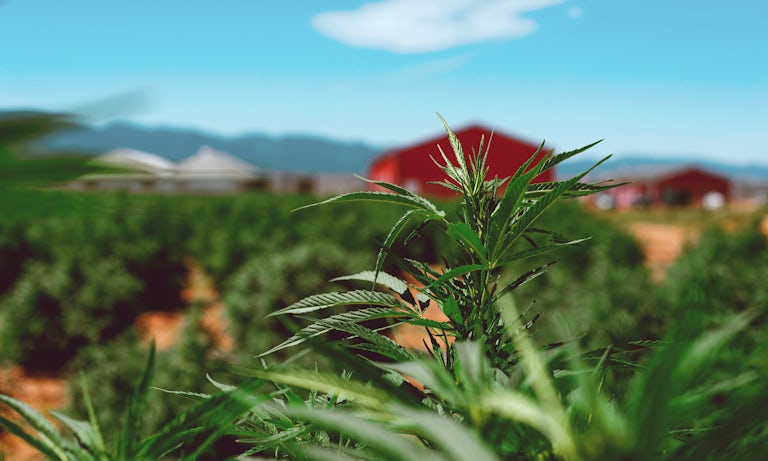 With such a massive influx of cash predicted to come into the hemp and CBD oil markets, consumer education is more important than ever. Finding operations like Veritas Farms, who are willing to take the time and care to offer quality products will become key as the marketplace more crowded.
It's a challenge Meyer and her operations team relishes every day. From the daily check in with the plants to the final email of the day, everything is geared towards delivering quality. When I asked what her favorite part of the job was, Meyer told me simply, "it's the dedication of my team." No matter how big the farm grows to be, the farm is built on that same kind of dedication, which means great, full spectrum hemp oil for the rest of us.